Twitter says Russia Today bought $274K in ads to target US market in 2016 election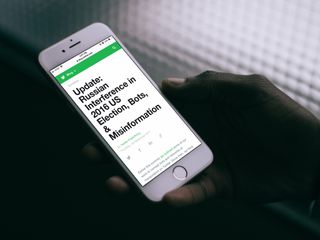 In a post published on Twitter's official blog today, the company continued the discussion of their approach to bots and misinformation that they started earlier this summer. This time, though, Twitter's Public Policy team focused more on their findings with respect to Russian attempts to undermine the democratic process.
The company said that it discovered upwards of 200 Twitter accounts affiliated with the Russian government, and three of those, which are connected to news site Russia Today, had purchased a multitude of ads targeted at the U.S. market in 2016:
Twitter also touched on how it responds to any activity that impedes the voting process:
However, Twitter's blog post wasn't all about current political events. In addition, the company wanted to remind its users that its battle against dangerous misinformation isn't singularly focused:
The social media giant also further clarified its methods for dealing with malicious bots, spam-like human-directed accounts, political advertising, and those who attempt to game trending topics.
For more detailed information concerning this issue, visit Twitter's blog.
Tory Foulk is a writer at Mobile Nations. She lives at the intersection of technology and sorcery and enjoys radio, bees, and houses in small towns. When she isn't working on articles, you'll likely find her listening to her favorite podcasts in a carefully curated blanket nest. You can follow her on Twitter at @tsfoulk.
Hilarious! The USA has done far worse than Russia by meddling in hundreds of elections around the world since turn of the century. Our influence has actually destroyed and overthrown certain governments.

Lets talk about fake news and misinformation. Has ANYONE offered proof of this? Has ANYONE blamed Facebook for ALLOWING a Russian company to allegedly buy ads on Facebook? There are hundreds of accounts that Hillary and alike used to spread their disinformation too. Same accounts, posting the same thing, at the same time. Further, Russia bought Hillary. She told a story of Putin taking her around the Kremlin or something, to have tea and stuff. Putin has expelled our people working in Russia since Trump got in. Hillary didn't protest when a Russian company wanted to buy 20% of our nuclear PRODUCTION ability. She deleted her emails because they were proof of this. I come here for iPhone news, not fake news. I know times are tough for you guys with people blocking ads, but do you need to be bought this way? None of these statements Twitter, Facebook, or anyone says make logical sense when scrutinized.
Thank you for signing up to iMore. You will receive a verification email shortly.
There was a problem. Please refresh the page and try again.