Keep your Twitter timeline and DM's synced between devices with Tweetbot for iPhone and iPad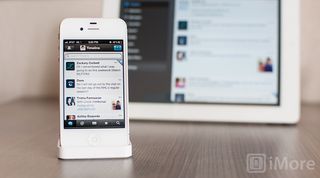 If you've been looking for a way to keep your Twitter timeline synced between your iPhone and iPad, you'll be happy to know that Tweetbot has been updated with the ability to do just that with the help of iCloud sync.
Before, many users were using the service called Tweet Marker that aided in keeping your Twitter timeline synced between different devices and clients. What it couldn't do, was sync the read status of direct messages. With iCloud sync, you can read a DM in Tweetbot for iPad, and when you switch to Tweetbot on your iPhone, that DM will already be marked as read there as well. You no longer have to "mark all as read" when switching devices!
In addition to your timeline and direct messages, iCloud sync in Tweetbot will also keep your mute filters synced across devices.
Some other improvements include thumbnail previews for YouTube and iTunes links and the ability to pinch to close an image on the iPad.
Now, if only there was Tweetbot for Mac...
$2.99 for iPhone - Download Now
$2.99 for iPad - Download Now
Get the best of iMore in your inbox, every day!
Former app and photography editor at iMore, Leanna has since moved on to other endeavors. Mother, wife, mathamagician, even though she no longer writes for iMore you can still follow her on Twitter @llofte.
Between the features, frequent updates, great customer service, intuitive UI and customization... why isn't everyone using Tweetbot by now.

Because there's no OS X app and syncing between devices is an absolute must-have for me. I use Echofon because I can sync between iPhone, home computer and work computer (using the Echofon Firefox plugin).
I would rather be using Tweetbot full-time because it has several other features that I like, but I tried it and learned over just about a day that syncing was imperative. I use it occasionally now for posting certain links or images because Tweetbot supports several services out of the box that Echofon doesn't (Cloud App comes to mind) and because it allows custom services which means I can use my personal URL shortening domain.
The very instant there's a Tweetbot OS X app, I'll switch completely.

Echofon has offered this for some time. And they have a Mac app.

As has Tweetings, which also already has iCloud filters too

I wouldn't recommend Tweetings to anyone. Not because of lack of features but the performance and stability of the app makes using the apps frustrating. I have used both the iPhone and iPad versions at every version level and each time I wind up looking for other alternatives. When TB was finally offered for the iPad, I deleted Tweetings and haven't looked back. TB is so much smoother in UI and more stable than Tweetings ever was.

You've not used it recently then

$5.98 for twitter apps? No thanks.

You probably spend that amount on a cup of Starbucks coffee that is gone in a few minutes. If you use Twitter and want the very best Twiiter clients for iOS, six bucks (for both) is a very small price to pay.

Nice but I use tweetmarker to sync ipad/iphone AND the twitter webpage on my pc via a treetmarker chrome extension. Tweetbot doesn't allow icloud syncing and tweetmarker, its one or the other so I'll stick with tweetmarker to keep all 3 places I read tweets synced.

I hate when developers don't make their apps universal. Wtf.

I've been browsing on-line more than three hours today, yet I by no means discovered any attention-grabbing article like yours. It is lovely worth sufficient for me. In my view, if all site owners and bloggers made excellent content material as you probably did, the web can be a lot more useful than ever before.

There is Tweetbot for Mac!