Daily Tip: How to view High Quality YouTube over 3G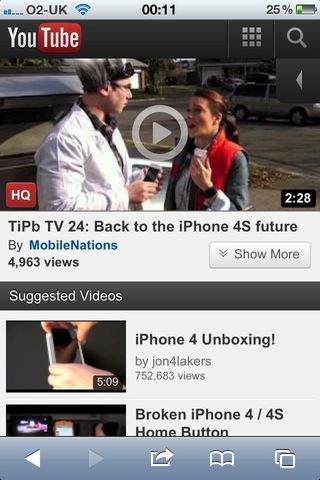 Trying to figure out how to watch high quality YouTube videos when you're on 3G? The iPhone is a great device for watching videos on YouTube. However, if you're on the go, the built-in YouTube app reduces the quality of the video to save data.
One common way of bypassing this quality-reduction is by jailbreaking and using an app like My3G, but what if you're not on #teamjaibreak? Luckily, there's a work around that works on any iPhone, and all it requires is the stock Safari web browser.
Open Safari
Navigate to m.youtube.com
Find the video you want to watch
Select "HQ"
Tap the thumbnail
Watch YouTube in its HQ glory.
BONUS: You can add the web app to your homescreen to replace the default YouTube app by pressing the +, and then "add to homescreen"
Tips of the day will range from beginner-level 101 to advanced-level ninjary. If you already know this tip, keep the link handy as a quick way to help a friend. If you have a tip of your own you'd like to suggest, add them to the comments or send them in to dailytips@tipb.com. (If it's especially awesome and previously unknown to us, we'll even give ya a reward...)
Get the best of iMore in in your inbox, every day!
Writer for iMore, YouTube Vlogger, and Host for [TEChBrits]
I don't if it's just me, but mobile YouTube seems to load videos a LOT more quickly than the YouTube app. Does anyone else notice this?

Does the native app still have to re-encode each video? in which case it should take longer if it does...

I see that too, the web app is better in many ways. Apple really needs to update some of their core apps

The problem is that the iPhone still prefers to open those apps, so clicking on a YouTube link can frequently jump to the YouTube app.

Well you kinda can. You can click on "share video" then when it opens the email, copy the link, and paste it into your SMS to your friend. That way the link will open with the YouTube app like normal.

Click "share video" and copy and paste the link into your SMS message.

Yea the high quality button doesn't exist anymore on safari. What can we do now? This seems really stupid of YouTube to limit phones by putting us in a back in the day YouTube limitations.
Thank you for signing up to iMore. You will receive a verification email shortly.
There was a problem. Please refresh the page and try again.