Better visualize your driving directions with Google Street View and Cockpit-mode in NAVIGON 2.1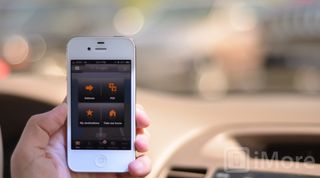 NAVIGON, the popular turn-by-turn navigation app for iPhone, has been updated to version 2.1 and now includes Google Street View, manual route blocking, and an optional NAVIGON Cockpit in-app purchase.
Anyone who's ever tried to find a restaurant, bar, or local business knows that knowing what it looks like on the outside can be vitally important to finding precisely where it is. It's not fun driving 30 minutes to get roughly there only to spend another 10 trying to get precisely there. NAVIGON knows this and is adding Google Street View so you can see where you're going even before you get there.
Manual route blocking is more about putting power and control back in the users hands. Once in a while, we really do know better than the machine. So now, if a recommended route comes up, but we know there's some construction there, or just a fast food joint or ex's place we want to avoid seeing, we can tap it and forget it. NAVIGON will consider it blocked and route us around.
Cockpit is like a heads-up mode for driving data. It's all your important info, all in real time, all right where you need to see it. That includes everything from gForce to speed to position. While Cockpit isn't part of the free update, it is available at the same time for $5.99 and could be a lot of fun for off-roaders and performance enthusiasts alike.
NAVIGON is currently the best turn-by-turn navigation app for iPhone for anyone who needs world-wide options and offline support. You can download just the maps you need, when you need them, and have them on your iPhone even when your data connection gets flaky. These new additions and options just make a good thing better.
If you already own NAVIGON, go get your update. If you're planning a trip this summer and need a great turn-by-turn navigation solution for iPhone, go check it out. It's currently on sale until July 16.
Variable - Download now
(opens in new tab)
Full press release:
Rene Ritchie is one of the most respected Apple analysts in the business, reaching a combined audience of over 40 million readers a month. His YouTube channel, Vector, has over 90 thousand subscribers and 14 million views and his podcasts, including Debug, have been downloaded over 20 million times. He also regularly co-hosts MacBreak Weekly for the TWiT network and co-hosted CES Live! and Talk Mobile. Based in Montreal, Rene is a former director of product marketing, web developer, and graphic designer. He's authored several books and appeared on numerous television and radio segments to discuss Apple and the technology industry. When not working, he likes to cook, grapple, and spend time with his friends and family.
But the real question is,
Can it tell me how to get to Sesame Street?

Turns out, my city actually has a Sesame Street...

I tried to use Navigon, last weekend, to navigate to an unfamiliar part of town to take advantage of a very good deal which might only be available for a very limited time. Navigon did not recognize the address and, similar to how it behaves when it doesn't recognize a POI, it would not allow me to proceed.
So, the expensive of having an offline, web-independent solution on the iPad was for nothing because I ended up havi to use Google's much more accurate maps. If I'd bought a wifi-only iPad, thinking that I would just invest in offline solutions, I could've ended up in a bit of a pickle.
So it's good that they're adding value like Street View functionality. Better maps would be great, too. That neighborhood I visited was not new at all.
Oh yeah. And being able to block certain areas from routing is a super-useful option that I had on my old Delorme Earthmate software, on my laptop, four years, ago.
We are living in amazing technological times.

Like cell signal, experience with mapping information is often very subjective. I have found Google's business address information to be sloppy and HIGHLY inaccurate. I have been late to three different meetings by depending on either Google Maps, or the Google Local Search in Navigon.
The last time was two months ago, when Google sent me to a location a full 10 miles away from where I was supposed to be, while the company has been at their location for over 20 years. It was an unfamiliar area, so I didn't know any better. I was 10 minutes late, and very unhappy. I call or stick to the Yellow Pages before I go now, and then key the addy directly into Navigon. Google just isn't dependable enough for me as a professional on the go.
So, I have found Navigon/Garmin's map info and POI info to be pretty reliable, while the unassailable Google, well, not so much. In fact, if I enter my official home address into Google Maps right now, it can't find it. Navigon, Magellan, TomTom, Waze, and other Stand-alone GPS apps, however, find it without any trouble. I don't know why that is, but it's just another reason I have lost interest in Google Maps.

If I purchase an in-app add-on like cockpit view, do I pay once and get it on my three iOS devices?

Yep, pay once. In-app purchases are tied to your apple id. Long as you use same apple id on all your iOS devices, your good.

I still prefer tomtom......don't shoot me !

unfortunately the update has caused me and many others (see Navigon East ap reviews at ap store) to not be able to access anything but west coast maps, though east coast has been purchased also. Map Manager does not allow changes. So what was once a useful service is not useless unless I take a plane to the west coast. have sent a support request but no response. Money, a good chunk of money, has been spent.
Thank you for signing up to iMore. You will receive a verification email shortly.
There was a problem. Please refresh the page and try again.