How to use VoiceOver for iPhone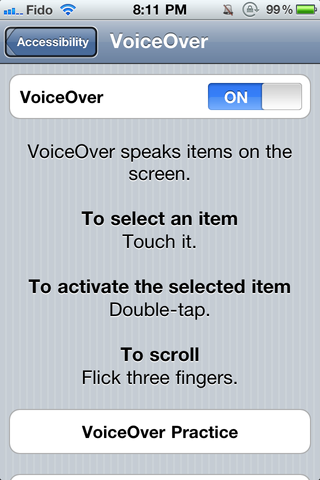 VoiceOver is part of Apple's accessibility features, a gesture-based way to have your iPhone speak what is written on your screen. First available on the Mac, Apple brought it to the iPhone with iOS 3 and improved it again in iOS 4. It doesn't get the attention of copy/paste or multitasking, but that might simple be because people do not know much about it or how to use it.
For an overview of VoiceOver and the various ways it can be used, stay with us after the break.
What VoiceOver can tell you
VoiceOver can give you the description of all the items on the screen, battery level, status, cell network signals time of day and even let you know if the orientation of your iPhone has changed.
Single tap to hear a description of what you have tapped
Double tap to activate
Swipe to adjust a slider
Flick to the left or right to move to the next item on screen.
Three fingers to scroll
VoiceOver will also deliver contextual information, such as the location of objects on the screen or tell you about adjoining objects. Since you are directly touching the part of the screen you want to have read out loud to you it is much easier to get the information you want faster than with other voice applications.
When you enter text on VoiceOver the letter you press is spoken to you when you touch it and then repeated again when you enter it. This is quite a tedious process but you can have VoiceOver speak the whole word instead. Flicking up and down will move the cursor to the left and right within the text for editing.
VoiceOver will try and predict the word you are typing to make the typing experience less stressful. I find this process very arduous and would rather use a dictation app like Dragon instead.
It uses sound effects to alert you when certain apps are open and can also lower the background music so that you can hear VoiceOver more clearly. When you select something a black rectangle shows on that item.
There are a variety of adjustments you can make to VoiceOver so that it is customized to your needs. You can adjust the speaking rate so it is as slow or quick as you like.
VoiceOver comes in 21 languages: Bahasa Indonesian, Chinese (Cantonese), Chinese (China), Chinese (Taiwan), Dutch, English (US), English (UK), English (Australian), Finnish, French (Canada), French (France), German, Greek, Italian, Japanese, Korean, Norwegian, Polish, Portuguese (Brazil), Portuguese (Portugal), Romanian, Russian, Slovak, Spanish (Mexico), Spanish (Spain), Swedish, Thai, Turkish.
iTunes
Safari
Maps
Mail
A few others as well
If you're a developer, Apple offers the Accessibility Programming Guide for iOS [developer.apple.com link (opens in new tab)] to help you add VoiceOver and other accessibility features to your app. If you're not a developer but you have an app you'd really like to see the feature added to, send them that link!
Place two fingers on the iPhone and turn them and you get a dial-like set of options for VoiceOver. This allows you to flick up or down to move through only the text you desire.
The Rotor is especially useful for navigating through a webpage, and options include:
Lines
Heading
Links
Form Controls
Tables
Characters
Words
Do you ever use VoiceOver and if so how does it work for you? Let me know in the comments below.
[Apple (opens in new tab)]
Get the best of iMore in in your inbox, every day!
Senior Editor at iMore and a practicing therapist specializing in stress and anxiety. She speaks everywhere from conferences to corporations, co-host of Vector and Isometric podcasts, follow her on Twitter @Georgia_Dow and check out her series at anxiety-videos.com.
Apple needs to do a better job explaining and speaking about this feature... It is extremely valuable for many users. Thanks for posting it!

Georgia,
Will this help you get into DFU mode more easily?
Zing! :)

I'll launch a website to hear and stream some of the latest music while driving home. The news section will sometimes have a juicy headline so I'll fire up voice-over to hear it.

I'm writing a book on the subject. Nice to see it get some mainstream attention.

Maybe I'll save some other iPhone 3G user the wasted 30 minutes I just spent trying to find this feature.
It's only available on an iPhone 3GS or iPhone 4.
Maybe that could be mentioned in the article? :-(

I agree with Farbod21. Thanks for posting these seemingly simple (and sometimes obvious) tips. They may not help the masses but they sure help us n00bs.

Thanks for this, I went trying to find info on this feature a couple of weeks ago and there's not much out there. Thanks.

On a similar subject Dragon Dictation is free atm
http://itunes.apple.com/us/app/dragon-dictation/id341446764?mt=8

Not a fan at all. Poor and slow feature.

I can't seem to get it to work to read snooks etc. Tried following the instructions but it just tells me screen orientation etc... No actual reading of iBooks. Any ideas?

This is a amazing article. Thank you for this site. Well made! You will find more informations on Lingerie de charme. There's everything all you can need!

I'm totally amazed of voice over. I tried it a couple of months ago, but there's a little of a learning curve, especially for people that never tried a screenreader (i didn't). I can read, but not for long, so for me it's a fantastic to be able to have long articles read and now voice over even supports my language. The "speech simulation" is very well done, even in my language.

What I meant about the learning curve is that the first time I tried it I couldn't figure out how to use it properly so it just ended up taking a long time for nothing. But now, as I looked more into it, it turned out to be fantastically well done.

Apple brought it to the iPhone with iOS 3 and improved it again in iOS 4. As a blind user, I'd like to know the differences.

Overall, it seems cool, however; I wonder how voice over acts durring calls if you have to make a threeway call or inter information into an automated system such as voicemail. That would be interesting to experience. :)

where do i find voice over?

You can find a voiceover at http://www.cmbvoiceovers.com She's called Caroline Beverley and is very freindly and knows her stuff or you can try http://www.onholdmessages2u.com others are available but I like these.

it's driving me crazy!!! how do i get out? too type a message i have to hit each lettter 3 times!!!
HELPPPPPPP!

Omg I can't figure it out have you?

please help me i can't enter passcode & then can't use other thing when ever i'll on the voice over.
How to turn on my ph
please help me
stupid voice over

So VoiceOver is a tool to have articles read out loud to u? I have this feature but confused about what it's for

Very confusing. I couldnt get it to work on my phone. also want to know if i dont care for it how to take off. is it as easy as putting on in settings which im having probls with? not much on this feature

there is not too much information about voice over! I use it and have to read in english (being spanish speaker) in order to get some help.

I've used voice over on an iPhone 3g, Hoping to get the Iphone 4S very soon. I must say, it's a lot better than symbian phones, which uses mobile speak. Because it's not accessible with most apps. For E.g. facebook, twitter, and others. where as, u get those features with voice over. Good job apple!

My blind doughter borrowed my Iphone 4S andnow the Voice over cant shut down.? The gren cirkel vill stay when we do as we should to shut it down? I want voice over to be not working now.
Thank you for signing up to iMore. You will receive a verification email shortly.
There was a problem. Please refresh the page and try again.