What does the warranty on the Ninja Foodi cover?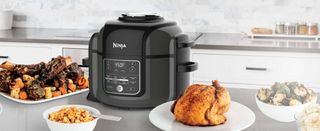 (Image credit: Ninja)
What does the warranty on the Ninja Foodi cover?
Best answer: SharkNinja, the makers of the Ninja Foodi multicookers, gives you a "One Year VIP Limited Warranty" on both the 6.5 quart and the 8-quart models of their popular pressure cookers. If you operate and care for your cooker as per the instructions and it breaks within a year of purchase, you will be able to get it repaired or replaced. It doesn't, however, cover removable parts.6.5-quart: Ninja Foodi ($200 at Ninja)8-quart: Ninja Foodi Deluxe ($280 at Ninja)
Ninja Foodis ain't cheap, so you need to know you're covered if you're unlucky enough to have yours break down. When you purchase a Foodi, you have a written guarantee, or warranty, from the manufacturer that promises to repair or replace the product within a specific period. In the case of the Ninja Foodi, that period is one year. This warranty covers the actual Ninja Foodie, not the removable parts.
Of course, this only works if you keep the receipt. Always keep the receipt or some proof of purchase for your Ninja Foodi. This will be absolutely essential should you need to claim on the warranty. Your warranty is not valid if you can't provide proof of purchase. You can head to the Ninja Kitchen support site or call to speak to a customer service bod and initiate a warranty claim. Of course, there are ways to void the warranty, so here are things to avoid.
The Ninja Foodi warranty only covers multicookers that have been used in what the company calls "normal household conditions." Your warranty does not cover any kind of professional or commercial use of your cooker. Also, keep it clean. You can invalidate your warranty if you don't protect the motor base from liquids, food spills, and other debris.
If your Foodi goes wonky, do not, under any circumstances, attempt to repair it yourself or get someone else to take a look at it. Your warranty is not valid if the unit has been tampered with. The manufacturer states that "altering, or repairing the SharkNinja product (or any of its parts) when the repair is performed by a repair person not authorized by SharkNinja" voids your guarantee.
Unfortunately, though the warranty does cover any product malfunctions, it doesn't cover everything. The warranty does not cover normal wear and tear of wearable parts such as removable pots, racks, and pans. If you wear those out, your only option is to buy replacement parts from the Ninja Accessories store.
One-year warranty
You're a VIP

The Ninja Foodi is a pressure and slow cooker perfect for any kitchen. It makes preparing meals easy, and with a one-year warranty, you can keep on cooking without worry.
Master your iPhone in minutes
iMore offers spot-on advice and guidance from our team of experts, with decades of Apple device experience to lean on. Learn more with iMore!
Amy-Mae has been writing about consumer technology since before the iPhone was even a twinkle in Steve Jobs' eye. She started out in magazine publishing with the UK lads' mag 'Boy's Toys' then moved online with startup Pocket-lint.com as the first full-time member of staff, helping grow the site to one of the UK's largest gadget sites. Amy-Mae then moved to Mashable when it only had a staff of around 10 people. After working her way up to a senior role there, Amy-Mae left in 2014 to have her daughter. Since then Amy-Mae has continued to contribute to Mashable and The Daily Dot, keeping up-to-date with the latest consumer technology and social media trends. For iMore.com, Amy-Mae gets to her explore her love of home cooking, concentrating on all things kitchen tech.