What Fitbit colors are available?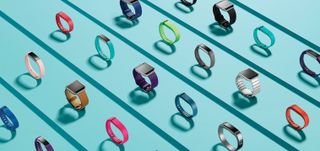 Planning on getting a Fitbit? Great! There are lots of awesome kinds of Fitbit to buy, but one thing to consider is you're pretty much going to be wearing this thing all day, every day. What color are you going to get?
It's important to choose a color of Fitbit that you're going to love and not easily tire of. Fortunately Fitbit has got you covered. With as many as 10 colors for the Fitbit Flex and as few as two for the clip-on Fitbit One, you'll likely find a Fitbit color that matches your personal style.
Fitbit Surge
The Surge is easily the most rugged of the trackers in the Fitbit lineup. It features GPS, a large monochrome display, and heart rate monitor. The wide rubber strap has a triangular grid pattern to it while the main body is wrapped in smooth metal. The Surge comes in three colors:
Fitbit Blaze
If you're looking for a Fitbit that also makes a fashion statement, then you should be looking at the Blaze. Equipped with the most popular features of other Fitbits, the Blaze is the only Fitbit to boast a full-color touchscreen. The Fitbit Blaze comes in three colors:
Dress up your Fitbit Blaze further with a leather strap or metal band accessory straps.
Fitbit Charge HR
The Fitbit Charge HR is an upgrade from the standard Fitbit Charge because it offers a built-in heart rate monitor. This gives you a higher level of accuracy when tracking your burned calories over the course of a day when compared to Fitbit models without heart rate monitoring. The Fitbit Charge HR comes in five colors:
Black
Plum
Blue
Tangerine
Teal
Fitbit Charge
The Fitbit Charge has a resilient design from its triangular-stamped strap to its flush, LED display. The charge supports tap navigating, allowing you to tap on the band to scroll through your latest fitness stats. The Fitbit Charge comes in four colors:
Fitbit Alta
The Fitbit Alta is an extremely classy device offering the most common fitness tracking features in a sleek form factor. The elongated display gives this Fitbit a unique style and offers additional customization options with accessory straps. The Fitbit Alta is available in four colors:
Dress up your Fitbit Alta further with a leather strap or metal band accessory straps.
Fitbit Flex
The Fitbit Flex gives you a simple, sleek band to monitor your vital fitness stats. The device's small LED keeps the Fitbit simple and light, but still allows you to track your daily fitness progress as a series of dots light up on screen as you approach your fitness goals. The Fitbit Flex is available in a rainbow of colors:
Black
Slate
Violet
Lime
Pink
Teal
Tangerine
Navy
Red
Blue
Looking for something more elegant with serious style? Check out the designer accessory line from Tory Burch for the Fitbit Flex.
Fitbit Zip
The Fitbit Zip is the perfect introduction to the world of fitness trackers. It is the least expensive device in the Fitbit family but still monitors vital fitness stats. Clipping on to your belt, pocket, or pants, the Zip allows your to scroll through your daily steps, calories burned, and distance travelled by tapping on the device's screen. The Fitbit Zip comes in four colors:
Black
Lime
Midnight Blue
Magenta
Fitbit One
For those who want a fitness tracker, but don't want to wear it on their wrist, there's the Fitbit One.
This device offers core tracking data like steps, distance, stairs, and sleep with a unique, flower-pedal screen to display your progress. The Fitbit One is available in two colors:
You've got the color, now add some pizzazz!
Keep in mind that a few Fitbit models (Alta, Surge, and Flex) will allow you to swap out bands so even if you like the lime green one for everyday use, you can switch to a black band for a classy night out. There are also cool bands made of leather and metal and even designer creations available for certain Fitbit models.
Want to more about accessorizing the Fitbit? Check out what's available for your favorite Fitbit!
Fitbit
○ Fitbit Buyers Guide
○ Fitbit Users Guide
○ The Best Fitbit to Buy
○ Fitbit News
○ Fitbit Forums
○ Buy on Amazon

Master your iPhone in minutes
iMore offers spot-on advice and guidance from our team of experts, with decades of Apple device experience to lean on. Learn more with iMore!
"Siri, write a really funny bio for me to use for Mobile Nations" "Okay, Drew, here's your really funny bio: How-to writer, fiddle player, retro gamer."