What if Apple is planning on launching Podcasts Plus? Would you subscribe?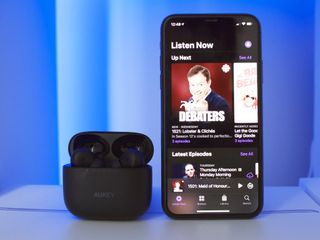 (Image credit: Luke Filipowicz/ iMore)
Last week we got word that in the future Apple Podcasts would be dropping the term "Subscribe" from the platform and using the term "Follow" in its place. While Apple hasn't confirmed the reason for the change, some data shows people often associated the word "subscribe" as something you must pay a fee to access. Other popular platforms like Spotify and Sticher already have adopted the term "follow" for podcasts, so in many ways, Apple following suit (see what I did there) makes a lot of sense. But, what if something larger is at play here?
Spotify has been mulling over a paid subscriptions for podcasts for a while now, and they could be rolling out the feature as early as this spring. What if Apple plans to do the same? Let's put on our tin-foil hats and explore the potential of a new service/feature I'm calling Apple Podcasts+.
Apple Podcasts+? Really?
Oh, yes. Apple has been ramping up its services in the past few years — both Apple TV+ and Apple Fitness+ are fairly new — and it's clear that Apple is constantly looking for new services to offer. It seems to be the direction the company is going. If Apple can find a way to make an Apple News+, I'm sure it could find a way to make Apple Podcats+. In fact, precedent is already set.
Many podcast creators already offer listeners different ways to get special features for a fee — longer episodes, ad-free content, early access to new episodes, etc. Whether it's through independent services like Patreon or podcasts platforms like Stitcher Premium, creators are constantly looking for ways to expand their revenue and reach their audiences.
While there are lots of different places to get your podcasts these days, some people don't always go through the trouble of finding multiple sources. There are bound to be many people that only listen to podcasts through the Apple Podcasts app, and Podcasts+ would give creators the ability to reach those people and offer exclusives to that audience.
How would Apple Podcasts+ work?
This is where the waters get a little muddy because when it comes to podcasts, nobody would want to pay for special content to podcasts they don't listen to — that would be absurd. All of that is to say, I don't think Apple Podcasts+ would be like Fitness+ where you subscribe to the service and get access to every podcaster that makes use of it. Instead, it's much more likely that Apple Podcasts+ would be a framework that would allow creators to offer a paid subscription for their podcasts.
Bring back the "Subscribe" button
Much like how you can subscribe to a YouTube channel (which costs nothing) or you can Join (and become a paid member) for exclusive features/content, it might be as simple as re-adding the "Subscribe" button to Apple Podcasts. Therefore, you can choose to select the "Follow" button for free, just like you do right now, or you can smash that "Subscribe" button and get exclusive offers. It could very well be that simple.
Why would Apple do this?
I know subscription fatigue is real, but I also know that more and more apps and services are switching to subscription-based models. The reality is the competition already does this or is in the process of doing this as we speak, and you best believe Apple is paying attention.
If all the other major podcasting platforms start offering additional revenue streams to content creators, and Apple doesn't, slowly but surely, we'll start to see our favorite podcasts leave the Apple Podcasts app for greener pastures.
This is 100% speculation on my part, and even though my tin foil hat may be on a little tighter today, I believe that an Apple Podcasts+ (or something of that ilk) is a genuine possibility.
Would you make use of Apple Podcasts+?
If Apple launched some sort of Podcasts+, would you subscribe to the creators you really love? Put your tin-foil hat on, dive into the comments below, and let me know what you think!
Luke Filipowicz has been a writer at iMore, covering Apple for nearly a decade now. He writes a lot about Apple Watch and iPad but covers the iPhone and Mac as well. He often describes himself as an "Apple user on a budget" and firmly believes that great technology can be affordable if you know where to look. Luke also heads up the iMore Show — a weekly podcast focusing on Apple news, rumors, and products but likes to have some fun along the way.
Luke knows he spends more time on Twitter than he probably should, so feel free to follow him or give him a shout on social media @LukeFilipowicz.
We will see what happens, but I will say that I would definitely NOT pay for access to podcasts at all, I don't care who does them or what those podcasts are. The day and age of adding another $5.95 or whatever streaming service or access to a service are over. The days of nickel and diming users by paying a monthly fee to use an app are hopefully over before they ever begin. I will not accept the idea that I must pay a monthly fee for each and every app on my phone in order to be able to use each of those apps. And I will not pay a separate fee to listen to each and every podcast either. This has gotten ridiculous.

"The days of nickel and diming users by paying a monthly fee to use an app are hopefully over before they ever begin."
Unfortunately, those days have already begun, and are certainly not over. Hopefully they aren't profitable enough to remain, like telemarketing. (It only still exists because it makes money)

Nah! You're right about subscription fatigue, it's real and everyone has it. Podcasts we're meant to be heard for free. And now there's plenty of ways to support the podcasters you love, "following" and sharing their podcast, following the podcasters other socials, buying items from the companies that advertise with them, clicking their ad links or letting the advertiser know how you found out about them, and then purchasing items directly from the podcasters, their store or donating directly to them. I do this with the Minimalist podcast via Patreon. I'd be surprised if they did this.

debaters fans unite!
also i have noticed a lot of my podcasts have empty commercial slots lately. i feel like their income is drying up in that direction, and they're putting up paywalls for fuller access. not sure apple needs to be a middle-person here, but they just fell behind spotify for delivered podcasts and want to keep providers happy.

No. I have too many subscriptions out there now that every channel wants its own streaming service. I don't need or want to add another thing to that list.

If they bundled it in the Apple One Premium I already have, I might be tempted to actually give it a try.
Thank you for signing up to iMore. You will receive a verification email shortly.
There was a problem. Please refresh the page and try again.