The devices, apps, and accessories I used most in 2015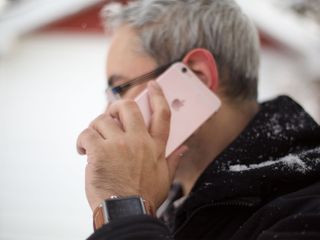 I tend to use few things frequently and an enormous number of things occasionally. I also tend not to have favorites but to prefer wondrous diversity. That's both my personality and a consequence of my job. So, when I sat down to list out what I used most last year, nothing really stuck out as a surprise.
While I still use Google services, I've continued to move almost completely off Google's apps. (The only exception is Google Drive for iOS, which I need to access work docs.) The lack of native interface, the lack of feature support, Maps going wonky in my region, and excessive battery drain are the primary reasons. Conversely, thanks to the updated Notes and iMovie, the advent of News, and solidification of Maps, I'm using Apple apps slightly more than before. Go figure.
The biggest—and smallest—change this year was the addition of two new products and App Stores with the Watch and the new Apple TV. Biggest because two new things. Smallest because I think an entirely different paradigm will prove necessary for Watch apps, and TV apps have just begun to arrive. If anything, it makes me even more curious about how 2016 will play out.
iPhone
The 4.7-incher might be the better phone but, when I'm out and about, the 5.5-incher is the better mobile computer. Big display and long battery life are hard to beat.
iPhone 6s Plus

(opens in new tab)

: I started the year with a 6 Plus and ended it with a 6s Plus.
I use a ton of iPhone apps but most of them I use sporadically. The ones I use all the time tend to be the ones that help me stay connected and run iMore on the go. A complete list would be too long to include, so here's a top 20ish.
Safari: Call me old-fashioned, call me someone who earns a living on the web, but Mobile Safari remains one of my most-used apps.
Mail: I don't want to treat email as to-dos, so unified inbox beats out alternatives for me.
Camera: Of course.
Photos: To find and transfer what comes out of the camera.
Notes: Always my go-to text sync, thanks to iOS 9 it's now my go-to everything sync.
Messages: Every one of family members and friends has an iPhone, so everyone uses Messages.
Wallet: Thanks to boarding passes, movie tickets, Starbucks card, and Apple Pay, I now use Wallet all the time.
Music: Yes, I'm using Music more then ever. "Hey Siri, play Smooth Criminal by Alien Ant Farm" changed my world.
Maps: To get where I'm going, though still only most of the time. (Google Maps has gotten worse where I live, alas.)
Tweetbot

(opens in new tab)

: The official Twitter apps confuses the hell out of me. Tweetbot fits how my brain works on iPhone.
Facebook

(opens in new tab)

: It's the only social network some of my family and friends use, so I use it. (Please fix the background drain, thanks!)
Instagram

(opens in new tab)

: Anything I share that's an image or video starts in Instagram. Benefits of focus.
Slack

(opens in new tab)

: Mobile Nations and iMore run on Slack. (I've heard rumors other rooms are out there too!)
Overcast

(opens in new tab)

: Even though Podcasts has Siri integration, Overcast's interface suits me better.
1Password

(opens in new tab)

: The second app I install on any device I own. I couldn't use the internet without it.
Dropbox

(opens in new tab)

: The first app I install, because it has my 1Password database.
Home

(opens in new tab)

: Because Apple didn't ship it, and it's the best way I've found to manage HomeKit.
Pedometer++

(opens in new tab)

: The extremely simple way I force myself to move away from the internet.
TripIt

(opens in new tab)

: Because, unlike my airline app, it alerts me to changes ahead of time.
Fantastical

(opens in new tab)

: The fastest way to enter and find appointments and events.
Authy

(opens in new tab)

: For all my second factor authentications.
Uber

(opens in new tab)

: If I'm traveling in a city that has Uber, I'm using the Uber app.
I have a lot of accessories but I don't use a lot. I'm a pocket-and-go kind of person. What I do use is to automate my home and charge my travels.
Mophie Power Station XL

(opens in new tab)

: So big, so powerful, I keep it in my bag to charge all the USB things.
[Philips Hue for HomeKit](http://www.amazon.com/Philips-456210-Ambiance-Starter-Generation/dp/B014H2P4KW/?tag=hawk-future-20&ascsubtag=UUimUdUnU35545 "Hey Siri, turn my kitchen lights on!" "Hey Siri, turn them purple!" "Hey Siri, this. is. the. best."
[iHome Smart Control Plug for HomeKit](http://www.amazon.com/iHome-Control-featuring-Compatibility-ISP5WW4TC/dp/B010ACFEI0?tag=hawk-future-20&ascsubtag=UUimUdUnU35545 "Hey Siri, turn the studio plug off!" because I forget the LED panels. Every time.
Sphero BB-8

(opens in new tab)

. The droid toy we've all been waiting for.
Bose QuietComfort 20

(opens in new tab)

: These remove most of the noise—and stress—of air travel. Bliss.
iPad
Before iPhones went Plus my iPad of choice was mini. Following the Plus I went back to the Air and stayed there most of the year. Since the iPad Pro, even bigger is where it's at. And yes, it's mostly for the Pencil.
iPad Pro

(opens in new tab)

: Go big or go iPod.
Some of the apps I use on the iPad are the same as the iPhone, though with an almost inverse frequency: writing first, communicating only when I can bear the distraction. Others are unique to iPad. To avoid repetition, here are the unique ones:
iBooks: The comics are especially great on iPad Pro.
Videos: Everything I subscribe to in iTunes comes out here.
Kindle

(opens in new tab)

: Because Apple and Amazon have different comics in different regions.
Marvel Unlimited

(opens in new tab)

: Yes, more comics.
Procreate

(opens in new tab)

: The best way I've found to draw on the iPad.
Pixelmator

(opens in new tab)

: For mobile pixel editing.
iMovie

(opens in new tab)

: For mobile video editing.
Netflix

(opens in new tab)

: I cut cable years ago so this is how I get my fix of catalog programming.
Coda

(opens in new tab)

: So great I almost wish I still had to manually maintain web sites. Almost.
I also use the local TV network apps, but they're so terrible I don't even want to list them.
Many of the accessories I use with iPhone, including the charger and droid, I also use with iPad. So, again, here's what's unique to the latter.
Apple Pencil

(opens in new tab)

: The best digital drawing tool I've ever used. And I've used a lot.
Smart Keyboard

(opens in new tab)

: Ultra weird at first, but ultra-portable and after a few minutes I don't even realize what I'm typing on any more.
Lightning to SD Card reader

(opens in new tab)

: For pulling DSLR pictures into the iPad Pro on the go.
Mac
I started the year living on a 13-inch Retina MacBook Pro, which is probably still the best Mac I've ever owned. I finished it, however, on a 12-inch MacBook. Compared to the Pro, the MacBook is way underpowered, but it's also more portable. And since I have a 5K iMac at home, portability wins out.
27-inch iMac with Retina 5K display

(opens in new tab)

: My primary podcast and video editing machine. Lives in my studio connected to mics, cameras, and that sort of gear.
12-inch MacBook

(opens in new tab)

: My primary writing and travel machine. Weighs almost nothing and can be used almost anywhere.
Mac apps
Safari, Mail, Notes, Photos, Messages... I use all of these on OS X just like iOS. Here's what I use differently.
Photoshop: I've been using it for decades and it's muscle memory for me at this point. Creative Cloud subscription keeps costs down and upgrades frequent.
1Password

(opens in new tab)

: How I manage logins across platforms.
Dropbox: Where all my documents and databases live.
Napkin

(opens in new tab)

: Nothing is faster for making diagrams. Nothing.
Audio Hijack: How I record podcasts.
Pro Audio Converter: For converting Call Recorder and Logic Pro X output.
iZotope RX 5: For fixing any defects in the audio prior to editing.
Logic Pro X

(opens in new tab)

: How I edit podcasts.
Final Cut Pro X

(opens in new tab)

: How I edit videos and video podcasts.
Fantastical

(opens in new tab)

: Fastest way to add and find appointments and events.
Tweetbot

(opens in new tab)

: Simple, clean, fast, and efficient.
Coda: Because, occasionally, I still have to edit web sites manually.
Feeder

(opens in new tab)

: This is how I add podcasts to the various feeds.
TextExpander

(opens in new tab)

: Turboboost for writing!
Slack

(opens in new tab)

: Our virtual office.
Skype

(opens in new tab)

: Our virtual phone system.
SuperDuper!: In addition to Time Machine and Dropbox, because everybody needs a clone.
Mac accessories
When it comes to accessories for the Mac, they're naturally divided into two types: travel gear for the MacBook and production gear for the iMac. I'll tackle them in that order.
Apple Watch
I started the year with an Apple Watch steel, switched to a Sport for a month or so, then switched back to Steel. For most people, I'd recommend Sport because it costs less and the Taptic engine feels stronger. I just love the durability and look of steel.
Apple Watch

(opens in new tab)

: The Apple Watch is to my iPhone what my iPhone is to my Mac: less functionality but far greater convenience.
Like I said at the beginning, I don't use Watch apps the way I use iOS or OS X apps. I use them almost entirely through notifications, including Wallet. Almost every message I receive is checked first on my Watch. Everything I can possibly pay for or check into on my Watch is done on my Watch. Gone are the days of pulling binaries. Now we're in the age of pushing features.
In addition to all the iPhone apps listed above, most of which get triaged through my Watch, here are a few I only use on the Watch.
Wallet: So good on Watch I barely use it on iPhone any more.
Activity: Reminds me to get up and get moving.
Workouts: For my walks. Hopefully more in the future as well.
Maps: Taps for walking directions are brilliant.
World Clock: Great as complications when traveling.
Alarm, Timer: Set via Siri, they're invaluable for cooking and exercising. So's Siri on the Watch in General.
Remote: For when I can't find the hardware Apple TV remote. Which is more often than I'd like.
Just Press Record

(opens in new tab)

: Since Apple doesn't provide Voice Memo, this serves that purpose.
CARROT Weather

(opens in new tab)

: For when I'm out being outdoorsy and want more detailed weather in the big complication.
Sleep++

(opens in new tab)

: I'm trying to make sure I get some and this helps.
I have a ridiculous number of Apple Watch bands. So many of them were so cleverly design I couldn't help myself. To help you resist temptation, I'll restrict myself to my absolute favorites.
Hermès cuff: Not available separately, alas, but it's the one piece of "jewelry" I've bought myself in... decades. And I adore it. (You can find similar cuffs from third party vendors

(opens in new tab)

Steel link bracelet

(opens in new tab)

: So ingenious that, by itself, it shows the value of Apple entering new product categories.
Milanese loop

(opens in new tab)

: A classic, and a rare one until Apple brought it back into fashion.
Leather loop

(opens in new tab)

: For when you want to be just a little more formal than the sport band.
Sport Band

(opens in new tab)

: Light and resilient, you want it for workouts and anything involving water.
Twelve South Forté

(opens in new tab)

: Elegant and holds you Watch safely regardless of which band is on it.
Apple TV
I went with the 64 GB Apple TV because, due to both the intelligent caching and on-demand resources, it keeps more recently-downloaded content locally available. Ultimately, that's both faster and easier on bandwidth.
Apple TV

(opens in new tab)

: Since I cut cable years ago, Apple TV is the primary way I watch video at home.
Our local networks have barely been bothered to make second-rate iOS apps, so it should come as no surprise they've done nothing at all for Apple TV. Shameful. I have several workout apps and games I've been trying, but nothing that's become regular yet. We'll see how 2016 changes that.
Note: There's still no way to link Apple TV apps. Apple needs to fix that.
iTunes Movies: Anything I want to own is bought and ready to watch in Movies.
iTunes TV: I have seasons passes to all shows I want to keep or watch just as soon as possible after their air date.
Netflix: For catalog content that's interesting to watch but I don't need to keep.
Plex: A full-on media center in an app.
Sonos Home Theater System

(opens in new tab)

: After HDCP errors made my warranty-expired Pioneer system stop working, I went all-in on Sonos. Attaches via optical audio cable to my TV, so Hollywood can't cheat me again.
SteelSeries Nimbus controller

(opens in new tab)

: While I don't play any specific game a lot, I try out a lot of games, and that makes this controller necessary.
To 2016 and beyond!
That's what I used most in 2015. Now, as 2016 begins, I can't wait to see what will change. iPhone 7 is coming, and I'll absolutely switch to that. Likewise Apple Watch 2. iPad Air 3 I might sit out, since iPad Pro is doing so well for me. If Intel gets their chips together, I'd love a MacBook with more power. Other than that, here's hoping for ample surprise and delight in the new year!
Rene Ritchie is one of the most respected Apple analysts in the business, reaching a combined audience of over 40 million readers a month. His YouTube channel, Vector, has over 90 thousand subscribers and 14 million views and his podcasts, including Debug, have been downloaded over 20 million times. He also regularly co-hosts MacBreak Weekly for the TWiT network and co-hosted CES Live! and Talk Mobile. Based in Montreal, Rene is a former director of product marketing, web developer, and graphic designer. He's authored several books and appeared on numerous television and radio segments to discuss Apple and the technology industry. When not working, he likes to cook, grapple, and spend time with his friends and family.
What is your primary email service? I am interested in sliding over from Gmail to iCloud.

Personal email is iCloud. Work email is Google because that's what Mobile Nations uses.

Hi Rene, I just wanted to pass this on: I just discovered the new Zagg Slim Book keyboard and case for the iPad Pro. While I was having the new Zagg Glass Luxe screen protector put on my iPhone (which is really cool--also the best screen protector I've ever had!--it works the best with the Home button and the curved sides of the screen/device), the kiosk person heard me mention that the Apple Store was out of the Logitech Create case. She did a great sales job showing the the Slim Book. I quickly searched and read this review, as well: http://www.macrumors.com/review/zagg-slim-book/
That reviewer pretty much nails it. How do I know? Well, we have a 2 day old Logitech Create keyboard/case at home for my wife's iPad Pro. After trying them both, it's a no brainer: Zagg outshines the Logitech. It's like having a MacBook Pro but you can easily remove the iPad Pro with the Zagg case back protector on it. While it's attached to the keyboard and unlike the Logitech, you have multiple angles for viewing and palm space while typing like a laptop. The keys are better etc.--anyway, read the review if you're interested.

I wish I could move back to iCloud email but I just wish it pushed email like exchange that I have on google apps for work. With iCloud email if I open an email on my iPhone it doesn't show as read on my ipad or my Mac I have open that email too to show as read. Is there a way around this?

I have that same problem. I have since decided to go with Outlook.com. I am happy with the service.

Rene, are you still using iCloud for everything besides work? Do you find iCloud email to be reliable?

No android devices then? ;-p But honestly good ideas for me for what apps to put on my ipad mini when I am using that. Sent from the iMore App

Sad to see Rene deleting posts that poke fun at him....hello North Korea

Hmm where are the Google apps ... Is this a real person? Joking of course :)

Serious question: Why exactly would using Safari be considered old fashioned? Is it because most people browse on Facebook or something these days? Also, why no Workflow, LCP or IF(TTT)??

I think he was implying that so many have moved to Chrome or the like, even for mobile. Just guessing though.

Because most people on mobile have shifted away from the web towards apps. I use Workflow and LCP, but less often than my wish to keep the lists shortish would allow me to include. I stopped using IFTTT a while ago.

Have you tried the Amazon Echo Rene? I should search your website. Seems the Echo works with IFTTT slickly on iOS.

When 1Password added two-factor, I dumped Authy. One fewer app on my phone.

Nice read, thanks Rene. I enjoy these articles as there's always something new to glean from them.

Why do you keep your 1Password library in Dropbox and not iCloud? Sent from the iMore App

Possibly because Dropbox 'just works', whereas I find iCloud gives me different results on each device. Sent from the iMore App

I'm not sure. Was Dropbox sync available before the more recent version of iCloud sync? Side benefit is when I do try out other platforms the database syncs over :)

Biggest benefit is using other platforms. Every once in a while I'll log into my Note to try out some update to a google app and can still get to my 1password database.

Wish I could afford a third of these devices.

It's my job and where most if not all my money goes to.

Good article. Based on my impression that those reading these comments are, likely, fellow power users - wha are Mac users using to create PDFs? As a recent convert back to Mac, I'm looking for the easiest way to combine documents, images, anything printable from multiple sources into one PDF. I'm looking for quick and easy with simple ways to change the order of the docs. In the Windows world, I used a program that acted like a printer, but output a PDF. It did all of what I've described. Preview does some of this, but I haven't found a Mac equivalent. Any suggestions?

Take a look at PDF Expert by Readdle, it's on the Mac AppStore. Sent from the iMore App

PDF Expert looks good. I'm using the free trial, but it is oriented to merging PDFs as opposed to converting other formats to PDF. Many Mac apps have the PDF function in their print menus, but photos (for example) do not have a PDF print option. Still looking for a more powerful app.

A lot of what your looking for can be done in preview. Open a photo in preivew and export as pdf. Open a word doc and save as pdf. Open a few files, drag them on top of each other in the order you want and export as pdf to combine them.

Hi Rene- curious...how is Sleep++ working for you? Worth it?

I like the data it collects but I have no idea what to do with that data.

Thought I was the only one left on the planet that was perfectly content to manage email on my iPhone with the stock app. Glad to know I'm not alone.

Very good job. The best thing I bought was the Apple Watch this year. Started with a Casio and end with an Apple Watch. But the best thing I discover for myself is the iPad charger for the iPhone. That thing chargers my iPhone way faster

Curious...What does 1Password do that Keychain doesn't?

"The 4.7-incher might be the better phone but..." Curious Rene, care to elaborate?

Picture seems to show that you have your watch on backwards? Sent from the iMore App

Great post :) loving the new Apple TV. Sent from the iMore App

Hey Rene, I believe the Stepz app for your iPhone is much better than the Pedometer++ app. Check it out, now is a perfect time to switch! Works great on iOS 9 and fully supports the Apple Watch! Ron

I'd like to file a complaint that my comment was wrongly removed.

for me i like bigger phones and since i use my watch more and more for texting i don't need to take my iPhone out of the pocket so i am in for a iPad mini phone. i think i give the watch 2 more years and it'll become the new phone. maybe 4 years from now we using the watch as phone and the screen will be the phone. i think it'll shift from iPhone to the watch

Wow, Rene, you are definitely all Apple. You use many of the same apps for iPhone i do. I too use Apple Maps usually instead of Google Maps. Its very good...usually. Once and a great while, I do have to use Google Maps to find a POI. I've always been a Mac guy (though I am forced into Windows 7 at work). However, I have an Amazon Fire TV at home, instead of Apple TV. It simply fits better with my Prime subscription, and works just as well as the 3rd Gen Apple TV, IMO. Thats also the reason I have an Amazon Fire HDX 7. The screen is simply breathtaking (better than my iPad mini 2) and its ridiculous fast. I use my tablet for mostly e-reading and news reading, so using strictly an iPad isn't required.

Rene, why do you use Authy for second factor authentication instead of 1Password's One-Time Password?

Rene, what are you using for email on your Macs? Does the stock Apple mail app do it for you as does the iOS one? Just curious because I too use the iOS mail app because it works for me and I struggle to find one that works well for me
On Mac. Thanks
Get the best of iMore in in your inbox, every day!
Thank you for signing up to iMore. You will receive a verification email shortly.
There was a problem. Please refresh the page and try again.