What's on Ally's iPad right now!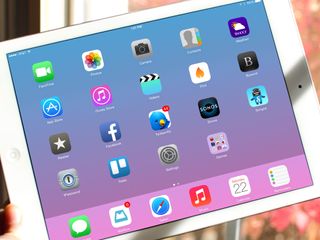 My iPad Air serves a different purpose in my workflow than my iPhone 5s. The apps I have installed on each sometimes overlap but for the most part, they're set up completely different. My iPad is what I turn to at home for media and to wind down and relax while my iPhone is my on-the-go choice. I've already given you a look at what apps I have on my iPhone so here's a look at what's currently on my iPad!
Wallpaper: I change the wallpaper on both my iPhone and iPad quite often but lately I've been a huge fan of regular gradients. In this instance, I just did a Google search for iPad gradient wallpaper and found a nice pink and blue one I really liked. It's been there for about a month now and I've yet to grow tired of it. When I do, it'll get swapped for either a different gradient, or a photo of my dogs.
Stock apps: There are a few stock apps I always keep floating around my main Home screen and those are Calendar, Messages, Music, Safari, Reminders, FaceTime, Photos, Camera, Contacts, App Store, iTunes Store, Videos, and Settings. These are here because they're the apps I use the most out of all the stock apps. However, I can't wait to eventually replace the stock Calendar and Reminder apps with Fantastical

(opens in new tab)

if and when an iPad version is available.
Mailbox

(opens in new tab)

: I've recently found email harmony between Mailbox for iOS and Airmail

(opens in new tab)

for Mac. So I've ditched the stock email app and have turned my inboxes into productivity powerhouses. Mailbox is in the dock on all my devices and will stay there unless something better comes along.
Yahoo Weather

(opens in new tab)

: I have several weather apps on my iPhone since that's the device that's with me most often when I'm outside. However, when I'm on my iPad and want to check the projected forecast, Yahoo Weather more than gets the job done, in the most beautiful way of any iPad weather app I've ever seen.
Flint

(opens in new tab)

: - We use Campfire to communicate here at Mobile Nations and Flint by Big Comet is the best Campfire app I've found so far. I use it across my iPhone, iPad, and Mac.
Byword

(opens in new tab)

: I nail out some serious writing on my iPad when paired with my favorite keyboard case. Byword has been helping me do that on iPhone, iPad, and Mac for years now. I couldn't be happier with it and don't hesitate to recommend it to anyone who's looking for a great writing or Markdown app.
Reeder 2

(opens in new tab)

: I've tried many RSS apps on my iPad and I always end up coming back to Reeder. It's clean, easy to use, and keeps me up to date on all the news I care about most. I've been using Unread

(opens in new tab)

on my iPhone but when it comes to iPad, Reeder 2 is still king.
Facebook

(opens in new tab)

: As much as I hate to admit it, I still use Facebook pretty regularly. The official Facebook app is much better than Facebook in Safari and until there's a version of Paper

(opens in new tab)

for the iPad, the official Facebook app it is.
Twitterrific

(opens in new tab)

: I frequently switch between Tweetbot

(opens in new tab)

and Twitterrific on my iPad but since the Tweetbot app for iPad hasn't been updated yet, I've been sticking with Twitterrific until that happens since it fits iOS 7 much better. I'll re-evaluate when Tweetbot 3 is made available for the iPad.
Sonos

(opens in new tab)

: I recently set up a Sonos system throughout our condo and I'm absolutely in love with it. Whether I want to listen to music in the office, adjust the volume in the living room, switch songs, or group different speakers together, I can do it all from my iPhone or iPad. The app does need an iOS 7 overall badly but it still gives me complete control over my entertainment system and because of that, it earns a spot on the Home screen of every iOS device I own.
Songza

(opens in new tab)

: I love Songza because it does a great job serving up electronic and trance music I actually like. For that reason I gladly pay to be a premium member and it's on the Home screen of every device. I use it at home, in the car, and when I'm at the gym. If you haven't tried Songza, you're missing out.
1Password

(opens in new tab)

: I use 1Password across every device I own, including my Mac. I depend on it heavily to remember all my passwords and autofill them. I couldn't live without it and that includes on my iPad.
Trello

(opens in new tab)

: We've recently adopted Trello as our content planning tool across Mobile Nations. Being able to launch it on my iPad and view what I have due for the next several days in invaluable. I can even add content, edit things, assign other members of our staff content, and more. It's a great planning and project management tool, all completely free.
Games folder: Part of winding down for me is playing my favorite games. My current vices seem to be Candy Crush

(opens in new tab)

, Farm Heroes Saga

(opens in new tab)

, Threes!

(opens in new tab)

, Clumsy Ninja

(opens in new tab)

, and Octagon

(opens in new tab)

. Which one I pick up ultimately depends on the kind of time I have to play. There are also classics in my games folder that I play from time to time including Dots

(opens in new tab)

, Bejeweled Blitz

(opens in new tab)

, Plants vs Zombies

(opens in new tab)

, and more.
That about covers what's on the first Home screen of my iPad. My second Home screen is chock full of folders that are separated by groups like Productivity, Entertainment, Reference, and more. They're apps I don't use nearly as much as everything on the first page. Now I want to hear from you guys! What apps deserve a spot on the first Home page of your iPhone or iPad? Do we have any in common? Let me know in the comments!
Get the best of iMore in in your inbox, every day!
iMore senior editor from 2011 to 2015.
Nice collection - I too can't live without 1Password. I keep most all my documents and photos in several cloud services, each with two-factor authentication. AUTHY is my preferred authentication app and lives on my Home screen along with the cloud services. Also, essential for me is Evernote! :)

I have a question for you Ally: it looks like you prefer Mailbox over the stock Mail app. What do you think of Boxer? Just curious.

I just haven't found any to play as nicely with Airmail, which is a must for me. I just added Mailbox in, can't believe I forgot it. :)

We need to make a concerted effort to get Silvio Rizzi to change the icon for Reeder, I dislike it on my iPhone and even more so on the iPad.

Boxer replaced Mailbox for me. I didn't want additional folders to be created and I wanted easy access to my Gmail labels. It was a no- brainer

Nice write up, Ally. Thanks for sharing. It's fun to see how others use there idevices in their daily lives and work flows.

Free lite version of ms office just went live at office.com

Trello is a great app for planning, the equivalent of the wall-full of PostIt notes we used for Agile development on the last big game I worked on. I now use Trello and its great that I can access it from iOS or web, I use it for task lists for the apps I'm working on, and to track user feature requests.

Well done and good list. Love it! Sent from the iMore App

Trance music???? Like what??? Sent from the iMore App

I always thought Songza was a competitor to Shazam... Is it more of a Pandora competitor?

Thanks, Ally! Just read your app review from earlier this month on these radio streaming apps (NOT on-demand, right?! ;-) ) and downloaded, signed up for, and am listening to Songza--cool! So, any trance playlists you recommend? Edit: wait a minute--I'm browsing and looking for the Trance genre and the list only goes to the letter "S"?! Help me out here..... :-( Edit 2: OK, I think you look under "Electronica," yes?

Yep electronica. I like the pretty lights playlist a lot. Sent from the iMore App

Try Mr Reader. I never looked back when Reeder went dormant for a while.

I used it for a period of time. I ended up preferring the flow of Reader. Sent from the iMore App

I have fallen in love with twitterrific Sent from the iMore App

Most beautiful weather app is the newest update to Dark Sky! But my go to weather app has always been Weather Bug. Paid version for WB. Simple easy to read. Recommend both highly! Calendar app: FANTASTICAL. Navigation app: WAZE.

After playing around with some android tablets, especially the nexus, the iPad's home screen looks quite amusing.

I really like this wallpaper. Can you share it? Or tell me where to get that? Thank you.
Thank you for signing up to iMore. You will receive a verification email shortly.
There was a problem. Please refresh the page and try again.