What's on Ally's iPhone right now!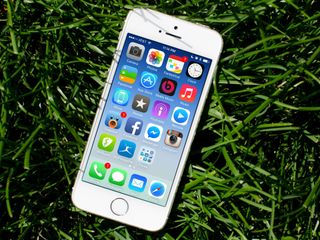 We've already decided on our best apps of 2013 but we still want you to know our most personal ones — the apps we have given primetime spots on our Home screens. Rene's already shared his iPad Air setup so now I'm going to share what's on my iPhone 5s, at least for right now. See, the first page of my Home screen rarely ever stays the same for more than a few weeks. I switch apps based on what I need and like at the time. There are a few staples, however, that might get shuffled but never get bumped. Here they are!
Wallpaper: I've always been a fan of plain gradient wallpapers mainly because they don't compete for attention with app icons. I can easily pick things out without straining my eyes. When the iPad Air came out, I loved the wallpaper on it so much I searched for an iPhone version and saved one off Google images. It's been alternated between other gradients ever since.
Stock apps: Six of the spots on my Home screen that never change are occupied by the native Camera, Photos, Clock, App Store, Passbook, and Music apps. Typically they always remain in the same place too. I always know exactly where they are and they've become pretty much muscle memory.
Fantastical 2

(opens in new tab)

: Ever since the first version of Fantastical came out I've never even thought about returning to the default Calendar app. It's just too good. And now that the new version integrates reminders, it's another spot I've been able to open up on my Home screen since I don't have to have the native iOS Reminders app taking up space.
Beats Music

(opens in new tab)

: Beats Music has replaced the spot Rdio

(opens in new tab)

previously occupied on my Home screen, at least for now. I stream a lot of music during the day and even though I like iTunes Radio, I've always depended on a premium streaming service when it comes to downloading music for offline listening. I'm far too finicky with music to buy everything I like. Subscriptions suit my personality far better since I tire of things quickly.
iMore

(opens in new tab)

: I am pretty sure this one speaks for itself. If you don't have it already, stop what you're doing, download it, and then continue as you were.
Reeder 2

(opens in new tab)

: I've turned to Reeder for a long time when it comes to RSS feeds. Perhaps it's out of habit, I'm not sure. When Reeder 2 came out it was a no brainer for me and I haven't been disappointed. It sorts my feeds how I want and sends them to all the services I care about. It isn't too over the top which is what I love about it.
Podcasts

(opens in new tab)

: I've made a New Years resolution to actually attempt to keep up with the podcasts I enjoy. I've been bad at this in the past and I'd like to change it. But I'm not a hardcore podcast listener so Apple's Podcasts app more than suits my current needs.
Remote

(opens in new tab)

: There are very few things in life I despise more than the tiny silver remote that comes with every Apple TV. It buries itself in any couch crease or bed sheet it can find, and I've given up looking for it. If you own an Apple TV, the remote app is a must have on every iOS device you own.
Tweetbot 3

(opens in new tab)

: I have a nasty habit of switching between Twitter clients frequently. I always come back to Tweetbot. Its feature set is pretty much unmatched, at least for what I use it for. It's also the most reliable in my experience.
Facebook

(opens in new tab)

: As much as I'd love to hate Facebook, I still find myself checking my news feed whenever I'm bored. Possibly out of habit. I already know none of it is relevant and all of it is pretty much crap ads nowadays. Perhaps just moving it altogether would be a good idea...
Facebook Messenger

(opens in new tab)

: Hate if you want, but the voice calling and messaging capabilities of Facebook Messenger are hard to put down. When traveling internationally it's saved me a few times especially when calling someone who didn't have FaceTime. For that it earns a spot on my Home screen. And it lets me not really open Facebook if I don't have to.
Instagram

(opens in new tab)

: As much as I hate to admit it, I take far too many photos of my dogs and my dinner. Where else would I slap a fancy filter on them and upload them for all of your viewing pleasure?
BillGuard

(opens in new tab)

: It's the best damned credit card monitoring service on the planet. Not only does it monitor for fraud, but hidden fees, deals, and savings. All for a one time in-app purchase of $9.99. If you own a credit card or checking account it's a no brainer.
MyFitnessPal

(opens in new tab)

: We all know how it is. The holidays are over and it's time to get back in shape. MyFitnessPal is a great way to do so, no subscription service necessary.
Faves folder, page 1: I have the usual suspects such as Dropbox

(opens in new tab)

and Settings. From there I've got Chase

(opens in new tab)

which I use to manage my personal accounts, deposit checks, and QuickPay money. Foursquare

(opens in new tab)

and GetGlue

(opens in new tab)

are my favorite check-in apps and I use them both fairly regularly, when I remember that is. Trello

(opens in new tab)

is what we use here at iMore to manage and plan content so that's a must. The next two are iMore related too and they are Flint

(opens in new tab)

which lets me sign into our Campfire chat system while on the go. Chartbeat

(opens in new tab)

then lets me monitor iMore's traffic and see what you, our readers, are currently reading. Creepy right?
Faves folder, page 2:The last page in my Faves folder contains some basics such as the AirPort Utility

(opens in new tab)

to manage my home network and my Pebble

(opens in new tab)

app. Other than that I've got more iMore stuff such as Skype

(opens in new tab)

and Evernote

(opens in new tab)

. I use the first to communicate with my colleagues and the latter as a way to take notes or jot down thoughts throughout the day. Any RSS stories I want to remember to read later get sent to my Pocket

(opens in new tab)

app. As for weather, I'm currently using BeWeather

(opens in new tab)

due to the beautiful design and in-depth information. mydlink Lite

(opens in new tab)

lets me monitor our home cameras and last but not least, TeeVee 2

(opens in new tab)

keeps me up to date on all my favorite shows including reminding me an hour before a new episode is going to air.
And that brings me to the end of the first page of my iPhone Home screen. The next several pages are filled with folders of even more apps. Important ones but ones that aren't used nearly as much as the ones mentioned above. So what's on your Home screen? Do you share any of the same first page habits I do? Be sure to let me know in the comments and then jump in our forums and show us what's on your Home screen!
Get the best of iMore in in your inbox, every day!
iMore senior editor from 2011 to 2015.
I want a RSS reader with true push notifications that can "fetch!" Sooo bad. because there is no androidcentral app on iOS! I need my android fix!

Faast does Sent from the iMore App

Nice list Ally. I'm checking BillGuard, it's enticing.

One of the very first apps I download on new devices. Sent from the iMore App

During Christmas they were giving away Billguard Preimum. Totally worth it, even without the one time IAP.

Agreed. amazing service. Sent from the iMore App

Interestingly enough, I have a similar organization on my iPhone - top use apps on Home page 1 & dedicated folders on page 2, while 3rd [last] page is gaming related apps.
I do have an "Apple" folder in the dock (between "Phone" & "Messages") so I can get to default apps anytime, no matter what page I'm on.
Thank you for sharing the "what" & "why" of you iPhone with us Ally! :D Sent from the iMore App

Hey Ally, is Trello good? I mean what does it actually do? What sets it apart from any to do service like Clear or Wunderlist?

Absolutely. More of a project management platform than a todo app. Sent from the iMore App

Cool. Put it on my download list. Will download it tomorrow with wifi...

I always find it so interesting how others set up their phone and what apps are important to them.

How about an app that helps you create those gradient wallpapers & also one that helps to resize the zoomed photos when setting as Wallpaper on iOS 7? Wallax app does it.
https://itunes.apple.com/app/wallax-fix-wallpaper-add-effects/id72226202...

http://www.imore.com/having-issues-wallpapers-ios-7-heres-why-and-how-fi... Sent from the iMore App

Ally when using the remote
App for my Apple TV how do I power down the Apple TV Sent from the iMore App

Via settings Sent from the iMore App

You can also set the unit to auto power down if left idle Sent from the iMore App

Ally you lack of folders would kill my OCD lol. Sent from the iMore App

My second page and beyond is nothing BUT folders. My most used apps I keep out. Less taps to get to them. Sent from the iMore App

One that lives in my dock is Harken For iPhone. I find it muh easier to choose music than the stock Music app, and it supports podcasts too. I mainly listen to music in the car using my iPhone to feed it to my car stereo and Harken makes it much easier to choose music and control playback via simple gestures. It also displays the track info in large text so it's easier to see from a distance than the stock Music app.

Beats Music is growing on me. Think I might subscribe. The app is really buggy right now hope they fix soon. Sent from the iMore App

I've had a few playback issues or freezes but not many. I never judge too harshly on 1.0.x releases. Sent from the iMore App

My home screen is mostly stock apps. The other apps are transit, clear, Instapaper, forecast and google maps. Most of my folders are also on my 2nd and third home screens.

how many gb is your iphone? i just can buy a 16 gb one but I don't know if it is gonna work for me

I have a 64 Sent from the iMore App

Hi Ally! I'm a big fan of iMore and your great articles! Thanks a lot for your work! =) I own an iPhone 5 and an iPad Air. I was wondering.. with all of these apps, hows the battery life on your iPhone? My iPhone 5 has shitty battery life even on 2G (Yeah, we don't have 4G here where I live and 3G eats up more of my battery life so I stick to 2G on my iPhone).

Hey I thought the same as you a while back about 3G (and other settings) eating up my battery, but truth is even 3G is slow enough and having an iPhone on 2G well...it doesn't make any justice IMO. Don't be afraid of using all the features you really need on your iPhone, try to turn off GPS based locations apps if you don't use them, frequent locations etc. and plug your iPhone to the charger whenever needed! And enjoy it! Sent from the iMore App

Dont have my phone on me right now, but default app wise - Facetime, Mail, MEssages, Phone, Safari, camera, Photos, Calculator, Contacts and Clock. Aps wise - Office 365, Adobe Reader and Skitch for mostly work stuff.
Fantastical 2 for all my calender/reminder needs.
Using VLC a bit more lately.
Netflix, BT Sport, BBC iPlayer and Sky Go for streaming shows/movies/sports.
Spotify is my go-to for music.
BBC News, BBC Sport, Sky Sports and Sky News for content.
Default Twitter client as havent had time to try out Tweetbot.
Google Maps and TomTom for navigation.
WolframAlpha
Live Score Addicts and Bet 365 for my football needs.
iHandy's Quick Scan for a barcode scanner.
Radioplayer.
Sky+ to control my dvr.
Yell for the yellow pages.
HMRC for tax stuff.
IMDB, Flixster, Translate are self explanatory.
VSCOcam for filters.
Snapchat, FB, FB messenger, Skype, WhatsApp and Instagram for social.
Yahoo Weather
Amazon
YouTube & vine.
Dropbox
Banking stuff
Shazam

Question. For the Messenger app, is there a way to change your status to Invisible or something? Thanks!
And about what's on my device right now... I don't really know why but I just can get myself to FULLY customize the first page of my device. For the first page of my device, I have always preferred to keep my apps exactly as from when I got it. Even those that I rarely use. Crazy. There was this time I tried to customize it and two minutes later, I found myself arranging it back to the way it was. I know it's not very practical approach but it's way better than me losing my mind. LOL.

Thanks for the tips on several new apps (as if I don't have enough on my phone), especially Remote. Never again will I have to search for that tiny Apple TV remote. Much appreciated.

Excellent work! The BillGuard recommendation alone was worth the price of admission. Sent from the iMore App

Thanks for sharing Ally. I've decided to try BillGuard. Sent from the iMore App

I'm using the same stock apps like you :)
Plus:
Dock: Phone, Mailbox, Launch Pro, Safari
Fantastical2
BeWeather
Things
Evernote
1Password
Facebook
Tweetbot3
Flipboard Instagram
Foursquare
day One
WhatsApp
Tapatalk Pro
Pocket
MoneyWiz
DataMan
Reeder2
Candy Crush
FotMob
Podcast
Boxie
DocsToGo
Scanner Pro
Analytics Pro2 (It's better than Chartbeat)
Posted
Repix

Excellent list, it's always interesting to see what apps other people use. I'll check Fantastical 2 for sure. Unfortunately, BillGuard is not available for most countries yet. Apps from my home screen which are missing on your list: Waze, LoginBox (I'm biased here) & Flipboard.

Thanks for the tip about LoginBox - it seems like an awesome app!
I use Feedly for RSS feeds.

I cringe when I see Beats Audio. The only thing worse is the Beats audio headphone fashion trend. Guess Im partial to Apps like Spotify and real quality headphone manufacturers like Sennheiser that have been refining their products for years.

Same here. Beats=marketing hype.

Just a suggestion Ally, why not free up two spots on your home screen and access the clock and stock camera via control center? Sent from the iMore App

I also find it pretty handy to utilize Launch Center Pro to offload the important but not vital apps I use daily in order to free up home screen real estate. Sent from the iMore App

Hey Ally,
Thanks for the tips. I love, love Trello. I can't believe this app has slipped my notice. It's exactly what I have been looking for but can't explain.

This post inspired me to do my own blog about my own iPhone Home screen & set-up. You can read it here: http://steverp.wordpress.com/2014/01/29/my-iphone-home-screen-and-set-up/

Never heard of bill guard I will have to give it a try. Sent from the iMore App
Thank you for signing up to iMore. You will receive a verification email shortly.
There was a problem. Please refresh the page and try again.