What's on Ally's iPhone right now!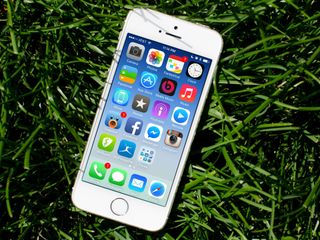 We've already decided on our best apps of 2013 but we still want you to know our most personal ones — the apps we have given primetime spots on our Home screens. Rene's already shared his iPad Air setup so now I'm going to share what's on my iPhone 5s, at least for right now. See, the first page of my Home screen rarely ever stays the same for more than a few weeks. I switch apps based on what I need and like at the time. There are a few staples, however, that might get shuffled but never get bumped. Here they are!
Wallpaper: I've always been a fan of plain gradient wallpapers mainly because they don't compete for attention with app icons. I can easily pick things out without straining my eyes. When the iPad Air came out, I loved the wallpaper on it so much I searched for an iPhone version and saved one off Google images. It's been alternated between other gradients ever since.
Stock apps: Six of the spots on my Home screen that never change are occupied by the native Camera, Photos, Clock, App Store, Passbook, and Music apps. Typically they always remain in the same place too. I always know exactly where they are and they've become pretty much muscle memory.
Fantastical 2: Ever since the first version of Fantastical came out I've never even thought about returning to the default Calendar app. It's just too good. And now that the new version integrates reminders, it's another spot I've been able to open up on my Home screen since I don't have to have the native iOS Reminders app taking up space.
Beats Music: Beats Music has replaced the spot Rdio previously occupied on my Home screen, at least for now. I stream a lot of music during the day and even though I like iTunes Radio, I've always depended on a premium streaming service when it comes to downloading music for offline listening. I'm far too finicky with music to buy everything I like. Subscriptions suit my personality far better since I tire of things quickly.
iMore: I am pretty sure this one speaks for itself. If you don't have it already, stop what you're doing, download it, and then continue as you were.
Reeder 2: I've turned to Reeder for a long time when it comes to RSS feeds. Perhaps it's out of habit, I'm not sure. When Reeder 2 came out it was a no brainer for me and I haven't been disappointed. It sorts my feeds how I want and sends them to all the services I care about. It isn't too over the top which is what I love about it.
Podcasts: I've made a New Years resolution to actually attempt to keep up with the podcasts I enjoy. I've been bad at this in the past and I'd like to change it. But I'm not a hardcore podcast listener so Apple's Podcasts app more than suits my current needs.
Remote: There are very few things in life I despise more than the tiny silver remote that comes with every Apple TV. It buries itself in any couch crease or bed sheet it can find, and I've given up looking for it. If you own an Apple TV, the remote app is a must have on every iOS device you own.
Tweetbot 3: I have a nasty habit of switching between Twitter clients frequently. I always come back to Tweetbot. Its feature set is pretty much unmatched, at least for what I use it for. It's also the most reliable in my experience.
Facebook: As much as I'd love to hate Facebook, I still find myself checking my news feed whenever I'm bored. Possibly out of habit. I already know none of it is relevant and all of it is pretty much crap ads nowadays. Perhaps just moving it altogether would be a good idea...
Facebook Messenger: Hate if you want, but the voice calling and messaging capabilities of Facebook Messenger are hard to put down. When traveling internationally it's saved me a few times especially when calling someone who didn't have FaceTime. For that it earns a spot on my Home screen. And it lets me not really open Facebook if I don't have to.
Instagram: As much as I hate to admit it, I take far too many photos of my dogs and my dinner. Where else would I slap a fancy filter on them and upload them for all of your viewing pleasure?
BillGuard: It's the best damned credit card monitoring service on the planet. Not only does it monitor for fraud, but hidden fees, deals, and savings. All for a one time in-app purchase of $9.99. If you own a credit card or checking account it's a no brainer.
MyFitnessPal: We all know how it is. The holidays are over and it's time to get back in shape. MyFitnessPal is a great way to do so, no subscription service necessary.
Faves folder, page 1: I have the usual suspects such as Dropbox and Settings. From there I've got Chase which I use to manage my personal accounts, deposit checks, and QuickPay money. Foursquare and GetGlue are my favorite check-in apps and I use them both fairly regularly, when I remember that is. Trello is what we use here at iMore to manage and plan content so that's a must. The next two are iMore related too and they are Flint which lets me sign into our Campfire chat system while on the go. Chartbeat then lets me monitor iMore's traffic and see what you, our readers, are currently reading. Creepy right?
Faves folder, page 2:The last page in my Faves folder contains some basics such as the AirPort Utility to manage my home network and my Pebble app. Other than that I've got more iMore stuff such as Skype and Evernote. I use the first to communicate with my colleagues and the latter as a way to take notes or jot down thoughts throughout the day. Any RSS stories I want to remember to read later get sent to my Pocket app. As for weather, I'm currently using BeWeather due to the beautiful design and in-depth information. mydlink Lite lets me monitor our home cameras and last but not least, TeeVee 2 keeps me up to date on all my favorite shows including reminding me an hour before a new episode is going to air.
And that brings me to the end of the first page of my iPhone Home screen. The next several pages are filled with folders of even more apps. Important ones but ones that aren't used nearly as much as the ones mentioned above. So what's on your Home screen? Do you share any of the same first page habits I do? Be sure to let me know in the comments and then jump in our forums and show us what's on your Home screen!
Master your iPhone in minutes
iMore offers spot-on advice and guidance from our team of experts, with decades of Apple device experience to lean on. Learn more with iMore!
iMore senior editor from 2011 to 2015.