What's on Ally's Mac menu bar right now!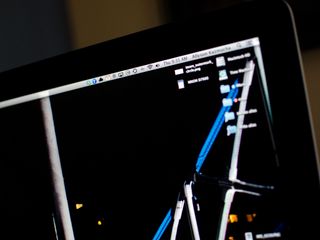 I've already shown you not only what I have on my iPhone and iPad Home screens, but what I've got in my Mac dock too. A lot of our staff members here at iMore have also shown you what they're using on their iPhones, iPads, and Macs. That means the only thing I have left to show you are the apps and utilities I think are important enough to earn a place in my Mac's menu bar. Follow along to find out!
Off to the right of my menu bar is all the basic stuff that comes standard on every Mac including current user, date and time, volume controls, wifi and bluetooth toggles, and Time Machine. For the most part, you'll see some kind of variation of this setup on every Mac out of the box. Now that we have the boring stuff out of the way, here's what else gets a spot:
iStat Menus: iStat Menus by Bjango is a system monitoring app that Peter turned me on to a while back. Not only can it track CPU usage, but RAM usage, network traffic, and pretty much every other chip or connection your Mac has. It's a huge help when you have to pinpoint an app or process that's causing problems. It has become one of the first things I install when setting up a new Mac. $16 - Download Now
AirPlay: If you have an Apple TV floating around your house that's connected to the same network as your Mac, you'll probably recognize this icon. We have three of them between the bedroom, office, and living room. Whenever I want to beam content from my Mac to any one of them, the AirPlay icon in my Mac menu lets me do it in just two clicks. There's nothing to download or install, OS X will automatically show AirPlay anytime there's a capable device within range.
Google Hangouts: We use Google Hangouts quite often for conference calls and meetings across Mobile Nations. That's why I find it essential to be able to sign in or access it quickly. The Mac app lets me do that in just one click. I can also initiate a private chat with any colleague just as easily. I don't use this feature all that often since we use Skype regularly, but it's nice to know it's there.
Fantastical: I use Fantastical across the board on both OS X and iOS. It is one of the absolute best calendar replacement apps, if not the best. Fantastical supports natural language input and reminders all in one app. That clears up two places in my dock. I can also access it from virtually anywhere as well as assign shortcut keys to create events without ever taking my fingers off the keyboard. It doesn't get much better than that when it comes to calendar and reminder management. $19.99 - Download Now

(opens in new tab)

CloudApp: CloudApp is a link shortening and image storage service. It is available on most platforms and integrates with many third party apps for both Mac and iOS. I use it frequently to share screenshots, links, and documents. Since it integrates nicely into the iOS apps I have, it means I have one central account to review and access all the media I've uploaded. It's just that much easier to keep track of socially shared stuff in one central location. Free - Download Now

(opens in new tab)

TextExpander: We use a lot of links around here at iMore. I also respond to a lot of similar emails. Text Expander makes is super simple to create shortcuts based on the things I do the most. I can't even imagine how many keystrokes I've saved by using TextExpander snippets. You can also share them via Dropbox in order to create snippets for a group. We do it here on iMore and it works amazingly well. I add a snippet and everyone else has it too. The only caveat is that the Mac App Store version is somewhat limited, that's why we recommend buying it directly from SmileOnMyMac instead so you get the full feature set the way it was intended to work. $34.95 - Download Now

(opens in new tab)

Dropbox: Not only is Dropbox my main cloud storage service, I use it to share documents with colleagues, family, and friends. It integrates into pretty much every platform I use and could ever want to use. Almost every third party app that hooks into storage services supports it. It sits in my Mac dock because I access it countless times a day for everything from PSD templates to imagery to PDF documents. It's all there, on every device I own. Free - Download Now
That's it! I don't like to keep an over abundance of apps in my Mac's menu bar or I feel it looks too cluttered. Now it's your turn, let me know what you're must-have menu bar items are in the comments below! Do we share any of the same ones? Let me know that too!
Get the best of iMore in your inbox, every day!
iMore senior editor from 2011 to 2015.
FreeSpace! Its handy! It always keeps the the free hd space number on the menubar. Just $1. Apple should include that in every OSX. Jumpcut is also a good clipboard manager. Completely free.

I have literally every single one of those apps on mine too. add in Google Drive, TextExpander, BackBlaze, and creative cloud.

I have text expanded ;) Sent from the iMore App

Expander* Sent from the iMore App

I use Caffeine to keep my screen from turning off when I'm watching MLB.TV and Hulu.

Again, still highly recommend not using iStat Menus. It will keep the CPU awake tracking the sensors and drain your battery faster.

This is a desktop computer. I don't use it on my MBA. Sent from the iMore App

I used it as a trial in the beginning and didn't see any problem on my rMBP. I do use MenuMeters though instead because it was free.

Nice to see someone else who keeps their menu bar relatively clutter free. I get so much anxiety when I see a Mac with a million icons up there. Sent from the iMore App

Ally, where did you get the hangouts for mac? I didn't know there was an app available or is it just through chrome launcher?

I don't even remember it was so long ago. Sent from the iMore App

Oh, never mind I found it, silly me. Here is how, if anyone's interested --> http://www.google.com/hangouts/

I don't use Hangouts as I am trying to de-Google myself. I uninstalled Chrome for FireFox though I am finding it hard to change Email and there is no real replacement for Voice. I have started using Bing for search and I have an Outloo.com email address. I don't use Android cause I am an Apple guy all the way.

Minimal approach is always best but in case that's too constricting, there's always Bartender to cheat your way out of minimalism. Sent from the iMore App

One of the first apps I got when I bought my MBP. I love it and recommend to help keep that minimalism, like you say.

I use a lot of these plus Insomnia and Microsoft OneDrive. I use Dropbox to store almost all of my documents, business and personal but had to go with OneDrive to store my big library of home videos and family photos. It was just more cost conscious than Dropbox because I needed more than 100GB. Sent from the iMore App

Never, ever, buy from the Mac App Store if you can buy it from the developer. It's the only way to make Apple reconsider this insane sandboxing nonsense.