What's the best place to buy the Fitbit Versa?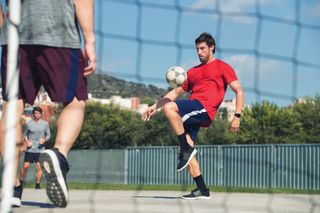 What's the best place to buy the Fitbit Versa?
Best answer: Amazon is an incredible way to get your Fitbit Versa quickly and efficiently. You won't have to worry about shipping fees and there are always sale options that pop up here and there. Plus with Amazon Prime, you can get your Fitbit Versa to you even faster, and with number customer reviews to point you in the right direction, what's not to love?!Amazon: Fitbit Versa (opens in new tab) ($200)
You can pick up the Fitbit Versa instantly on Amazon
Whether you're on the hunt for a rose gold, silver, or black Fitbit Versa, Amazon's got you covered. The website is designed to make shopping as simple as humanly possible, so you can get your fitness tracker on your doorstep in no time!
With Amazon you can read through hundreds of customer reviews, have the opportunity to take advantage of sales, join Amazon Prime for even faster delivery times, and so, so much more. Plus if you're also looking for accessories that go with your Fitbit Versa, like a screen protector or a new band, you can easily add those to your cart and checkout all in one go.
Maybe you're a bit hesitant about going through a site that isn't directly Fitbit: so order your Versa from Fitbit! You can effortlessly pick your fitness tracker's color from Fitibit.com (opens in new tab) without any issues.
Some people are more comfortable ordering directly from the source, and while you might not get as many deals as you would on Amazon, the peace of mind that it's coming straight from Fitbit might be worth all the discounts in the world.
Our pick
(opens in new tab)
Track your fitness and more with the Fitbit Versa

If you're someone who wants to monitor your fitness with a stylish, high-quality fitness tracker that comes in a variety of colors — and is also water resistent! — then it's worth it to take a peek at the Fitbit Versa. This functional and stylish fitness tracker is made to go from the office to the gym and everywhere in between, making it ideal for tracking your step count, sleep, resting heart-rate, and so much more.
The ideal workout band
(opens in new tab)
Soft Silicone Fitbit Versa Band
Stay stylish while working out with this silicone band for your Fitbit

There are plenty of bands in the sea, but when you want something that's perfect for working out, we recommend using a silicone band because silicone is sweat-resistant, easy to clean, and comfortable in both a gym and home environment. You deserve something that's functional and stylish while you're lifting weights, so a silicone band like this that comes in a variety of colors is ideal. You can pick up a singular band for $4, or a 10-pack of them for $25.
Cella writes for iMore on social and photography. She's a true crime enthusiast, bestselling horror author, lipstick collector, buzzkill, and Sicilian. Follow her on Twitter and Instagram: @hellorousseau
Get the best of iMore in in your inbox, every day!
Thank you for signing up to iMore. You will receive a verification email shortly.
There was a problem. Please refresh the page and try again.