What's the biggest container I can use with Joule?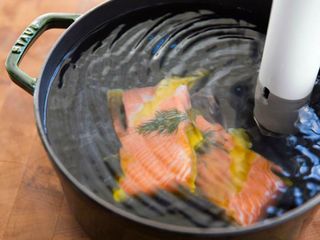 What's the biggest container I can use with Joule?
Best answer: The Joule sous vide can handle up to 10 gallons (40 liters) of water and cope with a depth of up to 8 inches (200mm). It's unlikely a home cook would ever need to utilize that kind of volume though. An 8-quart cooking pot, sturdy storage container or cooler box should be the perfect size for most sous vide recipes.Insulation station: Coleman 28-Quart Cooler (opens in new tab) ($18 at Amazon)A clear winner: Cambro Camwear 8-Quart Container (opens in new tab) ($27 at Amazon)Classic French kit: Le Creuset Enamel-on-Steel 8-Quart Covered Stockpot (opens in new tab) ($100 at Amazon)
While the Joule can large it and heat and circulate up to 40 liters of water, you can use the Joule to sous vide in as little as 1.5 inches (38mm) of water. So, you do not need a giant pot. You can use your Joule in just about any cooking pot. Bear in mind, however, that the sous vide wand's clever design includes a powerful magnet at its base. Induction-ready metal stock, sauce and pasta pots are absolutely ideal for the Joule. If your pot is not magnetic, then you can simply clip your Joule to the side.
Alternatively, good quality plastic storage containers are very popular in home sous vide cookery as they provide the bonus of being transparent. It's great to see the food you're cooking. Some people like using their cooler boxes for the Joule, especially if you're cooking outside as they offer a safe and sturdy cooking environment.
Whatever kind of cooking vessel you chose to use, bear in mind two essential tips. Make sure you place your Joule cooking set up away from cabinets; the steam can cause warping. Secondly, protect your kitchen counters from heat when sous vide cooking by using a trivet, or something similar.
Cool it
(opens in new tab)
Coleman 28 Quart Cooler with Bail Handle
Keep your cool

This cooler boasts a 28-quart capacity (enough for 36 cans), so it is more than big enough for your Joule. The ThermOZONE insulation will help keep the water's temperature steady.
Contain it
(opens in new tab)
Cambro Camwear Polycarbonate 8-Quart Food Storage Container
See-through success

Made of virtually unbreakable Camwear polycarbonate, this storage container can withstand heat to 210 degrees and has easy-to-read measurements.
Stock it
(opens in new tab)
Le Creuset Enamel-on-Steel 8-Quart Covered Stockpot
Flawless finish

Constructed from heavy-gauge carbon steel with a porcelain enamel finish, Le Creuset cooking pots can be used on any heat source in ordinary cooking, but also work perfectly with the Joule.
Get the best of iMore in in your inbox, every day!
Amy-Mae has been writing about consumer technology since before the iPhone was even a twinkle in Steve Jobs' eye. She started out in magazine publishing with the UK lads' mag 'Boy's Toys' then moved online with startup Pocket-lint.com as the first full-time member of staff, helping grow the site to one of the UK's largest gadget sites. Amy-Mae then moved to Mashable when it only had a staff of around 10 people. After working her way up to a senior role there, Amy-Mae left in 2014 to have her daughter. Since then Amy-Mae has continued to contribute to Mashable and The Daily Dot, keeping up-to-date with the latest consumer technology and social media trends. For iMore.com, Amy-Mae gets to her explore her love of home cooking, concentrating on all things kitchen tech.
Thank you for signing up to iMore. You will receive a verification email shortly.
There was a problem. Please refresh the page and try again.