What's the cheapest Fitbit?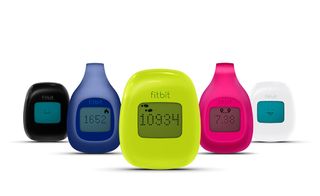 Fitbit is a popular brand of fitness tracker, having sold more than 21 million devices since its launch in 2007. They offer eight different models, ranging from high-end near-smartwatch experiences to a basic clip-on tracker. If you're looking to get into Fitbit on a budget, these are the ones you'll want to look at.
What's the cheapest Fitbit without a band?
If you don't like wearing anything on your wrists, or just want to get into fitness tracking without spending a bunch, then the cheapest Fitbit tracker is the Zip. It retails for $49.95 and comes in four colors: black, lime green, blue, and hot pink. Instead of wearing it on your wrist, it comes with a clip that you attach to your belt or clothing. It's small enough that if you wanted to you could just carry it in your hand while you're walking. It has a tappable screen that displays the time of day plus your statistics for the day, useful if you don't have your phone on you while you're working out. It monitors steps taken, distance, calories burned, and active minutes.
The Zip does have a couple of drawbacks, however. The first is that it doesn't have a wristband, which means that you can easily forget you clipped it to your shirt before throwing it in the wash. If that happens, you can say goodbye to your tracker. The second is that it doesn't have a sleep monitor. If tracking your sleep is important for you, then you're better off spending a little more money on a more feature-packed Fitbit.
What's the cheapest Fitbit with a band?
If you don't want to lose your tracker or kill it in the wash, and you don't care about having a screen, then your cheapest Fitbit option is the Flex. It sells for $79.95 and comes in 10 amazing colors: black, gray, pink, lime green, hot pink, blue, orange, pale green, red and blue. Additionally, you can remove the tracker and accessorize it for a different look. It tracks everything the Zip does, with the addition of sleep.
While the Flex lives up to its name for being flexible in terms of customization (and literally flexible), and it's a good value in terms of all of the things it tracks, including sleep, the biggest drawback is its lack of a screen. Instead, it has LEDs that light up as you close in on your goals. The lights look pretty, but for a little more money you can get a screen and a few more features as well.
What's the cheapest Fitbit with a screen?
When it comes to Fitbit trackers with a screen, it's a tie between the Charge and the Alta for the cheapest. They both sell for $129.95, but the brand-new Alta won't start shipping until March 2016.
The Charge has an OLED screen that includes a watch plus your daily stats. It also displays Caller ID. It tracks all of the usual statistics like steps and active minutes, and as with all wearable Fitbits, it comes with a sleep monitor. Its battery life is rated at a long 7 to 10 days between charges, and recharges in about two hours. It comes in four colors: black, gray, blue, and red, and like the Flex, is customizable with different accessory wristbands — though you'll have to purchase those separately, of course.
Other neat features the Charge has include the ability to set alarms and an additional tracking metric: floors climbed. This is particularly useful if you climb a lot of stairs every day.
Like the Charge, the Alta also comes with an OLED screen, which has a watch and shows your daily stats. Unlike the Charge, however, the Alta's display is tappable — you can cycle through what's on the screen with a tap of a finger. In addition to monitoring sleep, the Alta also has a silent alarm mode — it vibrates instead of playing a sound when your scheduled alarm goes off. In addition to Caller ID, the Alta's screen also shows call, text, and calendar alerts. It comes in four colors: black, blue, purple, and light blue. Also, like the Flex and the Charge, it is customizable with accessory wristbands that you can buy separately.
Another cool feature this tracker has is that it recognizes and records your exercise. For instance, if you do three sets of 10 repetitions of an exercise every day, the Alta will recognize when you pause between sets. This means that you can continue to work out without having to bother with pausing your time.
The Alta is nice and slim, but that comes with a price: the battery is expected to last only around five days, which is disappointing when compared to the 7 to 10 days for the Charge, but in line with most other trackers.
Find the right Fitbit for you
Whether you are looking for a tracker that you don't have to wear, or one that has a screen, there is a Fitbit model for you that gives you the most value for your money. Consider more than just price when you're making a decision about which one you buy- think about which one will be the most useful to you.
Fitbit
○ Fitbit Buyers Guide
○ Fitbit Users Guide
○ The Best Fitbit to Buy
○ Fitbit News
○ Fitbit Forums
○ Buy on Amazon

Get more iMore in your inbox!
Our news, reviews, opinions, and easy to follow guides can turn any iPhone owner into an Apple aficionado
Girl gamer, bookish sort, sci-fi and fantasy lover and writer. Now creating helpful content for Mobile Nations.