What colors are available for Fitbit Versa?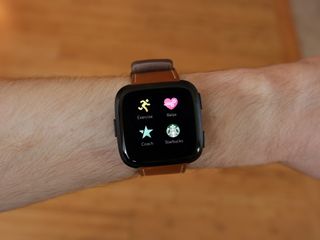 The Fitbit Versa family hosts a variety of different body colors and band options so you can really find the perfect aesthetic for you. The Versa family has recently expanded and now includes the Fitbit Versa Lite, Fitbit Versa, and Fitbit's latest and greatest smartwatch, the Fitbit Versa 2. Each Versa has a variety of different color schemes to choose from, which is why we created this list, so you can stay true to your style and make your Versa your own.
Fitbit Versa 2
Fitbit's second-generation smartwatch, the Fitbit Versa 2 features Fitbit's fastest processor yet, all of the Fitbit health and fitness tracking features, a 5+ day battery life, an AMOLED screen for sharper blacks and more vibrant colors, and a microphone and Amazon Alexa built-in for convenient voice commands and speedy text replies.
Fitbit Versa 2 Special Edition
The Versa 2 Special Edition watches include one designer jacquard woven band as well as the classic original black band for even more style and versatility options. Upgrading to special edition also snags you a free 3-month trial of Fitbit premium, which personalizes your health and fitness guidance.
Fitbit Versa 2 Special Edition
Navy & Pink Woven / Copper Rose Aluminum

Keep it preppy, and fun with this navy and pink woven band and light and feminine with this copper rose aluminum body option.
Fitbit Versa 2 Special Edition
Smoke Woven / Mist Grey Aluminum

This color scheme gives a smoky, edgy aesthetic and can be dressed up or down for versatility.
Black / Black Aluminum

Keep it sleek, stylish, and simple with this Fitbit Versa that comes with a black silicone band and a black body.
Peach / Rose Gold Aluminum

Just peachy! This Fitbit Versa comes with a peach silicone band, and a rose gold body.
Fitbit Versa
The Fitbit Versa is an incredibly reliable and functional waterproof wearable that allows you to monitor your steps, your sleep pattern, calories consumed, female hormone cycles, and so much more. The original Versa design comes in three different color options: rose gold, black, and silver.
Fitbit Versa Special Edition
With the Fitbit Versa Special Edition, you get the additional option of making convenient payments thanks to an NFC chip that the other two Versa models don't come with. With the regular Versa and Special Edition, you also get the options of on-screen workouts, the ability to store 300+ songs, all-day activity tracking, and the ability to dive up to 50 meters. You don't get these with the Versa Lite.
Fitbit Versa Lite Edition
If you do decide to go with the Versa Lite, you have very vibrant colors to choose from. The Versa Lite also has basic features like Bluetooth capability, real-time pace and distance tracking, app access, smartphone notifications, a four-day battery life, heart-rate monitoring, more than 15 different exercise modes, the ability to track your workouts, female health-tracking, personalized reminders, sleep tracking, cardio tracking, guided breathing sessions, and more!
Find the perfect color for your style
The bottom line is, you have so many color options to choose from, you're guaranteed to find the perfect Versa to fit your unique style. Whether you're looking for vibrant and loud or understated and classy, we've got the perfect color scheme for you on this list of color options for your Fitbit.
We love the Fitbit Versa 2 Special Edition because who doesn't love a designer Jacquard band and the bonus of getting the classic black band as well? If you're looking for vibrant colors, check out the Fitbit Versa Lite family. Or maybe you want to go super classic with the OG Fitbit Versa 2 black on black color scheme. Whatever you choose, you'll find the perfect color to match your style on this list!
Get more iMore in your inbox!
Our news, reviews, opinions, and easy to follow guides can turn any iPhone owner into an Apple aficionado
Nicolette is a freelance writer for iMore. She's been hooked on Apple products since she got the very first iPhone in 2007 and made the switch from PC to Mac in 2008 after inadvertently dousing her laptop with a hefty dose of water. A dedicated creative, Nicolette has had the pleasure of working with some of the top websites, studios, and brands in the industry throughout her career, and enjoys writing about all things: Apple, health, fitness, audio, and home. With over a decade of high-level experience as a health and fitness professional, Nicolette specializes in tech pertaining to the field. If she's not working, you can find her sipping a glass of wine, enjoying a concert, or hanging with her family.