What's on Peter's iPhone 6 right now!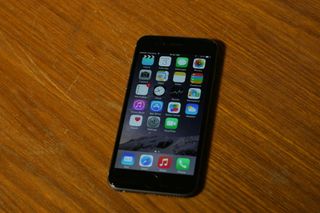 Much like Rene, I keep my iPhone pretty much bone-stock on its first Home screen. I do this because I've reset it frequently enough that I just can't be bothered to spend a lot of time customizing it, and like Rene, I use it occasionally for product shots when reviewing stuff at iMore and want it looking as fresh-out-of-the-box as possible.
I don't like a lot of messy app clutter on my iPhone's Home screens. I pretty compulsively find places to put apps I've downloaded, because I don't want to have to flip through pages finding what I'm looking for. My most frequently used apps I access by just double-pressing the Home button and flipping through pages until I find what I'm looking for. Everything else has its place.
Wallpaper: Stock. I like the wintery nighttime sky.
Utilities: This started out as the "Extras" folder Apple includes with iOS, so it has Contacts, Calculator, Compass and Voice Memos. I've also added Find My Friends, Xfinity Connect, Ookla Speedtest and a few other utilities I use sporadically.
Games: contains only the games I play most frequently. Lately I've been enjoying Puzzlejuice (a Tetris-style word game from the maker of Threes), Color Zen, Lyne and Hay Day. Mostly I play Hay Day. It's like Farmville. Don't judge.
Passbook apps: For reasons I don't remember, I've put all the Passbook-compatible apps in a single folder. I use this to track my Discover card balance, Walgreens, Fandango (which I use for movie tickets), Starbucks, and a few other Passbook-related apps that I actually use pretty frequently.
Social: Here's where I keep the apps I use to stay in touch when I'm away from my Mac. Echofon Pro is my Twitter client of choice. I also keep Skype, Facebook, LinkedIn, Vine, and a few other apps nearby.
Travel: Here's where I keep map apps including Transit (helpful for finding public transportation schedules in most big U.S. cities) and Google Maps. I fly JetBlue occasionally so I put the boarding pass app in here, along with the Uber app, and Guidebook (which I use for some tradeshows and sci-fi/anime conventions).
Photography: I use an Olloclip with my iPhone 6 to take macro and wide-angle shots, and the Olloclip app helps correct some of the weird aberrations that can occur with those photos. This is where I keep iPhoto, too. It doesn't work with iOS 8 anymore, but I keep it around to remind me of the really stupid things Apple does sometimes, like discontinuing iPhoto for iOS without giving users an easy way of recovering all the content they produce with it. Scanner Pro from Readdle is an excellent document scanning tool. Instagram is here, along with Big Lens (which can fake bokeh pretty well), Diddeo (a video editing tool that makes it easy to make short clips with music), and Union (a masking and blending app).
Entertainment: Spotify, Shazam, Beats Music, Amazon Music, and a really cool music creation app called Bandojo reside in this folder.
Payment Tools: I have a few apps in here that aren't necessarily Passbook-related but I need them for online payments, like SmartPay, which I use to get gas discounts at Cumberland Farms filling stations; Domino's Pizza, sadly the only pizza place in my area that delivers; T-Mobile's My Account app; and a few others.
Lifestyle: I admit this has become kind of a catch-all for stuff I've been too lazy to put elsewhere. Nike+ Move and MyFitnessPal live here, along with (inexplicably) iBooks and iTunes U, as well as Pocket, which I've been ignoring lately. (Sorry, Pocket.) I also keep NFL Mobile in there this time of year so I can keep track of my beloved New England Patriots when I'm away from the TV.
iMore: A few crucial utilities for my job: Trello, which we use for assignment management; Slack, our interoffice communication tool of choice; and the iMore app itself, of course.
I have a 64 GB iPhone, and while I don't have a ton of apps, I do store quite a bit of media. In particular, I have thousands of music files I've downloaded. While I stream quite frequently when I'm out and about, I still find myself in areas with spotty reception. So I usually keep my "Recently Added" playlist refreshed and downloaded, very rarely (if ever) taking those tunes off, which makes my music library keep building and building. Eventually I'll have to clear it out, but I'm still dozens of GB away from that point right now.
I don't use all of these apps evenly. Of all of them, I rely on social networking apps, my iMore communication tools, the Camera app, and iTunes most frequently.
Interested in what my colleagues are using? Check out their iPhone Home screens. And if you have any questions about what I'm using or recommendations for apps that you think are better than what I have, lay them on me!
Get more iMore in your inbox!
Our news, reviews, opinions, and easy to follow guides can turn any iPhone owner into an Apple aficionado