What's on Rene's iPhone 6 Plus right now!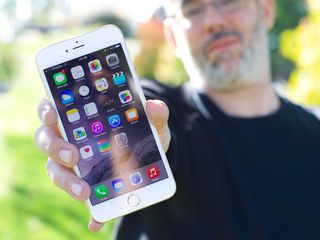 Apple has just finished their yearly iPhone update, so it's time for those of us here at iMore to update what we're using on our iPhones. I'm going to kick off this round with my iPhone 6 Plus because, of the new devices, it's newest.
As any long-time reader knows, I keep all my iOS device Home screens as default as default can be. I switch devices, slap on betas, restore phones, and otherwise change state so much it's too much work to keep them any other way. And, of course, it makes photos for iMore articles look familiar to everyone. So, instead of just covering what's on my iPhone 6 Plus Home screen, I'm going to cover my first two Home screens.
Note: I didn't restore from backup. I set up my iPhone 6 Plus as new and have only been downloading apps as I've needed them (or needed to write about them). So, this really is what I've been using specifically on the iPhone 6 Plus without any historical baggage.
Wallpaper: Stock, of course!
Tweetbot: I use Twitter a lot. It's my connection to the larger tech community. When I'm on the go, I need to be able to read quickly and reply fast. It's pure triage. And Tweetbot makes that easy.
Extras: Apple puts an Extras folder on the iPhone to show you what folders are an how they work. It contains some of the less frequently used Apple apps. So I add to it. Find my iPhone

(opens in new tab)

goes in here, as does Apple's Remote

(opens in new tab)

app, Airport Utility

(opens in new tab)

, and Apple Store

(opens in new tab)

.
iWork: Here's where I keep Keynote, Pages, Numbers, iMovie, and GarageBand.
Social: Here's where I hide the official Twitter

(opens in new tab)

app, and Facebook Messenger

(opens in new tab)

(which I only ever access via notification), and where I keep Twitterrific which I use to read Twitter like a book, and Glassboard

(opens in new tab)

where a lot of beta discussion goes on.
Home: I'm still waiting for Apple's new HomeKit to really roll out, but for now here's my Philips Hue

(opens in new tab)

lightbulb and Sonos

(opens in new tab)

speaker control apps.
Entertainment: I usually have this folder on my iPad, not iPhone, but the iPhone 6 Plus is big enough I've been using it for video with the excellent Netflix app, and still-need-lots-of-love CTV GO and Global Go apps, which are the Canadian networks.
Vesper: Notes. Tags. Thoughts. Collected.
Fantastical: Replaces both Calendar and Reminders for me.
Dropbox: My home directory pretty much lives in Dropbox and this app lets me access pretty much any file, pretty much anywhere.
Photography: The iPhone may be the best camera I have with me, but it's the apps that make it into the best darkroom and studio as well. Here's I have Camera+

(opens in new tab)

for manual controls, Hyperlapse

(opens in new tab)

for super-stable super-speed, VSCOcam for great filters, Afterlight

(opens in new tab)

for great post-processing, and Storehouse to make great visual stories out of the very best ones.
1Password: Now with Touch ID support and an action extension that works in Safari and any App Store app with a Share Sheet, it's not only as useful as the desktop version, it's even better.
Facebook: Because, Facebook.
Instagram: Little low-res picture squares aren't great, but the mobile photography community there is terrific.
Slack

(opens in new tab)

: We switched over to Slack for our virtual office a few months ago and never looked back. This is how Mobile Nations and iMore work.
Overcast: I've saved 7 hours on Guy English alone, thanks to smart speed.
Screens: I used to use Screens more on iPad than on iPhone, but once again the bigger 5.5-inch display has transformed it from a when-I-have-to to a whenever-I-want-to app on iPhone for me as well.
iMore

(opens in new tab)

: D'uh.
Editorial: I live in BBEdit and Markdown on the Mac. In iOS, it's Editorial.
I have more apps on the third and fourth Home screens, including PCalc, which has been "demoted" only because the Today widget is so phenomenal I barely need to go to the app anymore, as well as Testflight new and old, HockeyApp, Uber and Tripit (which get moved up when I travel), Starbucks (opens in new tab), Air Canada, and the other apps that feed Passbook, SwiftKey and other custom keyboard apps, Launch Center Pro, Drafts (opens in new tab), TextExpander (opens in new tab), Apple's WWDC (opens in new tab) app, and many more.
Biggest realization: Since I got the iPhone 6 Plus over 2 weeks ago, I haven't needed to download a single Google app. We use Google for Mobile Nations, but Gmail via Exchange is working great. Google Maps stopped announcing exit numbers, and has been getting complex Montreal street names wrong, so it's become near-useless for more. Apple's Maps has been fine, YouTube on the web is no more annoying that YouTube in the app, Hangouts was such a battery drain on my iPhone 5s, I've left it off my iPhone 6 Plus and just use it on my Mac, Snapseed hasn't been updated in a long time, Safari has always been way better than Chrome on iOS. I'll likely need to download Drive or the Docs apps at some point, but the browser transition has been so needlessly confusing I've been sticking to Dropbox lately. I guess time will tell.
We're going to be having everyone here at iMore update their "What's on my iPhone" posts over the next few weeks, so be sure to check them all out. And if you have any questions on my apps, or any suggestions you think would work better, let me know!
Get the best of iMore in your inbox, every day!
Rene Ritchie is one of the most respected Apple analysts in the business, reaching a combined audience of over 40 million readers a month. His YouTube channel, Vector, has over 90 thousand subscribers and 14 million views and his podcasts, including Debug, have been downloaded over 20 million times. He also regularly co-hosts MacBreak Weekly for the TWiT network and co-hosted CES Live! and Talk Mobile. Based in Montreal, Rene is a former director of product marketing, web developer, and graphic designer. He's authored several books and appeared on numerous television and radio segments to discuss Apple and the technology industry. When not working, he likes to cook, grapple, and spend time with his friends and family.
Haven't touched Apple Maps since I've installed Google Maps. Might give it another chance.

Google Maps stopped saying the number of the exit, and got the names wrong so often, it basically became useless to me. Hoping they revert that change.

Lol you just need reasons to crap on Google don't you? All apple apps are awesome but google maps sucks? OK. Sent from the iMore App

No, I would prefer to use Google Maps because the sloppy search is still better and you need that in Montreal due to the eccentricity of place names. But if I can't tell what exit to use on a highway, that's a deal breaker. I really hope Google goes back to giving the exit number.

I prefer apple maps navigation. It's a lot better than google maps. But finding a place on apple maps is a pain. If you don't know the exact address you're going to you're pretty much screwed and Google maps does that. Sent from the iMore App

Gmaps gives me exit numbers, but maybe it's a USA thing. Posted via the iMore App for Android

It used to in Montreal but it seems to have stopped.

I actually prefer to use Apple apps whenever possible because they tend to have a little more access to the system software. Apple Maps is much better running in the background from the lock screen. I even use the podcasts app because the skip forward and backward 15 seconds appears on the lock screen with the controls.
With that said, calendars is unusable and Fantasical beats it down handily. Sent from the iMore App

Ever try Waze? I'm gonna give it a shot this week. Sent from the iMore App

Waze>Google Maps>Apple maps Sent from the iMore App

For me Apple's map search simply gives you the wrong data. Apple's using Yelp addresses and informations so if it's wrong on yelp it's likely a wrong address in apple. Like I once searched for Walmart in Apple maps. The results came up and I drove to it. Came to find out it was a Sam's Club. Came to find out that on yelp it's incorrectly listed as a Walmart because walmart owns Sam's club. I've noticed the same with some other things too. So Google is more my go to because the search info results are more accurate. But the real big one was a trip to the DMV. i got up early, drove to the DMV, 1 and 1/2 hour wait and a line out the door and around the corner. So i search apple maps for DMV, Closest result i got was about almost 45 minutes away. I searched dmv on google and another DMV came up 10 minutes away. I then opened the dmv website and surely google was right and Apple maps simply didn't have the closer one listed. Also right after apple maps was released there was a post on imore about how to submit errors and wrong addresses. I remember earlier this year my one submission still hadn't been corrected. In fact that's how i realized they were using yelp info. Because the totally incorrect address was listed on yelp.

I have found myself in a similar situation. I live in Mexico and Apple Maps are much more accurate. I think many use Google Maps because of their historic superiority, but I am not sure that reasoning still stands. I do have Google + and YouTube as my only Google Apps, they are irreplaceable. Contacts, Calendar and Mail sync fine through exchange and Hangouts as you mentioned is a higher battery drain. I noticed with with the battery shaming in iOS 8.

I think it depends where you live. I'm in LA and i find Apple maps simply can't keep up with the changing businesses and street addresses. Plus street view is a killer app feature.

True... It all depends on where you are indeed. Though, I use Apple Maps more frequently, I have Google Maps installed, I am not brave enough to depend solely on either.

I find Apple maps nicer to use then Google maps now, and they've added some improvements in IOS8. They still do lack street view and Googles data is more up to date though.

They just work better on iOS for navigation. Sent from the iMore App

Uh, no. Google maps is perfectly fine even on iOS.

I have been genuinely impressed with Apple Maps the last few times I used it. More importantly, it's actually optimized for the 6 Plus' screen. Google really needs to update their apps for the new iPhones, as do a lot of other devs. Really tired of blurry fonts and pixelated graphics and other weirdness.

Although devs need to update their apps because they are blury in the larger screens, you can ultimately blame apple for that issue since they have never allowed to scale appropriately without pixelation like they do on android. Apple really should have been smarter with ios moving forward with the screen size changes so this wouldn't happen. There are going to be some devs out there that won't update their apps at all or for a while.

Pixilated pics and text must be your phone... It looks perfect on my big phones. Posted via the iMore App for Android

So what's it like being legally blind and/or in denial? Or maybe you only use the apps that came preinstalled on your phone.

I don't know... How is denial in your world? Posted via the iMore App for Android

You're literally the only person to claim that all apps look perfectly fine on the 6 Plus with no fuzzy fonts, soft and pixelated graphics, etc. There have been numerous articles and reviews calling this out. So you tell me. Do you have some magical version of an iPhone that upscales every single app perfectly, regardless of whether it is coded for it, or are you simply not using any third party apps? Seriously, give it up before you make yourself look even more foolish. You can be the hugest iOS fanboy and you still have to acknowledge that apps need to be updated for the new resolutions.

They look perfectly fine on my big ANDROID phones. Get it? The problem isn't a Google problem, it is an Apple scaling problem. That's one reason I'm hesitating on buying an iPhone. Posted via the iMore App for Android

You never said you had an Android phone. Android has had higher resolution screens for much longer and Android allows for more dynamic scaling, so of course there's no issue. But back when lower resolution screens were the norm, Android had this issue too. You could have just said you were trolling and saved me the trouble.

I'm not trolling. You seem to be though. You just can't accept that the issue might not be a developer issue, but a company that acts like everyone needs to cater to every "new" thing they think they come up with. I almost see what turns off a lot of people to Apple, but in reality it's people like you who cause the animosity. It shouldn't matter what phone I have when virtually every phone but Apple has no problem with displaying Google maps. It doesn't seem like many apple apps are prominently used, so what is the allure of Apple? Most iPhones have the full Google armada of apps loaded and in use. Posted via the iMore App for Android

I'm trolling? Cool story, bro. Stating the obvious is apparently trolling. You're the happy Android user posting on an iPhone site, attempting to flaunt the superiority of your platform. I currently own 3 Android phones and an Android tablet. I never said Apple wasn't to blame, but it's still the responsibility of the devs to update their apps if they want to remain relevant. You thought you were all sly, making the bold statement that apps on your phone have no issues, while deliberately leaving out the detail that you're not even using an iPhone. Bravo on trolling like a douche. It's pretty obvious from your original post that you came here to pick a fight. Don't bother replying. I disabled notifications. I don't waste my time with sad little trolls.

Yeah, reading is fundamental, but comprehension must be an art form in your case... I suppose you thought I was using the iMore ANDROID APP on an iPhone...Pure Genius.... I'm not claiming superiority... I was/am thinking about buying an iPhone 6 until idiots like you arrive and start babbling. You actually turn people off to the idea of changing platforms... Kinda like if Apple had featured Osama Bin Laden in an iPhone 3 commercial back in the day... Posted via the iMore App for Android

He might use third-party apps that have been updated for the 6 & 6+, hence why they don't look pixelated to him. Roland

I've been using the Apple Maps app since it came out and have never had a problem. I didn't have an issue with Google Maps either but I don't seem to need the redundancy. Besides, I am trying to de-Google my life.

Did you ever use Apple Maps to drive from California to Hawaii? Yeah, they were screwed up in the beginning. I don't know about now though. I too want to de-Google my life, but the rabid iFans say I'm trolling since I don't own an iPhone yet. I'm either going Apple or Microsoft pretty quick.

Your meathead fingers post on every comment here and you have the audacity to call people rabid iFans. I'd say you're trolling. Now find your bridge and get back under it.

What is the difference between those maps any?

Why Tweetbot AND the official Twitter app?

The official Twitter app feels like it's geared towards someone new to twitter. Tweetbot is great with all its gestures, shortcuts, etc. And the UI is much, much nicer. I've been using it since it first arrived in the App Store. I think that was 3 or 4 years ago.

Same here. Why anyone uses anything else baffles me. Sent from the iMore App

Because they don't like constantly rebuying the same app? I bought a couple of versions of Tweetbot, but lately I have been using Twitterific.

Constantly ? They've charged over again one single time.

I downloaded it when adding my Twitter account to iOS by accident and then, rather than delete it, I just stuck it in a folder. It has it's uses sometimes.

I do like the sound it makes when you refresh the timeline. Pop! Sent from the iMore App

I like the way it notifies you of new followers. Much easier to find than digging into your profile in Tweetbot. I wish I could take the best features of the official app, Tweetbot and Twitteriffic and put them into one ultimate Twitter app!

You need Twitter installed for connecting the built-in features of iOS. I installed it just so I could tweet from iOS then never actually opened it. LOL

No you don't. I'm logged in to Twitter and Facebook on iOS and have neither app installed. Sent from the iMore App

Strange the messaging app is on top Sent from the iMore App

Probably because if you go back to the home screen and need to get into messages (frequently used), it's much less of a pain of having it down on the right side of the dock for quick access.

Maybe it's just me but I use messaging so much I need it right by my thumb Sent from the iMore App

I find it strange that Apple says messages is the most used app on iPhones but they don't have it in the dock for the stock setup. Sent from the iMore App

"Fantastical: Replaces both Calendar and Reminders of me." I know its just a typo, but 'replacing reminders of me' sounds so very sad... smile Rene. It's all good.

Surprised you have so many Apple apps on the first page, like game centre and the stocks app. Also I have my twitter app on the dock rather than music. (I use 3 music apps so have no primary app) I'm finding I like to minimise the number of home screens I use, with the first only having 2 rows of apps. I use Spotlight a lot now.

I leave the home page stock for reasons outlined at the beginning of the post :)

Totally missed that! #feelslikeanidiot

I'd recommend Twitteriffic as it has landscape support which is perfect for the 6+ as well as streaming on AppleTv via AirPlay

I wish you could choose where you want the app icon to be positioned on the home screens, instead of only the order, with them starting at the top left.

Regarding Google apps, I use Google Maps because Apple Maps is still far worse (poor local search, worse directions in my area, and Google's lane assistance is surprisingly useful) and keep the Gmail app around for searching my inbox, but that is about it.

Apple shill bashing Google maps not good on Twitter...why am I not surprised?

Read the explanation before you become hater-dude. I need it working :)

Thanks for sharing. You cover the basics :)

Until the day that Apple rolls out public transport in Maps, I will stick to Google Maps. And no there aren't great integrated third party apps for transit for the cities I use - and even if they did frankly it's a complete hassle to jump in and out compared with just pressing one tab in Google Maps and getting multiple options. Also, it's so much better in terms of syncing history etc from the browser than  maps on the Mac (yes, even with Yosemite). It's unbeatable in Belgium, UK and France. And probably other countries that I've not investigated properly. THAT BEING SAID.. I'm genuinely shocked that Google havent released proper updates to any of their Apps to take advantage of iOS 8 - perhaps they've very busy doing amazing updates, which would make sense given the new Material UI and also possibilities with shirtiest etc, and also of course scale them properly for 6/6 plus.

I use Transit App for public transit, however I live in the suburbs so don't need it often.

I tried Transit in France but it doesn't have the correct "real times"... :(
But Apple Maps in France is pretty flawless.

Maybe Google is hard at work updating their apps for Android L, which actually should be their first priority... I mean, the level of entitlement some iOS users have is astounding...

Google's iOS team is completely independent from their Android team. They have some great folks there.

And the level of Android fanboy arrogance is astounding. Only Android fanboys think that iOS users have a level of entitlement.

I'm kind of disappointed, to be honest. Based on the title, I was expecting to be able to read all of Rene's text messages and emails. Very misleading. That's sarcasm, folks. Keep your torches and pitchforks at bay.

Congratulations on keeping the stocks app on your home screen, that must take a lot of willpower. It's the first one I hide away, but I wish I could delete it. How many people own stocks anyway? I don't believe I've ever met a single person who does. I've been trying to use the other stock Apple apps more since iOS 8, see how they've improved. Podcasts is passable now, and Apple maps is much better than it used to be. Google maps is still better though, mainly due to street view and a much bigger business database. Apple mail is okay too, but I really wish played nicer with Gmail.

In the category of no one cares, I've got phone, messages, safari, and mail on the dock. My most used apps get the prime space on page one. Spotify, Overcast, Tweetbot, Paper (Facebook), on the top row. On the last page all by itself is a folder of undeletable apps. I don't know how you can stand having the default configuration but thanks for the "sacrifice" for us readers' sake. ☺

I care! Thanks for sharing!

Sort of the same as mine, but I have Office Mobile instead of iWork, Google Maps, Translate and the YouTube apps are still on mine, as well as UK streaming/news/finance apps.

unless i'm completely wrong, i don't think the 1Password extension works inside App Store apps unless the dev has added support for it (even in share sheets). 1Password tweeted this - bit.ly/1tqhkJX

Loved both my iPhone 6+ and Note 4. Sent from the iMore App

Just received my iPhone 6 with 128 gb of storage and my Note 4 is on order, both white. Best of both worlds. Had the Note 3 and must have that S-Pen.

I have all google apps on my first home screen (ie gmail, chrome, hangouts, google voice, google maps, and google search). I set my reminders using google search instead of icloud. I store all my pictures in google+ and all my music using google play music. I have an iPhone 6+ and a Nexus 5 and this set up makes it easy for me to switch between the two. I rarely use any apple apps so I never know what I'm missing when I switch back to android.

"Gmail via exchange is working great" ??? Did I miss something? Google ended push support over exchange like a year ago for new devices. Because of this is I'm still hunting for a great email app.

IIRC, Google Apps (Gmail, Drive, Cal, etc for businesses) still uses Exchange because it is a paid service.

Yeah that's not helpful for most imore readers who don't use googles paid business services. Ironic that Rene knocks Google apps but supports their paid business services.

Well, the place he works for uses it. Not sure what you're expecting there. I still use the official Gmail app. That didn't work out for you?

Ironic that I want value for what we pay for? That's how the system is supposed to work, right?

Ironic that you describe Google negatively in your review but you (via your business) support them financial. Consumers best ability to tell a company they aren't giving value is by spending their dollars elsewhere. If you truly are describing the Google apps faults with the hope they will improve perhaps you should also list the faults in stock Apple apps like Podcasts that you replace with third party apps due to functionality. As I'm sure you can tell from the polarizing comments your article came across as Google bashing and not helpful at least to me as a loyal reader.

I'm new, and I'm getting the same vibes. It's like a cult up in here.

Thanks for sharing, Rene, going to look into a few of those apps. Just got my 6+ two days ago and made DuckDuckGo my default search engine. That was the only google service/app I've been using for several years, and now it feels great to be google-free! ("Free at last, free at last....")

Great write-up. I only wish I can avoid restoring my iPhone as a new device. I have over 133 apps that I use on a weekly basis. Rene is spot on about Google maps. However, on the west coast, in Vancouver BC, Apple Maps traffic still blows. That's why I can't use it. Map data while improving is quite dated. I can't make changes or report issues like I can with Google Mapmaker. Google still reigns supreme with their maps despite it's flaws. for example: traffic re-routing is "Read only". Let me explain. When you're navigating with Google maps, it will show on the SCREEN that another route is faster or this one is slower by a ridiculous little bubble box that comes and goes at random. Instead of the app in nav mode audibly telling you that another route is available and prompting you to switch, it stays "invisible" to the driver. If you have a navigator who has the device in their hand and watching it continuously, you can make the switch. How ridiculous is that? And that's my next point with Google. Google likes to experiment, tinker, throw anything and everything against the wall to see what sticks. Google has had issues with their Google bookmarks syncing (deleting your bookmarks) with many users since March and it's unresolved. Many Android users are fuming at how Google Chrome with each update is causing them grief and issues. Google search stand-alone app is a joke. It's seriously a major battery drain despite changing your app settings. Oddly, I haven't notice a huge drain with Hangouts on the iPhone 5. Perhaps because I have Background Refresh disabled? Google simply won't hear or listen to their users unless these users buy advertising time on Google. One can't say that about Apple. Even though Apple may not implement user requests or changes, their customer service might not understand what you're saying or writing because their call centres are overseas in some third world country, they at least are reachable and they will hear you out. Google is so full of themselves, they and only they decide what they should do, what is best, and they won't listen to anyone but their own employees. For Google, money is not an issue. Only if their stock drops significantly do they take notice.

What was the iMore team using before Slack, Rene?

Great writeup, Rene. I wish Apple made a way to not have apps start at the top. I've started rethinking how I have things arranged even with the 6, and I prefer having apps near the dock now. So I've been putting my most-used apps near the bottom, and folders with lesser-used apps on the top rows.

Rene I don't know where you live but I tried Apple maps just for the hell of it while taking a trip to the wonderful state of NH, only 110 miles from my house. Glad I knew where I waqs going because Apple maps would have taken me to Shittiak. Not kidding I was shocked. Google maps is so far superior, you can convince yourself other wise but not me. I also use Chrome for my go to Browser, have it set up on my PC and couldn't be more happier. Not to mention I find that the Chrome Browser is much faster. In Safari when I have 4 or 5 pages downloaded every time I go back to one of the sites it has to reload, Doesn't do that in Chrome Browser for me. I use to use another app for my YouTube but the recent update now allows HD over cellular data. My YouTube videos download almost instantly so I never have any start and stops on any videos no matter how long they are. Love my iPhone loded with Google apps.

This. The best Google phone is an iphone. OK maybe an exaggeration. :D ಠ益ಠ

Not if you can't change defaults. It's a pretty inconvenient and annoying Google Phone. That being said, the majority of Apple's services and apps on iOS are more than fine, great even. iWork, iCloud PIM (when it's not having issues), iLife Apps, Photos, etc. are all great. In some areas, they are ahead of Google. Mapping is not one of them. However, HERE Maps is going to be amazing when it comes to Samsung devices officially (using the beta, it's a revelation) and eventually to other devices. Once you go Offline, you never go back. And I had one month where Google Maps clocked in over 2GB of Data use because I did a lot of traveling around. You decrease the data usage of mapping applications by a ridiculous amount when you can cache the complete maps offline.

Rene mentioned why he prefers Apple Maps. One of the reasons he mentioned is because it can't pronounce the names in Montreal and no longer announces exits.

It pronounces them okay, but it says the wrong names often enough that I can't depend on it. We have whacky exit names, which is why the number is more helpful, and they've stopped providing it for some reason. (Hopefully temporary.)

Great post Rene. Question. Have you notice that you have had to change your carrying habits for the 6Plus because of its size? Understandably, it may not be as pocketable as the 6, but I'd like to know how you've dealt with the new size.

Fits fine in my pockets. I just can't walk, drink coffee, and type at the same time.

Mobile Nations uses Google services. Makes sense they would want the best. I get the gripes with Google maps. Though I would never touch apple maps. No exit numbers I can handle. A chance of not getting to my destination is a no go for me. ಠ益ಠ

I use Apple Maps in Toronto and simply no issue whatsoever. I guess to each his own. Using iPhone 6 w/128gb

maybe it's an east west thing? in the west coast, Apple Maps sucks everywhere.

Well, heck. And here I thought after reading this article I found a whole new hockey app...about hockey...the sport. Whoops!

Captain Default Sent from the iMore App

Thanks for the reminder about VSCO Cam. Sent from the iMore App

Lmao @ the description after Overcast! Guy does take so many pauses and really thinks of how to word his statements at an excruciatingly slow pace. But I love the guy!

Great article. I'm always looking to make my iPhone better. I have had the 6+ for a week and really liking it. A couple suggestions that I use as I have compressed screens by using some folders too-only 2 home screens. Nothing more boring than scrolling thru many home screens searching for an App that you know you have. First, I too use Fantastical every day and have put it on the Doc so it is always in view. The Calculator App seems like wasted space on the Home screen. It is so readily available from the Control Center with a swipe up. I've hidden the app away in an extras folder. Camera is wasted home space also since it is available from Control Center as well. It is also available from the lock screen with a single swipe. Just my two cents.

I don't do much scrolling. Over than my first page I tend to use spotlight for all other apps. Sent from the iMore App

Since the App Store started I've pretty much always had the same four apps at the very top row of my first screen. When the iPhone 5 added another row those same four apps stayed at the top. Now with the iPhone 6 if I leave those at the top they are hard to reach. But if I move them to the second row down to be reachable then muscle memory makes me over reach for them. #1stworldproblems Sent from the iMore App

All Google apps on my home screen.

Just don't understand why having a 5.5 inch iPhone and only that amount of icons? No widgets or calendar widget. Think the iPhone 6 is better to use

I have lotsa widgets, which is why I don't need some apps on my first two home screens any more :)

Okay, maybe I'm missing something, but I haven't seen a widget yet on an iPhone. I see some notification thing you guys like to call a widget, but if I started telling everybody my German Shepherd was really a duck, the only people who would believe me were people who have never seen either of them.

iOS users don't need a widget for everything on the home screen. iOS natively supports app badges which Android does not, plus all of the Android widgets that people use are just a slide away on iOS, such as turning off/on the wifi, etc.

Those slide aways are the notification center... You have no idea what a widget is... Sad... Posted via the iMore App for Android

You know what's sad? The arrogance of the typical fucking retard Android fanboy. I have owned two Android phones and I'm on my second Nexus 7, so yeah meathead, I got an understanding of what a widget is. And I know those slideaway panels are not widgets. And I bet you think Android was the first to have widgets too, right? You just go ahead with your bad self and continue to be a typical arrogant prick Android fanboy. Just don't assume that because you posted with an Android app that you know more than everyone else, because it is clear that you don't.

To my surprise when vacationing with my wife in eastern Europe for two weeks we only had Wifi so i use Apple Maps on the iPhone 6 and she used Google maps on 5s, i was shocked that Apple maps worked flawless and google drop off within first couple of minutes.

If Apple could provide traffic data as good as Google then I could switch. At least in my area, Apple traffic overlay is worse than pathetic.

It's funny how a lot of comments have been about maps, Apple or Google. It's definately a "hot button issue" for iPhone users.
I actually prefer Google Maps, but last night was the first time I disliked Google. I tried to voice search for a restaurant, and Google had a hard time understanding. Then I tried typing it in, then a Google search, had to switch settings here, turn this on, be routed the opposite direction. Then I had an idea.... I asked Siri. She brought up Maps first. I was a little unhappy, but soon realized she at least had the right name, and a lot more useful information. The design also looked better than Google.
I still tried to get back to familiar ground, Google Maps. Yet, somehow ended back in Maps. This time, Maps had me going where I wanted and telling me the directions, without question. It put names to places, gave timely and accuraye info, seemlessly transitioned to certain apps to aid in my journey, and only the necessary graphics would appear and dissapear without annoyance or interference.

Interesting! Use many of the same apps myself. My iPhone 6 Plus will hopefully arrive in the next week or so. Ordered on the pre-order day, 12th September. One thing I'm particularly interested in, is how many of the apps you mention Renie actually take advantage of the Plus' screen? Not just scale up but really use the extra space? I'm replacing my iPhone 5s and iPad Mini with the 6 Plus.... Sent from the iMore App

I'd like to see the ability to post pics of reader's home screens in the replies section. It would be fun to see what fellow iMore readers have on their own devices Sent from the iMore App

No comixology app for you Renee? Sent from the iMore App

I'm surprised you're not making more use of icloud Drive rather than dropbox Rene - is this down to limitations of it? Or just prefer dropbox? Matt

I'm gonna jump on the commenting bandwagon for a sec to report a couple of annoying bugs I've noticed...because active thread. In iTunes, the alphabet on the right side that allows quick scrolling, it seems like A-R is dead? Every time I drag my finger down from A, it skips straight to R. Anyone else? Siri (surprise, surprise). "Play album 'Tyranny'." "Okay, I'll plll...." weird abrupt fadeout that then plays music. Also, I dare you to say, "Skip song!", hear the way she says, "Skupping..." and not get annoyed :)

Isn't there a third page? That is what it looks like on the image?

I've tried a different approach to my screen setup. I download all the apps that I'll need and want. Then I head into settings, tap on General, tap on Reset, then Reset Home Screen Layout. This puts the phone to default, or back to default(ie. first time setup), and then lists the rest of the apps I downloaded alphabetically. Now the default apps and setup are not in the same order. Next I will put all of my most used apps on the first screen only, and from A-Z. Finally, I will put any unused apps into one folder and name it whatever. Sent from the iMore App

Rene, what hockey app are you referring to? I'm a huge Devils/NHL fan and would love a great hockey app.

hockeyapp.net not a hockey app

Ah that makes more sense now. Thanks!

@ René - two questions (not related). First, where is the Catch inspiration in Notes? Apple bought it 1 year ago and I supposed that they would use its design and functions. I really liked Catch. The second (because I am to upgrade and I decided on the smallest 6) is how do you (and other people) speak on the big phones? Exclusively with ear pods or you put it to your ear? (No offence) I would have preferred another 4". Sent from the iMore App

Rene you should try Mercury Browser. I think it's way better than Safari or Chrome. Many more features.

Nothing beat Safari on iOS simply because you can't change the default browser. Links open is Safari automatically. Sent from the iMore App

Wrong. Mercury beats safari because it doesn't matter what the default browser is. I don't care about that. Mercury has monumentally better features, ad blockers, pop up blocker, download files, user agent switching, plugins, bookmark syncs, qr scanning, many privacy settings and features.

hey rene, do you play games on your iphone, just wondering how games are and the graphics are?

Vesper is very nice, but there's no iPad version and there's web based version. I have found that Omnifocus takes the place of so many apps. And I would also recommend Retrica Pro for the camera and MiCal for the calendar. MUCH MUCH better that Fantastical and Camera+.

The utility of Apple Maps may depend on the city. In NYC, it is far better for walking than Gmaps. It has better street data, guides us with audible and visual cues, and doesn't mix up addresses in Queens the way Gmaps does. It is also better integrated with the System.

I love the stock apps and you rock Rene..Keep up the good work !!

Rene, I realize you probably don't have a lot of time to spend on photo editing. But I have found Superimpose and Leonardo Photo Editor a great addition to my arsenal of photo editing apps. Pankaj Goswami did a wonderful job with both these apps. I like Leonardo better than Adobe PS Touch. For cameras, recent updates give Camera+ and ProCamera 8 the edge. I keep ProCamera 8 on my dock.

hey, how about asking us what is on our phones, hehehee, you can probably guess what is on my phone, heheheehe games, and more games, lol

Hey Rene, I as well leave the stock apps and add other apps on the 2nd page. Thanks for sharing !!

No Evernote?! Rene come on! :)

I love Apple Maps works great here in Indiana. Thanks Rene your work is awesome!