WhatsApp messages may soon get even more secure on iOS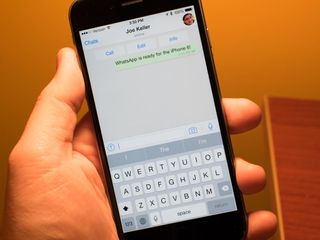 WhatsApp is now one of the strongest messaging apps you can find on Android — thanks to new end-to-end encryption for messages — and the features may soon come to the iOS version as well. That means messages send from your iOS device would be totally secure and not have the ability to be decrypted by WhatsApp at all — no matter what. Other apps offer similar end-to-end security, but WhatsApp is by far the largest of the bunch.
The new feature comes from a partnership with Open Whisper Systems, best known for their TextSecure apps. Open Whisper CTO Moxie Marlinspike says it took six months to nail down the code for such a large deployment.
Only the two parties involved in the chat will be able to see the messages, so even if WhatsApp were asked to hand over the messages to law enforcement (or the NSA), they won't be able to. The new feature heads to the Android version of WhatsApp today, but we'll be watching closely to see if it hits iOS devices soon as well.
Source: Verge
Get the best of iMore in your inbox, every day!
Editorial Director - High Yield
Getting his start writing about BlackBerry in 2008, Adam is the Editorial Director of High-Yield content at Future. Leading an outstanding team, he oversees many of the articles the publisher produces about subscriptions and services – VPN, TV streaming, and antivirus software. From buying guides and how to watch content, to deal news and in-depth reviews. Adam's work can be seen on numerous Future brands including TechRadar, Tom's Guide, T3, TTR, Android Central, iMore, and Real Homes.
Somehow I don't believe Zuck will let this go without being able to collect info. Just my 2 cents...

Yeah..maybe before the era of Facebook but I'm almost certain Mark won't let this happen. Even if the messages are encrypted he'll find someway to collect user info. Guaranteed. Sent from the iMore App

Hey Facebook does own what's app but whatsapp operatates as an idepentednt company.

Soooo.... any news on this? There's been no word in exactly a year on this. I'd love to know whether WhatsApp is private or not, when texting my iOS using friends.