Where is 5G available for iPhone 12?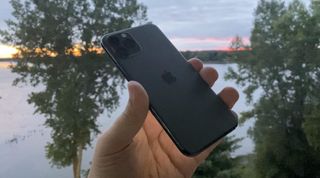 (Image credit: iMore)
With the iPhone 12 on the horizon, everyone is getting excited about finally getting there hands on an iPhone that has 5G; however, just having the phone won't be enough. In order to actually use 5G, you need a phone that can support it and a network that has 5G bands.
All four (or now three) major networks in the U.S. have some form of 5G in parts of the country already, but where that coverage exists changes by carrier. Here's a breakdown of which parts of the country are covered by 5G broken down by each major carrier.
Not all 5G is the same
Before we get started, it's important to know that not all 5G is built the same, and as the company's build out their 5G networks, it's important to know the distinction between the three main types.
What's the difference between 5G sub-6 and millimeter wave for iPhone 12?
Sub-6 refers to the spectrum with frequencies below 6 GHz — thus the name — and its the slowest and least impressive 5G. For many, sub-6 5G will seem to be little more than a kind of 'LTE+,' not reaching anywhere near the speeds of what 5G is capable of, but often providing faster data rates than LTE.
Within sub-6 5G, there are both low-band and mid-band 5G, but for the purpose of relating to wireless networks, sub-6 is a good enough distinction for now.
This is the 5G you've heard about. The ultra-fast high-capacity wireless network of the future is mmWave, but it comes with some limitations. mmWave uses high-frequency radio spectrum (between 24GHz and about 39 GHz) to function, which allows for speeds up to (and even beyond, in some cases) 1 Gbps, but that high frequency means that range is extremely limited in mmWave's current implementation. It can have a hard time penetrating buildings, and because of that is rolling out a little more slowly.
AT&T
If you're an AT&T customer, you may have already noticed "5GE" on your iPhone at times — this is mere branding for 4G LTE Advanced technologies, so don't be fooled, it's not 5G at all.
That being said, AT&T has been rolling out its mmWave 5G network (which they called 5G+) at a decent pace and is already offered in over 30 cities at the moment, with more expected to come in the future. Those cities are:
Phoenix, AZ
Los Angeles, CA
Menlo Park, CA
Oakland, CA
Redwood City, CA
San Bruno, CA
San Diego, CA
San Francisco, CA
San Jose, CA
West Hollywood, CA
Jacksonville, FL
Miami, FL
Miami Gardens, FL
Orlando, FL
Atlanta, GA
Indianapolis, IN
Louisville, KY
New Orleans, LA
Baltimore, MD
Ocean City, MD
Detroit, MI
Charlotte, NC
Raleigh, NC
Las Vegas, NV
New York City, NY
Cleveland, OH
Oklahoma City, OK
King of Prussia, PA
Philadelphia, PA
Nashville, TN
Austin, TX
Dallas, TX
Houston, TX
San Antonio, TX
Waco, TX
AT&T also has sub-6 5G (which they call 5G) in a number of different areas. You can check out the exact coverage in your state on their website (opens in new tab), and see what area receive sub-6 and mmWave service. They were aiming to have nationwide coverage by the first half of 2020.
T-Mobile and Sprint
T-Mobile has one of the most ambitious 5G plans of any carrier out there, and with its purchase of Sprint, T-Mobile has a ton of spectrum and a great platform to build a great 5G network. Its already deployed a nationwide 5G network, but a lot of it is on its low-band 600MHz spectrum, meaning its not the super-fast mmWave 5G, but it is reaching about 200 million people as of right now.
It does have some mid-band 5G (thanks to its acquisition of Sprint), and in some cities, it has some mmWave in its network.
Unfortunately, there's no easy way to tell exactly what type of 5G is avaible in which area of the country, but you can check out their 5G coverage map (opens in new tab) to see if you're covered by some part of it 5G network.
Verizon
Verizon jumped on the 5G train early and has been expanding on its mmWAve 5G at a pretty rapid pace. It has been implemented in over 30 cities so far — here's a list of those cities:
Atlanta, GA
Boise, ID
Boston, MA
Charlotte, NC
Chicago, IL
Cincinnati, OH
Cleveland, OH
Columbus, OH
Dallas, TX
Denver, CO
Des Moines, IA
Detroit, MI
Grand Rapids, MI
Greensboro, NC
Hampton Roads, VA
Hoboken, NJ
Houston, TX
Indianapolis, IN
Kansas City, MO
Little Rock, AR
Los Angeles, CA
Memphis, TN
Miami, FL
Minneapolis, MN
New York City, NY
Omaha, NE
Panama City, FL
Phoenix, AZ
Providence, RI
Salt Lake City, UT
Sioux Falls, SD
Spokane, WA
St. Paul, MN
Washington D.C.
Verizon does have plans to increase is mmWave network to San Diego, CA, next. The good news is the mmWave is speedy, but as we mentioned before, its range is limited. Even if you live in a city that has the Verizon network you may not always be able to take advantage of it.
Coverage is only growing
While 5G coverage in the U.S. is limited at the moment, it is growing to more and more places as time goes on. By the time the iPhone 12 comes out (likely this fall) there could be even more cities that have mmWave 5G and even more areas that use sub-6 (both low-band and mid-band), so just because your area isn't covered right now doesn't mean it won't be the time launch comes.
Get the best of iMore in your inbox, every day!
Luke Filipowicz has been a writer at iMore, covering Apple for nearly a decade now. He writes a lot about Apple Watch and iPad but covers the iPhone and Mac as well. He often describes himself as an "Apple user on a budget" and firmly believes that great technology can be affordable if you know where to look. Luke also heads up the iMore Show — a weekly podcast focusing on Apple news, rumors, and products but likes to have some fun along the way.
Luke knows he spends more time on Twitter than he probably should, so feel free to follow him or give him a shout on social media @LukeFilipowicz.
I'm in the Netherlands, so I may be off-target for the poll. 5G is in the process of being rolled out here: some leapfrogging about being the first to implement at all and the first to offer nationwide (two tulips wide...) coverage, frequency bands are about to be auctioned. My carrier T-Mobile will give me 5G as soon as it becomes available. I'm not in a hurry, as their 4G is the fastest available here, and I don't currently have 5G-compatible gear. If I were to buy an iPhone 12 this fall, I might soon be able to use it with 5G. However, I'm in no hurry to replace any smartphone yet. My oldest smartphone is an iPhone 7 Plus with an Apple Watch 2. I might replace the pair in the fall of 2021, or instead replace the older of my Android smartphones (and maybe its paired smartwatch).
On the other hand, I might be tempted by a 5G-compatible 10" iPad to replace my iPad Air 2 (LTE), but no hurry there either.

You were awful kind to Verizon. Nice list of cities where they've deployed 5G.... Other publication point out that it very sparse. https://arstechnica.com/information-technology/2019/11/verizons-new-5g-c... So, deployed and useful coverage are two different things.

Lol they said right in the article "Even if you live in a city that has the Verizon network you may not always be able to take advantage of it." Far from "being awful kind to Verizon.