Why Apple Watch Series 3 won't work with macOS Sierra — yet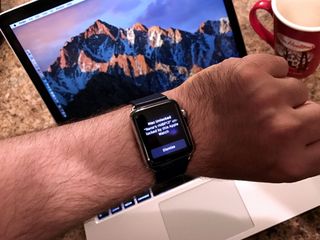 (Image credit: Rene Ritchie / iMore)
Apple Watch and your Mac (2013 and newer) can work together to keep everything on your computer a little more secure thanks to watchOS's Auto Unlock: It lets you automatically unlock your Mac (no passcode needed) if you have your watch on and unlocked.
But if you have an Apple Watch Series 3, you'll need to upgrade your computer to macOS High Sierra for this feature to work properly — at least for the time being.
Why? The Series 3 Apple Watch uses the company's newly designed W2 wireless chip; it makes Wi-Fi and Bluetooth faster and more efficient, but requires updated software on the Mac so that the two devices can talk to each other.
Currently, the W2 chip is only supported in macOS High Sierra, which means that any Mac you might want to use with your Apple Watch is going to need the update to function correctly.
But what if you don't want to upgrade to High Sierra? Unfortunately, we don't currently have a roadmap for when this software tweak might arrive on older versions of the software (in the form of a security update, most likely). As far as we can tell, there's no technical reason why Sierra wouldn't be able to receive a patch to let it interface with Series 3 — both macOS 10.12 and 10.13 support the same computer models. More likely: This update fell down the priority list in the wake of other, more potentially destructive macOS bugs.
If you need to continue using Sierra for app-related reasons — or you're a little wary of upgrading given the aforementioned destructive macOS bugs — you can still use Auto Unlock if you feel like partitioning your drive: That way, you can keep some of your work in a Sierra-only space, but get the everyday benefits of using High Sierra on the other partition.
How to create a partition on your Mac
Otherwise, it's about playing the waiting game. There are still plenty of great things you can do with your Series 3 Apple Watch — but if you have macOS Sierra, unlocking won't be one of them just yet.
Updated March 2018: Added the latest information about Series 3 and macOS Sierra.
Get the best of iMore in in your inbox, every day!
Serenity was formerly the Managing Editor at iMore, and now works for Apple. She's been talking, writing about, and tinkering with Apple products since she was old enough to double-click. In her spare time, she sketches, sings, and in her secret superhero life, plays roller derby. Follow her on Twitter @settern.
Hi,
Updated to Sierra High and the outdated software message is gone but now it says cannot communicate with watch and to make sure it's on, unlocked and no my wrist. All are true. I've restarted macbook pro/iphone 6plus/iwatch3 and still nothing. The turning on and spinning symbol are present for a while and then I get the message about connecting to the watch. any suggestions?

YUP - Same here.. calling Apple as cannot get genius appointment until Friday!!!

Just updated to High Sierra, and it is not working for me either. I was able to turn on the setting with no problem, but whenever I wake my Mac, it just hangs for a couple seconds, then prompts me for my password. Tried a restart, no luck :/

Yea I cannot get my watch to unlock my MacBook since I updated. I worked yesterday :(

I tried last night and I have latest high sierra and when I check box it spins and spins then says cant communicate, come on apple

anyone else having problems. I have the full high sierra

I tried everything. Changing Mac password
Disabling/enabing Handoff
Unpair/repair Watch
etc. None of these helped because my Mac was looking for some outdated token on my Watch. Finally reached out to Apple support. This worked: 1. System Preferences > iCloud > turn off Keychain
2. Keychain Access > Preferences > Reset My Default Keychains
3. Reboot Mac
4. You'll be asked to enter your iCloud password - enter it, then give iCloud time to sync up.
5. System Preferences > Security & Privacy > Click the lock to make changes (ensure it's UNLOCKED - if it already is, skip this step)
6. Check Allow your Apple Watch to unlock your Mac

I followed in order and nothing has changed.

Fixed it, all I had to do was log out of icloud on my MacBook and log back in
Thank you for signing up to iMore. You will receive a verification email shortly.
There was a problem. Please refresh the page and try again.