Can't send or receive SMS text messages on iPhone? Here's the fix!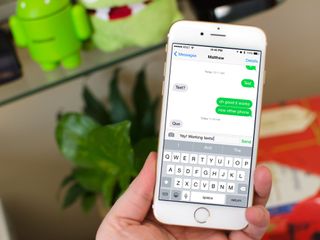 iPhone letting you text your blue-bubble iMessages friends but not regular old green bubble friends over SMS messages? iMessage works over data while SMS/MMS work over the carrier channel, so it's entirely possible there's a bug that can affect one but not the other. Luckily, there are several things you can do to try and fix it!
1. Reset your iPhone
The first thing you should always try when having issues is a hard reboot.
Press and hold down the On/Off button on the right side (iPhone 6 or later) or top (all other iPhones, iPods, and iPads) of your device.
While continuing to hold the On/Off button, press and hold the Home button on the front of your iPhone, iPod touch, or iPad.
Hold both buttons as the screen turns off, and keep holding them until the screen turns back on and displays the Apple logo.
If that miraculously fixes the problem, great. If not, keep reading!
2. Turn off LTE or use it for data only
The iPhone 6 and 6 Plus feature VoLTE—Voice over LTE—and if you live in an area where your carrier is actively expanding or rolling it out, funny things have been known to happen. To remedy them, you can try and use LTE only for data, or not at all. It may not be ideal but should only be temporary.
Launch the Settings app on your iPhone.
Tap on Cellular.
Tap on LTE.
Tap on either Data Only or Off.
Reboot your iPhone (see above).
Once your iPhone finishes rebooting, try and send a regular text message. If you still can't send or receive them, continue on.
3. Reset network settings
Resetting network settings is annoying—because you'll need to fill them all in again—but it can sometimes get you going when nothing else works.
Launch the Settings app on your iPhone.
Tap on General.
Tap on Reset, it's all the way at the bottom.
Tap on Reset Network Settings.
Confirm in the popup.
Your iPhone will reboot
4. Restore your iPhone
Sometimes restoring from an old backup, especially a backup of a different device like an iPad, can be less than ideal. Cruft builds up and things just don't run like they used to. If you suspect that's the case, you can suck it up and set up your iPhone as new. Yes, it can be an incredible pain in the apps, but if you have a significant and continual problem, and nothing else can fix it, setting up as new can be a solution.
It's the nuclear option, no doubt about it. You will have to set up almost everything again, including passwords and settings, and you will lose all your saved data like game levels, health, and activities, but in most cases your battery life will be better than ever.
5. Contact Apple
Every once and a while you get a problem you just can't solve. Like any electronics, sometimes things go wrong. If you have AppleCare or AppleCare+, and you should absolutely book a Genius Bar appointment and avail yourself of it. If you don't live close to an Apple Store, you can call 1-800-MY-APPLE in order to set up a mail-in repair.
What worked for you?
If you were able to fix your SMS issue on your iPhone 6 or 6 Plus, what worked for you?
Master your iPhone in minutes
iMore offers spot-on advice and guidance from our team of experts, with decades of Apple device experience to lean on. Learn more with iMore!
iMore senior editor from 2011 to 2015.