Why you should delete every travel app from your iPhone and just use Foursquare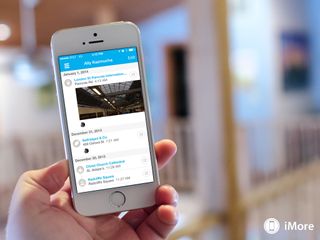 I recently went on vacation for a few weeks. Given my job at iMore, I did what any of you would expect me to do — I loaded up my iPhone with all the interesting travel apps I could find, all the ones I thought would help me explore more, all the ones that would help me make the most of my time in London and Paris. Guess what? I ended up not using any of them. What I ended up using was an app I'd had installed on my iPhone for years... Foursquare.
I'll preface this by saying I've never really used Foursquare locally unless it was for check-in specials or I had a specific reason, like holding myself accountable to go to the gym three times a week. I've just never seen the point in checking in to random places that I visit regularly. When I got overseas, my mentality completely changed.
The first time I opened Foursquare on our vacation was our first night in London. Our flight was delayed three hours and we hadn't eaten since we left Chicago. Nothing on the room service menu looked appealing so I turned to my iPhone. I opened my travel folder and started browsing the apps I'd downloaded before we left. To my dismay, nothing really looked like it'd help me find something relatively close to our hotel that served a low key menu. And to figure that out, I'd most likely have to search them on another app like Yelp! anyways.
Then I remembered Foursquare and fired it up. In a matter of seconds I was presented with a huge list of pubs and restaurants all within a mile of our hotel. Not only could I see locations, but I could see tips people had left as well as the menu and price range. Excellent. We were on our way in just a matter of minutes to a pub we had picked out.
After dinner we figured we'd head out and explore a little of London before retiring for the night. Again I found myself turning to Foursquare to see what was around us. The London Eye was right around the corner so that's where we went. From there we decided to head to some other sights across town. Again, I could simply search something in Foursquare and choose between both Google Maps and Apple Maps for directions. In our case, it was Google Maps due to the excellent transit directions for navigating the London Underground. In a matter of seconds we were on our way.
During our trip I also found myself wanting to check in places, so we both did. This served two purposes for us. The first was that we had a digital diary of all the places we went during our trip that we could look back at anytime we'd like. The second was that my girlfriend and I both have very worrisome parents. Since our check-ins posted right to our Twitter and Facebook feeds instantly, they knew where we were at all times. It was also fun for them to follow along with our trip and view photos of all the places we were before we even uploaded any.
The most interesting thing I found about Foursquare while abroad was how many of the things we saw that were completely off the beaten path. In London those places consisted of pubs that locals recommended and coffee shops that weren't Starbucks. We even found tips on what vendors to check out at the local Borough Market (which we probably wouldn't have found without Foursquare anyways). Not to mention the money we saved with check-in specials at local businesses. In Paris we found lots of cafes and bakeries from tips left on Foursquare that we never would have stumbled upon otherwise. Neither of us speak very good French so being able to read tips in English saved us a lot of time.
To me these are things that I just didn't get from specialized travel apps. We know what Big Ben is and how to search for the London Eye on Google. What I want is an experience that's different from the next person that went to London on vacation. Foursquare gave us that. The difference is that most of those apps can't serve up vast amounts of crowd sourced data that's always current. I now realize why so many check-in apps are just throwing their hands up and pulling from Foursquare instead. You just can't beat it.
Starting now I'm going to change my attitude about how I use Foursquare. It was the feedback and input from European locals that made our visit to London and Paris a cultural experience that didn't consist of staring at monuments and buildings right next to other tourists. When I know a Chicago restaurant is worth checking out or that a museum offers free admission after a certain time, I'm going to make it a point to leave those tips for others to discover.
And next time I go on vacation, Foursquare will be the only guide book in my pocket.
Get the best of iMore in in your inbox, every day!
iMore senior editor from 2011 to 2015.
Everything said in this post, I totally agree with. Most people use Foursquare just to checkin to places but it's so much. Been using Foursquare this way for at least 2 years now.

That was such an interesting article to me, I read it twice just to make sure I got it all. I do have several different apps that handle these features... Maybe it is time for me to investigate Foursquare... Thank you Allyson. :D

Good piece, great to hear this works the way I want overseas for when I want to start traveling outside the US. I've been using Foursquare the same way around Chicago, especially since we just bought our first house in a new neighborhood. I have probably 20 lists now for all sorts of food and neighborhoods I want to try, including "rooftop bars" and "pizza." It's super useful for all this.

You're in Chicago? I never knew that! We should meet up for a drink sometime. I'm about 50 minutes outside the city but am there quite often.

Perfect timing! Thanks for sharing, Ally! We are in the process of moving (the 4-6 month window) and are going to one of the areas we are considering this weekend to check things out. While the Raleigh-Durham area isn't quite as big as London or Paris ( ;) ) I will give it a go. May be just what we are looking for, something that actually helps us find places that will gauge if it is a place worth considering for our move! Never thought of it that way, but now you've shed light on a new way to use it, and I will be glad to take advantage! Sent from the iMore App

I enjoy all of your articles Ally! This is great to know. The only travel app I use besides four square is kayak, only to check departures and arrivals for myself and family members. It's quite accurate and up to the minute. Sent from the iMore App

Awesome tips! I'll be travelling next week to Hongkong and can't wait to use Foursquare! Sent from the iMore App

I just got back from Florida (no, it wasn't very warm), and I used Yelp pretty much exclusively. It's integrated with iOS so that's a big plus. For some reason foursquare always seems a bit more creepy than yelp.
I guess I used it in almost the same way as you used FS. So that's funny. To me. Sent from the iMore App

I guess you had data connection available all the time, right? I still rely heavily on travel apps mostly to save on roaming and data costs. I download apps that can be used exclusively offline and those are awesome...

When prepaid sims are as cheap as they are, I saw no need to go without. If I didn't have service I simply screenshotted things when I was on wifi and used that. Sent from the iMore App

Did you have an unlocked iPhone? If yes, how did you manage to have your carrier unlock it? If no, how did you get a foreign SIM to work?

I bought it unlocked. Sent from the iMore App

This is exactly what Yelp is designed for. How does Foursquare compare to Yelp?

I've never found Yelp's data to be as accurate to be honest. It seems more like a platform for people to complain than to help others. In my experience anyways. Sent from the iMore App

Interesting. I always found Yelp to be more complete because it has both reviews & tips & photos, as well as menus and Open Table integration, plus check in discounts at many places. But I should definitely give Foursquare another try. It's been a couple of years so it sounds like it's improved greatly.

Once again you come through with spot-on advice, thank you. Downloading now.

I've never thought to use Foursquare because Facebook offers a check-in ability and therefore Foursquare seemed redundant to me. This changed my mind. Thanks for a great article, Ally.

Bummer that this is only for iOS7..... Or android.

Whoa. Like you, I have kind of neglected Foursquare but kept it installed on my phone just for the heck of it. Although a much smaller locale than London or Paris (Dallas, TX anyone?) I definitely think this will make the nightlife, local coffee shops, shopping and the sort much more enjoyable. Thanks for such an awesome read! Also sounds like you had a wonderful time. Sent from the iMore App

Thanks for sharing! I never downloaded Foursquare because I just thought it was for checking in...at least that's what my friends told me. I think I may have to try it out

I think what you meant the title of this post to say is "Delete every guide book app you have" not delete every travel app. Foursquare cannot replace essential travel planning & booking apps like Kayak or TripIt.

+1 Kayak has been my #1 itinerary app for years.

I read another article recently pretty much saying the same thing but it didn't really sink in or register. Guess I have to hear stuff twice to realize the need for it. I've been looking to branch out, even in my own neighborhood, but never wanted to use Foursquare because I didn't want people to know where I was, or when i was out of my house. Easy fix, just delete everyone and use it anonymously for all teh great things you mentioned. Can't wait to try it out again after my 3 year hiatus.

They have privacy settings that hide your checkins too. Sent from the iMore App

Not anymore. Private checkins have been removed from their app. Partly why I've stopped using 4sq. I used to find it fun, but now I use private means for checking in for my own use, like Day One. Ohai is nice, but the database of locations it has is awful in NYC. Anyway, nice article. Definitely a use for the 4sq app I hadn't thought of.

You can stop it from sharing and limit your data sharing. Or just don't add people. Sent from the iMore App

... Because you love for each check-in to convert imperial distances to metric units when using your iThing in English...

Thank you for sharing this experience Ally. I'll try Foursquare next time I'm traveling. Sent from the iMore App

Just came back from a trip to Hong Kong and just like you I did a lot of research and installed several travel apps, but I ended up using Foursquare and Google Maps. Like you I don't speak the language so it's nice to read tips in English.

As someone who dislikes the idea of "checking in", I use Localscope to get around unfamiliar places. It pulls in data from Foursquare for its searches, but also from Google, Facebook, Yelp, Instagram, Wikipedia, Twitter and others (configurable in settings) so I get the info from all those services without having to actually sign up for any of them.

Hmmm....was intrigued by Allyson's Foursquare review, but this Localscope app sounds interesting, too, thanks! Allyson/iMore, any chance for a review of Localscope?

Localscope is not free, while Foursquare is.

Sweet, it was always one of those apps that was just on my phone & I never even really looked at it. I probably should have but...
I'm heading to Vancouver and Nashville in the coming months so this will certainly help me out on my travels. Thanks Allyson!!!!

Thank you Ali for such a great tip I would start using foursquare this way from now on.

I don't have much travel apps on my iPhone since I don't travel much, but this is a great start to eliminating the redundancy of apps on my iPhone ever since I downsized from 32GB to 16GB. I realized I don't need the Dropbox app anymore, now that I have Boxie, and I got rid of Box, Google Drive, and SkyDrive with an app called File Hub.

I use foursquare as a digital journal to keep track of where I have been and when I was there. Along with Facebook, Twitter, and Instagram, I have it synced with an app called Momento. Momento logs all of my checkins, posts, and photos into a digital journal, which can then be exported to a text document on my PC. It's a great way for someone that is terrible at remembering details to keep track of their life. Sent from the iMore App

Wow Ally, I had no idea four squares did all this. I really thought were squares was just for checking in. It was also good with the worrisome parents,wink wink.

Thanks for this, Ally! Moving to Chicago soon, and will consider using Foursquare. I just downloaded the app. Started to log in via Facebook, however they want access to my photos and status updates AND photos and status updates of all my friends! Sorry, Foursquare, that's over the line. Will check out the email login option. I would love to use it - never bothered with it before - but only if I don't have to share my friends' stuff!

I love the timing of this article. I'm leaving on Saturday for a trip to Dublin & London. I'll be loading up Foursquare and LocalScope to try them out.

Really nice article. I've been a Foursquare user for about 3 years now and I love it. It really gives you that "insider tips" when exploring new cities, and checking in allows you to keep a complete list of all the places that you've been. Definitely my number one app when traveling. Sent from the iMore App

Interesting point of view! Sent from the iMore App

Huh. And I thought Foursquare is just mostly used for checking in. That's why I never really bothered to use it that much. Thank you very much for sharing!

I disagree with this article. That's like saying delete all your antispyware and anti-malware programs and keep just one. While Foursquare has it's uses. It doesn't have very reliable comments. I'd prefer to compare reviews of places I am interested in with other apps ie. cross reference the information from other sources. I am baffled why any writer would suggest ditching all other sources of info such as specialty apps in favor of just one. My guess is that it's because the writer has a hidden agenda or is compensated or benefits from the shameless plug.

As a travel blogger I love using it as a diary. It helps me keep track of all the places on the go when traveling and in Florence, my new home. I love keeping lists too- for followers and also personal To-Do's reminding me where to eat and cool coffee shops by my house.

Nice interesting piece...miss the link to Foursquare though. When looked at apps find a list but nothing completely matching. How about you post link or symbol? Txs

Just did this for our trip to Italy, we hit Venice, Florence and Rome. Foursquare did a great job in all. Its home run was in Florence where we were surrounded by a bunch of places and it led us to the perfect little panini shop that was a hit on our trip. I had Yelp going as well and it seemed there was a greater depth of info on Foursquare. It also was great for updating friends and family on our trip, I could cross post check-ins to Facebook and Twitter without having to fire up those apps and gobble up my international data package.

Everyone loves Foursquare, no arguments here! But we think if you want together a nice Travel Log then Qollector is the perfect choice. We're a free Travel Log app where you can customize your details. GPS, Pics, Video, and advanced features allow you to share with anyone via facebook, twitter, email, or Qollector hosted website. Simple and easy!
https://qollector.com/p/travel

Used Foursquare the same way when I was in Bangkok. Went ahead and discovered lots of small, very un-touristy places.
Thank you for signing up to iMore. You will receive a verification email shortly.
There was a problem. Please refresh the page and try again.