Why I didn't pre-order the iPhone 6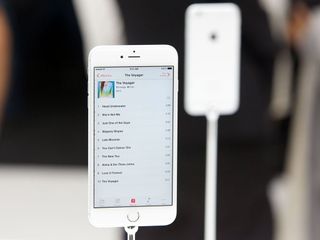 Happy pre-order day, everyone! After some fits and starts, pre-ordering for the iPhone 6 and iPhone 6 Plus got underway at Apple's online store and on cell carrier web sites in the wee hours this morning. I awoke this morning to find a Twitter feed full of announcements from friends and colleagues sharing details on what model they've reserved. I'm sitting this one out. Let me explain why.
The iPhone 6 and iPhone 6 Plus both look great. Besides the larger, thinner design, some of the under-the-hood enhancements promise to make life a bit more convenient: 802.11ac Wi-Fi support, for example; Apple Pay may be a game changer; improved cameras on both the 6 and the 6 Plus.
I had been leaning towards pre-ordering the iPhone 6 and being done with it, but I decided at the last minute to wait. Because I've seriously been thinking about getting the iPhone 6 Plus instead.
And that's when I realized that paper cutouts might help me figure out if the iPhone 6 Plus would fit in my pocket, but they weren't going to give me a clear idea of what actually wielding either phone on a daily basis is going to be like.
What's more, the Apple Watch is a curveball. I'm not as enthusiastic about the Apple Watch as I am about the iPhone 6 and iPhone 6 Plus but I can certainly understand how pairing an iPhone 6 Plus with an Apple Watch would suddenly make the large dimensions of the iPhone 6 Plus much easier to manage on a regular basis, since I'd be handling the phone that much less frequently and using the Apple Watch instead.
So I'm sitting this pre-order business out. Because I want to actually hold the phones in my hand before committing to getting one. I want to use them both for a little bit to see what I'm going to be more comfortable with. And the only way to do that is to wait, and to visit an Apple Store or somewhere else where they're sold and actually get my hands on one. (Or wait for friends nearby to get one, and play with theirs.)
A year ago Apple released the iPhone 5S, and I jumped onto it without hesitation. I knew from the moment I saw it that I wanted to get one as soon as they were available. Touch ID, the A7 chip, and other details made that a must-have for me. Apple offered two distinct models last year, too, but the iPhone 5C was essentially the same iPhone 5 that I already had, so it made it easier to justify the 5S. I haven't regretted that decision — the iPhone 5S is the best iPhone I've ever had, just as I expect whichever iPhone 6 model to be when I pull the trigger.
This year, Apple's decision to offer two distinctly different models presents us with a unique problem as iPhone customers — choice. Up until now, it's been a pretty binary situation: When a new iPhone is released, it comes in one size, and we just have to decide how much we're willing to pay for additional storage and figure out which color we want. If Apple upped the size of the phone, as they did with the iPhone 5, so be it.
Sometimes choice can create uncertainty, as it has for me, at least. But the choice between the two phones — and some differentiations between them, like optical image stabilization on the iPhone 6 Plus camera — have me scratching my head. I'm still not sure what I want to do, so I'm waiting to get my hands on and actually experience using the phones before I make my final decision.
In the interim, I still have a superb iPhone 5S that does everything I need it to for the moment, and should have a long fruitful life ahead of it when it's upgraded to iOS 8 next week.
How about you? Have you preordered? If so, which model did you choose? Or are you taking the wait and see approach like me? Let me know. And if you need help deciding, make sure to check out our iPhone 6 and iPhone 6 Plus Buyers Guide.
Master your iPhone in minutes
iMore offers spot-on advice and guidance from our team of experts, with decades of Apple device experience to lean on. Learn more with iMore!