Why No iPhone 3G Unlock / New iPod Touch Jailbreak? And 2.2 Already Pwnd?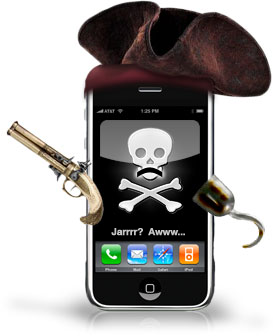 Did Apple finally bring the hounds to the old iPhone jailbreak/unlock cat and mouse game?
Maybe. It's been over 2 months and while the miraculous iPhone DevTeam has jailbroken the iPhone 3G, unlocking the device to work on any carrier has thus far eluded them. Likewise, the brand new iPod Touch -- which might be a sign of things to come with the next iPhone as well -- has proven more resistant to Jailbreaking. Says the DevTeam:
It's not all doom and gloom, however, as the DevTeam also elaborates a little on iPhone 2.2 "Timberline", confirms it's still vulnerable to pwnage, and shows it running Terminal.app.
Clever.
Get the best of iMore in your inbox, every day!
Rene Ritchie is one of the most respected Apple analysts in the business, reaching a combined audience of over 40 million readers a month. His YouTube channel, Vector, has over 90 thousand subscribers and 14 million views and his podcasts, including Debug, have been downloaded over 20 million times. He also regularly co-hosts MacBreak Weekly for the TWiT network and co-hosted CES Live! and Talk Mobile. Based in Montreal, Rene is a former director of product marketing, web developer, and graphic designer. He's authored several books and appeared on numerous television and radio segments to discuss Apple and the technology industry. When not working, he likes to cook, grapple, and spend time with his friends and family.
I think a software unlock will be inevitable, it's just a matter of time. If you take a look at the unlock for 1.1.2 firmware on the first gen, that took longer than average. So if we wait patiently, it will come for the 3G! :)

i have a 3g iphone and,i want unlock

I hope the solution to unlock the 3G software it will come soon.I can't wait to come out .Great job DEV TEAM you are the best. :)

The Iphone 3g is already unlocked so don't bother

To Bakus: who did the unlock (website)? Can you provide some information?

3G is only unlockable with a hardware hack (Turbo SIM or similar). No software unlock yet, as per iPhone Dev-Team...

i got one of the new ipod touches in september and have been waiting for jailbreaking ability but still no luck.
awwww..

I want to get the touch 2G but only if I know for sure that people will jailbreak it before 2009 or early 2009. seriously, I don't feel like getting an old refurbished one. the new one has the new firmware AAAAND a speaker!!!

I am still waiting for the 3g unlocking software because i do not trust turbo sim. thanks for the info

Personally I think the dev team is in over their heads. They can't JB the iPod Touch 2G that's why it hasn't happened in months. Eventually they wont be able to do anything to the iPhone either. I mean Apple is a mega company introducing the future. And the dev team is a tiny group of hackers. Or maybe they just don't care about the Touch because their dicks are hard for the phone.

people need to have patience. I own two 3g's and in time there will be an unlock.

We all hate ATT for good reason. So...need unlocked perfectly working iphone for us Mac/Ipod folks. Thank you Dev Team for your work and I KNOW you will find the cure for ATT sickness...soon?

Hi :ö)
I have bought the new Ipod touch and i am trying to unlock it but i ma not able to do that i am using quickpwn.can any one help me out in this my mail id is dsmittal@yahoo.com
deepak

Hey is there a way to jail break the new iPod touch if so can you email it to me at vianpersad@hotmail.com

Email me how to jail break the new iPod touch @ vianpersad@hotmail.com

To start earning money with your blog, initially use Google Adsense but gradually as your traffic increases, keep adding more and more money making programs to your site.

is there any solotion to 3g 2.2.1 i cant find any so if there is some one who can help mee pleas send a email to mee at jaferkbh@live.dk

Turbotax Online is the web based software from the makers of the Turbotax software for PCs. Turbotax software has been about for over a decade. During this time, it has shipped millions of copies of their tax software. for the past couple of years ever popular PC software is available on the web. This makes it easy to ready your tax return. There isn't any software CD to install and no files to guard. Its all online and you can prepare and file your tax return right on the website. For Tax year 2009, Turbotax is packed in 5 different versions : Free Online Edition Deluxe Edition Online Premier Online Home and Business TurboTax personal ProSince tax laws change each year, the software is updated each year for the most recent tax law changes. Here is what you should expect from the different versions. Features Common to all online Editions - Free Fed. efile, All Tax Calculations - real time answers online from TurboTax mavens and other users of the software, Life Changes to your tax situation ( for example. Getting married, Realtime online answers ) The Free version is perhaps the best place to start if you are new to online tax preparation. First its great to get your feet wet and discover what the software has to give. In truth you can preview your tax return long before you finalize it. Second, you are not locked into the free version, if your tax situation is such that it needs more complex calculations, the software will immediately suggest the best version of their software.

When you owe back taxes, life can get very difficult once the tax collection process begins.

I would purchase a software if you were to do it yourself. Turbotax is a good one

Great info on cell phone unlocking. I love cell phones and work at a little cell phone shop where we unlock phones and mod them for people. Add http://free-cell-phone-unlock.com to your list of free cell phone unlock sites, I use the downloads there a lot to help me unlock phones for customers, don't be mad but hey I have to make a living some kinda way!! lol.
Anyways, I figured you could use that in your bag of tricks too :-)