Is Animal Crossing: New Horizons multiplayer?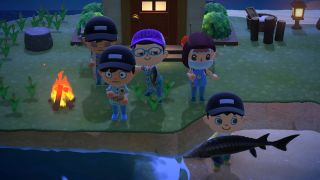 (Image credit: iMore)
Is Animal Crossing: New Horizons multiplayer?
Best answer: Yes! Animal Crossing: New Horizons will feature multiplayer. It's confirmed that up to eight players can play together online, while up to four players can explore an island locally thanks to the new "Call an Islander" app on your standard-issue NookPhone.
Animal Crossings isn't just a single-player game. While you were able to visit other players' homes or towns in the past, there wasn't any other interaction beyond that. However, fans can enjoy online and local multiplayer options with Animal Crossing: New Horizons.
For a local multiplayer session, up to four players can play simultaneously using the Joy-Cons. Also, up to eight players can join online multiplayer. So, you can get together, explore each other's islands, and see what's for sale at Nook's Cranny. It's the perfect way to get the best prices in the Stalk Market.
Playing Animal Crossing: New Horizons locally
If you do plan on linking up with your pals to reshape your island paradise, you need a local connection or Nintendo Switch Online membership, depending on how big of a group you want. And depending on whether you want the newest DLC, you may just want to spring for the NSO: Expansion Pack .
For a local session, all you need is your Nintendo Switch and two pairs of Joy-Cons for four-player fun. Keep in mind that if you want to jump into a local group, every player needs to have a house on the island. Only one island can exist per Switch console, regardless of how many names are registered. One copy of the game and one Switch is required for each unique island.
For multiplayer, you can travel to one player's island and explore using local wireless or online play. You need a copy of the game and console per player for local wireless, while an internet connection is required for online play. In addition, players will also need a Nintendo account and Nintendo Online membership; unfortunately, online services may not be available everywhere.
You can link up to each other's island via the Dodo Airlines airport. Of course, there are a few steps you have to take to unlock the multiplayer multiplayer option. Still, once you do, other players can visit as often as you'd like. Open up your island, and everything else is up to you.
What else can you do with friends?
Starting on Nov. 5, you will be able to chill and have coffee with your Animal Crossing pals. The latest update is bringing Brewster and the Roost, a coffee shop built right into the museum. While it's unclear what players can do together, aside from ordering a cup o' joe, you can at least gather your pals and hang out.
You can also get in a bit of exercise, provided you have the tools, by doing a group stretching session in front of the town hall! From there, it's a matter of what you want to do. You can gather materials, throw a party, do a scavenger hunt, or just chill. And you don't have to wait until the update for a fun time.
Desert island bliss
Animal Crossing: New Horizon for Nintendo Switch
Shape your paradise

Animal Crossing: New Horizon is the perfect place to gather with four friends locally or up to eight players online and build the perfect island getaway. Hunt for bugs, gather materials, or just lounge by the beach; it's your world, and you can truly make it your own.
Master your iPhone in minutes
iMore offers spot-on advice and guidance from our team of experts, with decades of Apple device experience to lean on. Learn more with iMore!
Sara is the Freelance Coordinator, writer, and editor at iMore. When not editing or writing away, she's glued to her Nintendo Switch, Xbox, or PS5, though she's a retro gamer at heart.