Will.i.am unveils horribly overpriced punctuation-laden iPhone camera accessories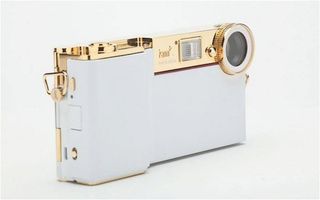 Have you ever wanted to have a better camera on your iPhone? How about a physical keyboard? Sure, there are people that want those things. The camera on the iPhone has always been quite good for a smartphone, always leading with quality sensors and optics. But Will.i.am of the Black Eyed Peas thinks he can make it better, and he's unveiled his new line of "i.am+" accessories with the goal of doing such.
Mr. William James Adams's i.am+ line is a perplexing set of beasts, consisting of four "foto.sosho" cases that add considerable bulk to your iPhone while also adding new elements to the camera. All four add a grip to the right side of the landscape orientation, but sadly don't add do anything fancy with that grip like adding a reserve battery pack for the iPhone. They all also include a built-in flash purported to be of higher power than the single LED bulb on the iPhone, thought you've got to use the shutter button on the case to actuate it and the volume button on your phone.
So, there are four different versions of the foto.sosho? There are, and they come with even more unnecessary punctuation, as seems is the way of Will.i.am. The C.4 is intended for the iPhone 4/4S and has a "modern" look (it's all smooth and lacking in excess accoutrement) in black or white and includes a screw mount for the included standard, 0.67x wide macro, and 0.28x fisheye lens attachments.
If you're not into the modern look, then there's the V.4, which includes the same lenses and mount and adds a slide-out landscape keyboard that pairs with the iPhone via Bluetooth. The V.4 also has vintage styling, which you might think with a slide-out landscape keyboard means it's going to look like an HTC Touch Pro or some other pre-iPhone smartphone, but actually kicks the styling back several decades for something a little more retro chic. The i.am+ foto.sosho V.4 (the punctuation nightmare continues) comes in white/gold or black/silver color combinations.
Lastly, there are the V.5 and L.5 models, which really ratchet things up a notch. The aforementioned C.4 and V.4 only augment the iPhone 4/4S cameras by mounting an additional lens element over the existing hardware, whereas the x.5 models circumvent the iPhone camera hardware entirely by adding on a 14-megapixel sensor with a 5x zoom lens, but only for the iPhone 5. Will.i.am promises that the camera will provide better image quality than what the iPhone offers, but somehow we expect there will be tradeoffs to be made. The V.5 includes just the camera attachment, while the L.5 throws the slide-out keyboard as well. Both x.5 models are of the "vintage" look, with your choice of silver and brown leather, all white leather, or all black leather.
If you're thinking this all sounds pretty ridiculous, you're entirely right. The benefit of the iPhone's camera is that it's not only quite good, but it's also slapped into a slim and light package that slips into your pocket or purse without a worry. There are plenty of existing attachments that allow you to add zoom, wide-angle, and other lenses to the iPhone, and they do it without the excessive bulk of the foto.sosho line. Sure, they don't add a flash, but if we're being honest here, the flash units on point-and-shoot cameras typically fall short of even barely adequate, let alone whatever flash unit is included on these accessories. Take the Olloclip, for example. It just slips on over the corner of your iPhone (a new model for the iPhone 5 is coming soon), and if you don't need it it's easy enough to pop off and leave in your pocket or bag. foto.sosho isn't going to be so quick-and-easy optional.
Aside from the extra weight and thickness of the foto.sosho line, there's also the pricing, which it turns out is the most ridiculous part of this whole exercise. The C.4 is retailing for a whopping £199 and the V.4 for a galling £299. If you're wanting to see those numbers in United States Dollars, that's $318 and $478, respectively. Yes, more than three hundred gorram dollars for an iPhone case with a mount for cheap screw-on lenses, a flash, and a bulk-adding grip. And another $160 if you want to add on a Bluetooth keyboard. Olloclip retails for seventy bucks and includes fisheye, wide-angle, and macro lenses.
Or you can pay £199 to carry around a bulky iPhone with screw-on lens mount with only half of Will.i.am's name attached to it. The only thing saving us from this absurd punctuation.laden nonsense (besides the pricing, which should only appeal to those suffering from empty craniums), is that the foto.sosho will be available only at the three Selfridges stores in London, starting on December 6th. There's also a new i.am+ plus service launching alongside the foto.sosho that aims to needlessly replicate Instagram with basic photo editing and filters.
Pricing for the V.5 and L.5 hasn't been announced, but we wouldn't be surprised to find that it's least another £100 for each level up, making the top-tier L.5 an appalling £499/$798. At that price you've crossed over from point-and-shoot pocket camera range to entry-level DSLR territory. Sure, a Canon EOS Rebel T3i with an 18-55mm lens is quite a bit bulkier than any of the potential iPhone+foto.sosho combinations, but it also will take much better pictures - and it's priced at $699.99.
But, you know, there's always the need to show that you have more money and than sense. Common sense that is, because your style sense will be clearly evident as you walk around with your thick vintage-look iPhone camera thing. Or so we're told.
Source: The Telegraph, Engadget
Master your iPhone in minutes
iMore offers spot-on advice and guidance from our team of experts, with decades of Apple device experience to lean on. Learn more with iMore!
Derek Kessler is Special Projects Manager for Mobile Nations. He's been writing about tech since 2009, has far more phones than is considered humane, still carries a torch for Palm, and got a Tesla because it was the biggest gadget he could find. You can follow him on Twitter at @derekakessler.