Would you get a HTC One (M8) style Dot View case for your iPhone?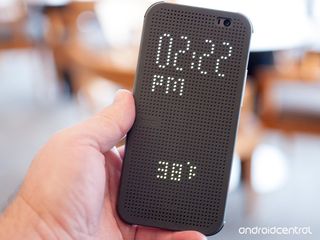 One of the more awesome new features that came with the launch of the new HTC One (M8) has given us a quick run through of it in the video up top. It looks awesome, and has HTC created a case that you'd love to have for your iPhone?
It isn't all out gimmick, either. The case actually has a capacitive layer so you can uses gesture controls to answer and reject calls, activate voice dialing, and even double-tap to turn on the Dot View display. But it looks cool as hell – or so we think!
The HTC One (M8) is the closest in terms of construction to our own iPhone 5s and in some regards it's a shame to cover it up with a case. But if it ever became more than just a HTC thing, would you dress up your iPhone with something like this? Drop a vote up top and sound off in the comments below!
Get the best of iMore in your inbox, every day!
I would. Looks interesting. There are quite a few android related things that would look awesome and work awesome on IOS Sent from the iMore App

So true! Posted via the Android iMore App!

Actually, that is cool. I hate cases because they tend to block you from using your phone.. this one becomes a functional part of the phone.. Honestly, thats something I'd expect from Apple.. heh.. Cool on HTC for coming up with it.. Now if they could just fix the one flaw he mentioned with it folding back..

I would like to edit my response. Maybe, that thing looks cool. Sent from the iMore App

No thanks. A) I don't like flip cover cases, b) That looks like a glorified lite-bright.

So Apple had Connect and now HTC has Lite Bright. :)

HA!!, Lite bright? Sent from the iMore App

Very cool indeed. However, the front not sitting flush against the back while using the phone is a total deal breaker for me. I can just tell by watching the video that would drive me nuts.

Same for me. A shame when something really cool gets ruined by a trivial little detail.

And the point is??? Sent from the iMore App

The point is being able to have a case on your phone and access information quickly without removing said case. Pretty straightforward stuff.

I already have that, it's called OtterBox. Sent from the iMore App

D-BAG Sent from the iMore App

I know I'm going to sound real idiotic here, but I prefer no case on my iPhone. It's just a really nice looking phone and, yes, I think cases ruin it. I have an otter box defender that I use when I am at work, and if I'm going to be outside all day I occasionally throw a bumper on it. However, 99% of the time my iPhone is naked. Sent from the iMore App

You are not alone my friend. Sent from the iMore App

Completely agree Sent from the iMore App

I'd be interested in trying a case like this for my iPhone. If nothing else its different. I'm glad to see HTC trying something different with the case. It helps to keep the industry moving. Sent from the iMore App

No way, this case will ruin the beauty of my gold iPhone 5s.

I'd use it! If they made one for the iPad mini id buy one now! Posted via the Android iMore App!

No! Sent from the iMore App

I don't get it. Even if you have the case, iPhone won't support, to get that display, through those tiny holes. Right? Sent from the iMore App

I has one of this e flip cases for my note and trust they're equal to crap. Very uncomfortable to use especially when trying to take a pic with the back camera. Sent from the iMore App

I've seen this case, it looks good, after handling it I can tell its cheaply made. If you are going to use a case, it seems to me it needs to offer some protection. I ended up with the otter box commuter, which I think was a better choice. your mileage may vary. I love the phone, and sense 6.0 is da bomb.

I like the idea, but it would have to provide good protection while being easy to remove. I would only want to use it when I need the protection of a case, so if it doesn't protect well, what's the point?