Xappr Gun turns your iPhone into an FPS dream machine!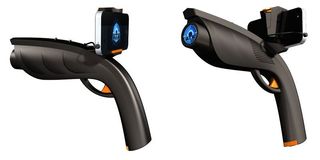 Xappr is a gun accessory for your iPhone that'll instantly appeal to everyone from fans of the original Duck Hunt on Ninteno to the latest Halo or Call of Duty FPS shooters. Imagine, holding a weapon that looks like something out of a James Cameron sci-fi blockbuster, your iPhone safely mounted on top, your favorite shooting game loaded and ready, the grip tight on your hand, the trigger itching under your finger, your multi-player enemy right in your cross-hairs. How fun does that sound?
The Xappr and Micro-Xappr guns are currently on preorder, but will be available in the EU, Isreal, U.S., and Canada this June. Apps will be required to support it and while there's only a handful right now, more should be coming soon. A lot more I hope, especially the Modern Combat, N.O.V.A. and other premiere App Store games.
Pre-order price is $30. I'm getting one. Are you?
Source: XAPPRGun
MetalCompass will reveal smartphone guns at the Nuremberg Toy Fair
MetalCompass will reveal for the first time two models of gaming accessories for smartphones - The Xappr and the Micro-Xappr guns. The models will be revealed in the international toy fair that will take place in Nuremberg, Germany between February 1st and February 6st.
Both the Xappr and the Micro-Xappr allows players to play a variety of augmented reality and shooting games. "The Xappr guns has already more than 10 amazing augmented reality games that will allow the player to intercept alien spaceships, find and eliminate ghosts, fight evil flying robots, hunt a horde of blood thirsty zombies and the most important - engage in battle with other players" says Oren Shtark, MetalCompass' CDO.
MetalCompass will release this spring the first real world multiplayer first person shooter for smartphones - ATK. ATK will allow players to simulate combat scenarios with different types of weapons - guns, rifles, grenade launchers and powerful pulse weapons. ATK will support three battle modes: Death-match, Last Man Standing and Teams Mode.
The Xappr guns will be available this spring but players from the US, Canada or the EU you can pre-order the Xappr gun now, get a discount and be the first among their friends to get the Xappr gun this spring.
Master your iPhone in minutes
iMore offers spot-on advice and guidance from our team of experts, with decades of Apple device experience to lean on. Learn more with iMore!
Senior Editor at iMore and a practicing therapist specializing in stress and anxiety. She speaks everywhere from conferences to corporations, co-host of Vector and Isometric podcasts, follow her on Twitter @Georgia_Dow and check out her series at anxiety-videos.com.