With less than two weeks until Halloween, iTunes is holding a weekend sale on zombie movies in digital HD and 4K UHD to keep you in terror until then. Now that each film in the sale is priced at just $4.99, you can add a few of your favorites to your digital collection, or maybe a few you've never seen, at a fraction of the price that it'd cost to go see a film in the theater this weekend.
GRRR! AARG!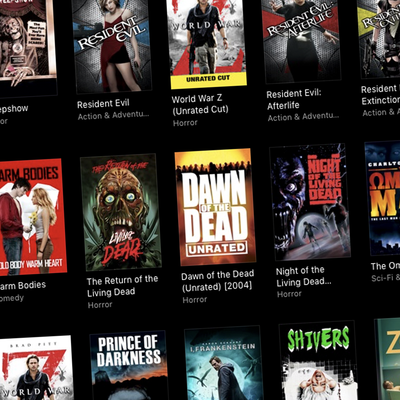 Halloween is fast approaching, and these films are the perfect way to get in the spirit. This iTunes sale features a variety of some of the best zombie films out there, and they're all discounted to just $5 each this weekend only!
$5 Each
Today's sale includes nearly the entire Resident Evil series with each film priced at $5 each, from the original Resident Evil all the way to 2012's Resident Evil: Retribution. There are several other recently popular zombie films to catch in this weekend's sale as well, like World War Z, Warm Bodies, and Zoo.
You'll find a good mix of older classics in today's sale as well, like Creepshow and Night of the Living Dead. Cult classics like The Evil Dead and Dawn of the Dead are on sale for only $5 each, too.
If you haven't had your fill of horror films just yet, Vudu's having a sale full of 'killer weekend deals' on scary movies too. You can find movies like I Am Legend, The Last House on the Left, and Unfriended all for $5 each, among over 100 other choices.
Now that Apple TV+ is only a couple of weeks away from its debut, Roku has released the Apple TV app onto its platform. Previously, you'd need an Apple TV if you wanted to watch your movies from iTunes on your TV. Now, you can buy something as affordable as the Roku Express to start watching your films from iTunes using a streaming device. Roku's devices will also gain access to Disney+ when it releases next month, so it's practically a no-brainer to have one these days.
We may earn a commission for purchases using our links. Learn more.