These are all the 2-person Snapchat lenses you need to know!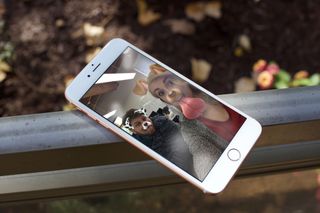 Juuuust a few months ago, Snapchat debuted the very first double lens — the coveted double dog. Now it seems like every day there are new double lenses being added to Snapchat's rotation. Flower crowns. Angry bunnies. With new ones being added (and disappearing!) all the time.
So, which are the must-use lenses that can be doubled up for you and your BFF to snap in style? Here are some of our favorites, and because they change so often, we'll keep this updated for you to refer back to all the time!
Classic double dog lens
In May, Kim Kardashian made a comment about how she'd like a new dog lens "like, a Dalmatian, or a Chihuahua," and because she's Kim Kardashian, Snapchat listened.
Now you and your bestie can double up the cute with a double dog filter! But be careful – sometimes this filter is known to double up on one person, so make sure you and your friend are clearly in frame so the lens can work properly.
Original double flower crown lens
Pretend you and your BFF are at Coachella or some other sweaty, gross music festival with the new double flower crown lens!
This lens will brighten up your skin a bit and change your eye color slightly while adding a cute little flowered crown to the people in frame. The only thing this summer festival-inspired filter is missing is the feeling of being dehydrated while tripping out in the middle of a crowd.
Double frowny-face lens
Give yourself and whoever you're Snapping with a perma-frown with the double frowny-face Snapchat lens.
This lens essentially turns you and your friend into pouty little cartoon characters.
Your eyes get bigger, your mouth gets smaller, and you and your bestie can pee your pants trying to see who looks like most ridiculous with this lens!
Double the cute lens
While the double dog lens was the first of its kind, the cute lens is technically the first double lens, if you can even call it that.
Essentially, the lens works like a filter more than anything, laying a blue tint across your image while smoothing out your skin and brightening up your eyes.
While some people say the lens makes your eyes a bit bigger and your face a bit slimmer, the change is extremely minimal and can be achieved with strategic angles and one of the built-in filters.
Double laurel lens
With this super beautiful double laurel lens, you and your BFF will be look so deliciously matching and Roman that they wouldn't dare pull an "Et tu, Brute?"
This lens appeared for a few days last week then disappeared, but knowing Snapchat, the love for this lens may bring it back in the next little while!
Double bear lens
Individually, the panda and the koala lenses have existed on their own, but now they're combined for a double-bear jamboree (oh god, I can't believe I just typed that).
This lens made its first appearance on June 22nd and we're hoping it sticks around for a while. Still, the real question is why doesn't the koala have a crown like the panda?
Double nerd lens
Turn you and your bestie into two chubby cheek'd nerds with this adorable double-person lens!
It even comes complete with the tape in the middle of your glasses, so you can pretend you're the biggest geeks in town.
Double pink floaty crown lens
There aren't many ways to describe this filter, but one phrase we can use is SUPER ADORABLE.
Snapchat kind of seems to have a thing for crowns, so this floating, fairy-like crown with a pink mist surrounding you is totally on brand (and did we mention that it's SUPER ADORABLE?).
Double wildlife safari lens
Go on a safari with Snapchat as you and a friend are transformed into a sparkly lion or a funky zebra! This is such a fun filter to use with your pals, or even with kids.
We are the most impressed by the lion's eyeliner, because come onnnn, yaaaaas lion, slaaaay.
Double kitten lens
Who's a cool cat? You and your BFF, as you slap on this adorable little double kitten lens from Snapchat!
On top of giving you and your fellow Snapchatters adorable little kitten ears and noses, the lens compresses your face to make you look a lot more cartoonish. It also makes your eyes gigantic, just like an adorable lil' kitten.
Double springtime lens
With this lens, you and your partner get to masquerade as an adorable little bunny and pig, complete with snout and a buck-tooth bunny smile.
As a bonus, brightly colored butterflies fly around you while you snap your photo.
How cute is that?!
Double angry bunny lens
Think of this lens as a much angrier, much bunny-er version of the double springtime lens. Or you could think of it as the Monty Python bunny lens; honestly, it's up to you!
What we do know about this lens is that it works best as a video, because it's hilarious to start as a mild-tempered, adorable little bunny, and then turn into the scariest little bun' in all the land.
Double spooky skeleton lens
Spooky!
Scary!
SKELETONS!
That's about all we have to say about this lens, tbh. It's pretty straight forward.
Double mouse lens
You and your BFF can be the cutest little mouses in the houses with this new Snapchat lens design!
To activate the cheese, just open your mouth and a block of cheddar will jump into your mouth.
Double hamster lens
Chubby cheeks? Check.
Crumbs coming out of your mouth when you open it? Check.
Adorable little stubby hamster ears? Check.
Congrats! You and your bestie are now the most adorable little hamsters!
The second double flower crown lens
This lens is like (slightly) a more realistic version of the first flower crown, but without a few of the other additions.
Your eye color wont change with this filter, nor will your skin be brightened up: you and your pal will just be adorable Snapchatters with some super stylish foliage on your noggin.
Which lenses do you wish they'd double up on?
Is there a particular Snapchat lens that you wish your and your bestie could snap photos with? Let us know which ones you wish they'd create in the comments below!
○ Download Snapchat
○ How to use Snapchat for iPhone
○ How to delete your Snapchat account
○ Snapchat help
○ Shapchat news

Master your iPhone in minutes
iMore offers spot-on advice and guidance from our team of experts, with decades of Apple device experience to lean on. Learn more with iMore!
Cella writes for iMore on social and photography. She's a true crime enthusiast, bestselling horror author, lipstick collector, buzzkill, and Sicilian. Follow her on Twitter and Instagram: @hellorousseau