Snapchat: The ultimate guide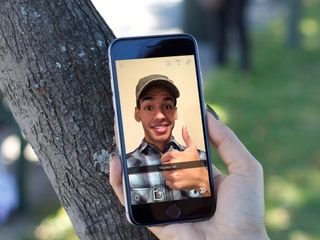 Updated February 2017: Added info about additional features and updates within the Snapchat app.
Real talk: Snapchat (opens in new tab) isn't the easiest app for many people to get started with. The interface is anything but standard and the mechanics can be super tricky at first. In other words, its learning curve is of the steepest. But if you give it some time, and read through this guide, we'll show you how to sign up for and set up Snapchat, how to add your friends, how to take photos and videos, a bunch of useful tips and tricks, and even how to delete your account if it turns out you don't like it.
How to sign up and get started with Snapchat
Chances are, if you've heard of Snapchat but aren't already using it, you're a bit curious to learn more. Well, that's exactly what we aim to show you. Although it's different than the built-in Messages app, and can seem confusing at first, we think you'll find Snapchat is simple to understand once you get going. So, consider this a jumping off point. This is how you set up and start using Snapchat.
How to take photos and videos with Snapchat
Alright, you've signed up for Snapchat! You should now be seeing a live camera view with a bit of instruction on how to take a photo or record a video, and several icons surrounding the frame, so let's dive in!
How to use filters, emoji, sketches, lenses, and more!
So you know how to use Snapchat, take your photos and selfies, and shoot your videos, but now you want more. You're looking to add some emojis and Bitmojis, play around with filters, adjust the text, maybe even draw sketches. Here's how you do all that!
How to use the Snapchat Chat screen
The Snapchat Chat screen contains a list of conversations with your friends and an easy way to quickly communicate with an individual person. It might seem complicated at first, but here's how to understand it!
How to use Stories and Discover on Snapchat
Snapchat Stories and Discover give you a way to follow the activities of people you follow, and of major publishers, all in one place. If you're not sure what all the colorful, tappable circles, squares, and photos mean, we'll walk you through it. Let's dig in!
How to use Memories on Snapchat
Memories is a cumulative archive of all of the snaps you've been sending and posting to your story and followers. Memories actually doesn't just act as a backup for your Snapchat account — it also allows you to upload photos you didn't take on Snapchat from your Camera Roll, changing how Snapchat itself works.
Add us on Snapchat!
○ Download Snapchat (opens in new tab)
○ How to use Snapchat for iPhone
○ How to delete your Snapchat account
○ Snapchat help
○ Shapchat news

Get the best of iMore in your inbox, every day!
Mikah Sargent is Senior Editor at Mobile Nations. When he's not bothering his chihuahuas, Mikah spends entirely too much time and money on HomeKit products. You can follow him on Twitter at @mikahsargent if you're so inclined.
Next up - how to use the phone dial pad :)

No this will be next
https://youtu.be/5ykr4unOOHU sent via Tandy color computer

How to turn on your Iphone:
The Ultimate Guide........
1st sent via Tandy color computer

If you need a guide to use snapchat, you probably shouldn't be using snapchat. Sent from the iMore App

how to change wallpaper ;; Sent from the iMore App

You may think you're joking, but they did an article on how to change the wallpaper:
http://www.imore.com/how-to-change-lock-screen-home-screen-wallpaper-iph...

More useless filler posts... "The ultimate guide to selecting your volume levels".... The iPhone had myriad volume levels, phone call volume, ringer volume level, game volume level, app volume level, etc. Lucky for us those kind folks over at Apple included not one but two buttons to help us deal with these problems................ - You know how the rest goes.

How to hang a for sale sign on your site: The ultimate guide. Step one publish filler articles. Step two hire former Apple employees to write pointless articles all because he's an "analyst". Step three lose readers. Step four hang up sign. Sent from the iMore App

This may not be right place to say this but this snapchat is a data hog. My granddaughter data use soared to like 5gb in a months time. This is about as useless of an app and waste of time and data as I have ever seen. It's even worse than facebook . I mean who cares what you had for dinner looks like. Come on people get real. I had to turn her data plan off for the remainder of the month because she could not understand how much data she used. I mean the rest of us in the family would like to have a little left over in case we needed to use it.