All the big announcements from Apple's iPhone 7 event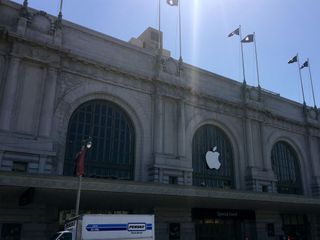 Apple made a lot of important announcements during its September 2016 event. Here are all of the important ones and included links to exactly what you need to know!
iPhone 7
As expected, Apple has announced the iPhone 7 and the iPhone 7 Plus. With the new phones come new colors, new cameras, and minor cosmetic tweaks, along with stereo speakers and water resistance. The phone comes in 32GB, 128GB, and 256GB configurations. Pre-orders start September 9, with shipping beginning on September 16.
Apple Watch Series 2
The second generation of Apple's smartwatch, the Apple Watch Series 2 offers greater water resistance up to 50 meters, a dual-core processor, GPS, and more. Apple is offering the Apple Watch Series 2 in both aluminum and stainless steel, as well as the new ceramic material. Apple will also be adding the dual-core processor to the original Apple Watch, now called Series 1. Apple Watch Series 2 goes up for pre-order on September 9, and releases on September 16, priced at $369.
Apple AirPods
Alongside the iPhone 7 and iPhone 7 Plus and Lightning-equipped EarPods, Apple introduced a pair of completely wireless earbuds, which they have dubbed AirPods. Equipped with the new W1 chip for great sound and a stable connection, the AirPods feature up to five hours of battery life on a single charge, as well as dead-simple setup. AirPods will ship in late October.
iOS 10
Apple announced that iOS 10, filled with new functionality and a variety of cosmetic alterations, will arrive on September 13. Here's everything you need to know.
watchOS 3
watchOS 3 brings a number of improvements to the Apple Watch experience, including faster apps, new built-in apps, and much more. watchOS 3 will launch on September 13, and here's everything you need to know.
iWork
Apple announced an update to its iWork productivity suite across iPhone, iPad, and Mac that allows for real-time collaboration within Pages, Keynote, and Numbers.
Super Mario Run
Apple and Nintendo will be bringing a new Mario game to the iPhone called Super Mario Run. The game features the traditional Mario gameplay that you've come to expect. You'll also be able to challenge your friends to beat your high scores. Nintendo will also offer a Mario sticker pack for Messages in iOS 10.
Super Mario is coming to iPhone
Get the best of iMore in in your inbox, every day!
Joseph Keller is the former Editor in Chief of iMore. An Apple user for almost 20 years, he spends his time learning the ins and outs of iOS and macOS, always finding ways of getting the most out of his iPhone, iPad, Apple Watch, and Mac.
My ceramic watch gets insanely hot in the sun. If it comes in black buyer beware. Posted via the iMore App for Android

I like the look of the Nike watch, and having GPS on board should be mandatory for any watch that claims to have any sporting credentials. How Apple could release the original Watch without one is beyond me.

That shiny black iPhone sure looks purdy.

Lmao no good reason for removing the headphone jack! Just a big F U to fans!! Posted via the iMore App for Android

Yeah I don't see any good reason to remove it. They could have wireless and kept it. Just added an adapter to lug around.

And it seems you can't charge while listening to music. That's just stupid. The battery life on these devices suck. Taking away the ability to charge and listen to music is just silly. And for what. Why do I want a phone that's worse than my current phone at listening to music. Then to top it off its thinner again. This 6s has the worst battery life of any iPhone I have had. I would have liked to see the iPhone plus with that back 3 connector thing. It would have been great for charger cases. But they scrapped that.

Phil showed how they bent over backwards to give this new iPhone better battery life than any other previous iPhone. His chart on battery life showed 'audio listening' on a single charge could last up to 40 hours on the iPhone 7, longer on the plus. Why would you even have to recharge while listening?

What if you have forgot to charge at home, and see only 15% battery level and you are just out for travelling? Should you charge it via power bank while listening music and or post pone watching of your videos until it get charged? ssh...! 10 years ago...all the phones had this feature and moved towards 3.5mm port for convenience. What is wrong if the phone is few mm longer or thicker? What are the advantages of being slimmer by saving of only few grams? Carrying all kind of adapters, proposing to use expensive Bluetooth headphones and making bigger discomfort, Greedy apple will learn its lesson soon. You will see it yourself.

Are you going to buy an iPhone? If you do, then your statement about "Greedy apple will learn its lesson soon" doesn't make much sense. If Apple continues to charge more for their devices than any other company and make more money off required adapters and the like, yet customers continue to buy their products, they'll just keep doing the same thing.
I think Apple makes fantastic products. I just don't care for Apple the company or how they do business, so I got out of their ecosystem a few years ago. There are fanboys in every camp, but I always just shake my head when some of the Apple fanboys tout apple as the best and then point to how much money they make as the proof of it. What they don't seem to realize is that all they are really saying is "I think Apple is the best because Apple takes waaaay more money from me for everything I buy from them than any other company would take for a comparable device."

No. I'm sticking with my iphone 6 and in the future i'll probably get a Nexus phone. I almost did last time but didn't. As for their products. I think apple makes ok products that are way over priced. The Air and mac book pro are very good. The ipad is nice. The phones haven't had a decent feature that interests me in several cycles. It's was slow to add more storage. Regardless it's not the apple products of jobs. Apple tv is way behind. nice interface but missing lots of feature other devices have like wide codec support usb, **** my wdtv from 2008 still plays local media without transcoding better than any apple device.

may be true but doesn't negate the need for the audio jack and having long battery life is fine but if the time comes, long life or not, where it needs to be charge and you need to use the audio, you have a problem. Like for me my iphone sits in a cradle in my car, i use it as my stereo and i also have a charging cable. I'd say well over 50% of the time my phone needs charging while in my car not because it's dead but because playing music/using podcast apps drains the battery so it charges so that the phone isn't dead when i get where i'm going. Another thing is without a headphone jack you'd be draining the battery again when using gps in the car because the audio is run thought the car system in my car. So again you either have audio voice prompts throught using the adapter and the gps kills your batter because it's not charging, or you charge the phone but you can barely hear the audio prompts over the car engine because it's not plugged in. That's a total downgrade not upgrade. Another reason to recharge is simply that at any given time the battery can be drained. I'm looking at my phone right now. i didn't charge it overnight. It's 12:31 pm and my phone is at 18%. So now i go on with my day but right now i can listen to podcasts while i move around and charge my phone through the portable charger, or while i'm in car, or moving around the house again using the portable charger. You don't always know when your battery will be low. And who wants to have to be beholden to some rigourous charging schedule? not me.

funny you mention that because i forgot to charge my phone last night so i spent part of today doing my normal stuff but i had a portable charger plugged into my phone to charge it and i listened to music through the headphone jack. it was quite useful in the car and walking around the stores to be able to charge and use my phone. Plus it's my music in my car so i either get music or charge. That is pretty much a deal breaker. Also i have two sets 0f $200+ wired headphones and earbuds. I'm not in paying money for new headphones when i like the ones i have now.

Except they explained PERFECTLY why the headphone jack has been removed, did you even watch the announcement or did you just wait till it was confirmed it was gone so you could come on here and be an ********?

"No good reason" Bigger battery and better camera are good reasons, those were 2 of the biggest complaints people had about the older iPhones.

So nothing really new except the waterproofing and the usual better camera and fast CPU. Sorry but a new line of headphones that aren't even included, and transit maps for japan don't count as new features of the iphone!

The real reason is more profit by 1: cost cutting and 2: Sell wireless headphones (if you want to listen to the music and charge at the same time)

The real reason isn't more profit, there's many benefits. Stop jumping on the "Apple just wants your $$" bandwagon

yeah, if i was in the market i'd probably just go with the 6s that will likely be dirt cheap now instead.

I'd hardly call it "dirt" cheap.

I saw them listed for 1 cent at best buy with a two year contract. That's dirt cheap to me. And i've been on the same carrrier for ten years so i don't care about overpaying for an unlocked phone i'm never gonna switch carriers.

That's good for you. It certainly isn't dirt cheap for unlocked phones in other countries. Posted via the iMore App for Android

courage!! LOL! Now Apple deserves a purple heart for selfishly removing the headphone jack. You phags will bite on it of course.

Yes we will, and congrats on your sexuality.

Apple explained perfectly why the headphone jack is gone. Did you even watch the announcement or did you just wait till it was confirmed it was gone so you could come on here and be an asshoIe?

You can defend Apple all you want, but getting rid of the headphone jack was a jerk move. Samsung's phones are totally waterproof and they still managed to figure it out. I left the keynote today thinking maybe Apple really has run out of ideas and kinda feel like Apple is now trying to use their fans blind allegiance (of which I am guilty of) to convince us that all this stuff is actually cool. Apple needed a home run out of the iPhone today and they got a single.

There's more to it than just waterproofing. There's more interior space in the phone for other more important components, for example. The lightning port also allows for more features for the headphones to use

Where is tvOS ? I was disppointed !!

That's what happens if you listen to rumours

Can't say i saw anything from the iphone that makes me want to upgrade my iphone 6 or makes me feel my next purchase NEEDS to be an iphone at all. interested to upgrade my mac os. But outside of that, I'm not particularly moved at all by these. Hmm, i'm not wedded to any platform but apple just hasn't moved me at all in recent years. In about 2 years when my iphone 6 probably dies or needs another battery i wouldn't be surprised if my macbook is the only Apple thing i'd be using.

Yup, this was a yawner.....although DannyJJK seems pumped.

He's Cook's fluffer so he gets excited about any apple news. Posted via the iMore App for Android

I'm always full of energy! :)

Pretty good event, just one question. To Gloss or not to gloss, that is the question Sent from the iMore App

AND STILL NO MACBOOK PRO's
Do we think that a softer release will be at the same time as macOS Sierra

I liked the show. The iPhone looks pretty good. I'll upgrade my 6... But might wait till the dust settles. I just started with Apple Watch a month ago (gifted to me) but seriously considering getting the waterproof one with gps. The Nike colors were pretty cool.

Nothing here that makes me want a 7 over my 6 but I do want the new OS.

I'm happy with my 6 and with the new iOS (I've been running the PublicBeta since July - the new 'Bedtime' feature in the clock is pretty nifty, but nobody's talking about that yet). I want to try those AirPods (I'm getting fed up with the way the connection on the wired earbuds keeps shorting out), but I think I'll wait for the 7s to actually upgrade my phone.

Yawn! I'm not impressed at all. The Note 7 made me think about ditching my iPhone 6 and going back to Android. This announcement didn't make me want to upgrade, at all. If I don't buy the Note, I'll keep my iPhone 6 for another year and see what the 7s looks like.

Dude the note 7s just had a huge recall and the iPhone 7 was nothing but excess amounts of updates and improvements. How can that make you yawn and consider a note 7 anyway? Although I absolutely love samsung and everything they make its just kind of a no brainer for me.

The updates was a huge reason I came to iOS. But what I was trying to say was, I did not get a feeling like I have to own the phone. I did when looking at the Note 7. I am aware of the recalls, but I'll probably just sit this upgrade cycle out. I was hoping the iPhone improved the screen more than anything.

The screen is improved. Not in resolution, but much better colors/brightness/contrast ratio

and recalls are normal so no big deal still the best phone on the planet.

the "s" series is usually the upgrade that I make and try to stay on that cycle but the 5 was pretty revolutionary so I bought that one and I'll do the same with the 7. Android users seem to use specs a lot in comparison and i'll admit they sometimes look better on paper but with apple making the software and hardware I seem to get the best results with them regardless of lesser specs.

Saying recalls are normal is basically saying that if you're a company that releases a product you should expect you may need to do a recall. Recalls are certainly not normal and something has seriously gone wrong if you have to replace the whole device, especially when there's risk of life

was expecting a wireless charging option in the iphone 7. & a radio option also

when i listen to music in the car i am using the headphone jack. i have some wireless headphones however but i need the jack. just for the car. but the biggest problem i see is the screen. 720P? what is the reason for a regular user to upgrade to the iphone 7? camera ? speed? that is not the reason to upgrade. splash proof is not waterproof BTW. sony was able to do that 3 years ago and apple took so long.

"Apple iPhone 7 and 7s launching events
This is the latest blogs coming to me about launches event of iPhone 7 & 7s on September 2016 from your blog. Here I totally introduced newly improved apple iPhone 7 what types of features, what types of processors, what type of cameras. It was not difficult for me what type of difference in iPhone 7 with other iPhones after reading this blog. I'm regular visitors of your blogs, and i really like your blogs.
We also provide such kind of information through blogs and articles, we are sure you will find all the information which you want and it will be helpful for you."

Thanks for given us these amazing recommendation!! I am really glad to see your article. I am fond of Apple iPhone 7 events and would to know informative information.

The immediate reaction online to the new Air Pods has been pretty skeptical, to say the least - two little pieces that will be easy to lose, and something new we have to charge overnight.
Thank you for signing up to iMore. You will receive a verification email shortly.
There was a problem. Please refresh the page and try again.