Five fantastic iPhone lens kits for under $100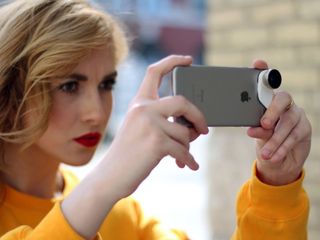 (Image credit: iMore)
Sick of lugging around your DSLR? Looking to spice up your Instagram photos with something more than just a filter? Want good quality pictures without spending an arm and a leg on lenses and equipment?
Enter iPhoneography: the process of snapping shots via your iPhone!
iPhoneography is so popular now it seems like every day new gadgets and accessories get announced, each promising to take your shots to the next level. But which ones give you the biggest Instagram or Snapchat bang for your buck? Easy: these!
Photojojo's Magnetic Lens Series
While most iPhone photography lens kits come with three standard lenses (macro, wide-angle, and fisheye), Photojojo spices up the norm with their magnetic series of high-quality lenses!
The full range of Photojojo lenses includes a wide-angle, macro, super fisheye, fisheye, polarizer, and 2x telephoto lens ($20 for each one individually), but you can pick up the sampler bundle, which includes the 2x telephoto, super fisheye, wide-angle & macro lenses, for just $49 on their site.
The lenses secure to your iPhone's back and front camera with small metal rings that're meant to stick with a light adhesive to the perimeter of your phone's lens. You can also use the metal magnetic plate that's virtually camouflaged on the back of your iPhone. However, there have been reports of the devices' fastening rings leaving behind a sticky residue on screens, which isn't uncommon with iPhoneography lenses that use adhesives.
All in all, the Photojojo Lens Series is a great tool to get started experimenting within the world of iPhoneography (and don't forget to check out The iPhone Lens Wallet to store all your lenses!).
MPOW 3 Clip-On Camera Photo Set
If you're looking for a stellar fisheye lens, a wide-angle lens, and a crisp, clear 20x macro lens, then take a peek at the Mpow 3 Clip-On Camera Photo Set.
This highly-rated iPhoneography lens set goes for around $25 and secures via a clamp to the back of your iPhone. Because of this, you can easily shoot with both hands without worrying about your brand new lens falling and shattering all over the ground in the middle of your shot.
The Mpow 3 Clip-On Camera Photo Set comes with an 18-month warranty and 45 days to get your money back in case anything goes wrong with your lenses, but don't worry: shooting should go super smoothly with the Mpow 3 Clip-On Camera Photo Set!
Olloclip 4-in-1
While most lenses have to physically stick or magnetize to your phone in order to take the best pictures, the Olloclip 4-in-1 simply slides over the top portion of your phone and will even fit over most cases. With a $79 price tag, it's a great piece of equipment without a jillion small parts and it doesn't feel like it will break if you drop it like some other, more delicate lenses (I'm lookin' your way, Aduro 3-in-1).
The clip comes with the standard three lens sizes, with one lens for your front-facing/selfie camera, and one for your rear-facing camera. The Olloclip adjusts to fit over most thinner cases and can quickly and easily be removed without any residue that an adhesive may leave.
The fisheye and wide-angle lenses can be unscrewed and repositioned depending on whichever camera you want to shoot with, so you don't always have to keep pulling the device off your phone and switching it around. You can also remove these lenses for a chance to use the device's macro settings for super clear close-up shots.
The Olloclip is probably the best device for iPhone selfies, whether they be with the rear-facing or front-facing camera. Why? Well, with most magnetic lenses, if you're moving around quite a bit, no matter how strong they are, they tend to eventually slip off your phone. Other lenses that clip onto your phone may make holding the device awkward or nearly impossible.
The Olloclip is small enough to easily snap your killer selfie but secure enough that it won't fall off mid duck-face.
CamKix 9 Piece Camera Lens Kit
The amazing thing about the CamKix kit is that it doesn't just have lenses in the set; it has some funky accessories to give you everything you need for a full-on iPhone photoshoot!
The CamKix's mini tripod is extendable/retractable for precise positioning, while the lenses – constructed out of durable brushed aluminum – come in fisheye, wide-angle, and macro (which is secured underneath the wide-angle and can be quickly screwed off to change settings).
The best part about this product isn't the beautiful 8x telephoto lens (which takes some tinkering with but ultimately produces beautiful photographs) or the universal phone holder that allows you to mount a range of different smartphones to the tripod; it's the price! You can pick up the entire CamKix kit for only $39.99.
AUKEY Ora iPhone lens kit
If you're looking for a lens that'll truly give people the illusion you've been doing all your shooting with a DSLR camera, then take a peek and consider the AUKEY Ora iPhone lens kit.
This 2-lens kit goes for around $25, and really ups the quality of your images while you shoot. The 140-degree wide-angle lens and 10x macro lens make the perfect combination for shooting things upclose and personal, wide, rolling landscapes, and everything in between.
These particular lenses work by clamping onto your iPhone's camera and let me tell you, they clamp on tightly, so you won't have to stress about breaking your lenses while you snap your ideal shot. But if you do drop your lenses, don't worry — they're quite durable because they're made from aluminum alloy and element coated glass (which also minimizes reflections and glare).
The lenses on the AUKEY Ora iPhone lens kit are super simple to unscrew from one another, so you can quickly move from shooting in wide-angle to shooting macro in an instant.
What do you use?
Is there any iPhoneography kit that we missed that you're totally obsessed with?!
Let us know in the comments below!
Updated July 2017: This article has been updated to include the Mpow 3 Clip-On Camera Photo Set and the AUKEY Ora iPhone lens kit.
Master your iPhone in minutes
iMore offers spot-on advice and guidance from our team of experts, with decades of Apple device experience to lean on. Learn more with iMore!
Cella writes for iMore on social and photography. She's a true crime enthusiast, bestselling horror author, lipstick collector, buzzkill, and Sicilian. Follow her on Twitter and Instagram: @hellorousseau