5 things I'm excited about for watchOS 5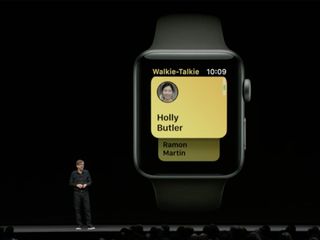 Although this year's WWDC focused pretty heavily on performance and stability improvements, there were still quite a few new features announced across Apple's various software platforms. watchOS 5 may not tout loads of fun new stuff to play around with, but there are still a few (five, to be exact) things that have me excited to install watchOS 5 when the time comes. Between the improvements to Siri, the new Walkie-Talkie app, better notification handling, and more, there was plenty to keep me interested during the watchOS 5 portion of the WWDC keynote. Here's what I'm looking forward to!
Walkie-Talkie
OK, OK, I know this feature seems a little gimmicky to some, but I think it's pretty awesome. I've never been too keen on having a long phone conversation via the Apple Watch, but as my colleague Serenity Caldwell has pointed out in the past, the microphone on the Apple Watch is rather impressive at picking up your voice. Any of my closest friends will tell you that I'm already prone to sending them voice memos, preferring to share my thoughts in audio format instead of essay-long passages of text. If this gives me the opportunity to have quick, one-on-one conversations with my Apple-Watch-sporting friends without extra muss or fuss, I'm so down! In fact, Apple's example use case (opens in new tab) is a perfect illustration of how handy this feature will be:
So much easier than trying to type out a message while you dodge crowds of people or, God forbid, traffic poles. And that same dodging has to happen when you use Siri dictation, too, because you've got to glance at all the words Siri incorrectly transcribed lest you send an inappropriate message to your mother. You can skip all of that with Walkie-Talkie!
Smarter Siri
Apple announced a lot of fun new features for Siri and some of those are coming to watchOS 5. You may be familiar with the Siri watch face — it's filled with proactive suggestions and shortcuts that help you quickly and conveniently adhere to your routine. Well, in watchOS 5, Siri is going to get even smarter. Coupled with improved Siri Suggestions on iOS 12 and the new Siri Shortcuts, the Siri face in watchOS 5 can suggest some of those shortcuts.
It'll also link up with third-party apps to provide those same smart suggestions. If you use an app like Citymapper to navigate, the Siri watch face will give you a tappable shortcut to start your typical navigation. Last but not least, Siri is going to be ready for your commands in less time. Instead of barking out the, "Hey, Siri!" wake phrase, you can just raise your wrist and start issuing your request.
A smarter Siri means I might just use Siri on the Watch more often … might.
Improved Notifications
I love getting notifications on my wrist. I let a limited number of apps actually buzz me on my Apple Watch, so I know I'm getting the notifications I actually want when I feel that light tap on my wrist. In watchOS 5, notifications are getting more powerful and I am so pumped. For many notifications on watchOS 4, you can't do much more than just dismiss the notification. In watchOS 5, you'll be able to act on notifications in new ways.
My hope is that all of my favorite apps make use of this new functionality. The more I can achieve right from my wrist, the less likely it is that I'll have to pull my iPhone out of my pocket. The less I have to pull my iPhone out of my pocket, the more likely it is that I'll be convinced of the need for an LTE-enabled Apple Watch. Oh dear, there goes my money.
Notifications are getting a few other improvements, too:
Grouped notifications: Notifications from the same app are grouped together so you're not scrolling and scrolling and scrolling and … you get it.
Web content on the Apple Watch: I'll be honest, this one perplexes me a little. I'm trying to be positive about it, though. Instead of just getting a web link rendered as text, you can tap on said link and view a tiny, tiny version of the site that's optimized for the Apple Watch's screen. I guess if you're curious about what's hiding behind that link your friend sent you, this can be useful.
Do Not Disturb: I 💟 Do Not Disturb. I use it when I'm recording podcasts, when I go to bed, when I'm driving, and when I just need a break from notifications. In watchOS 5, you'll be able to schedule Do Not Disturb right from your Apple Watch. Nice!
Apple Podcasts
This one doesn't affect me personally, but as a podcaster I'm excited about it. Many, many people use Apple's podcast app. If they're fully able to make use of the app on their Apple Watch, it just means a better listening experience for them, which is good for all podcasters!
The app syncs automatically, lets you stream podcasts over the web, and lets you use Siri to search for shows available on Apple Podcasts. If you like to listen to podcasts while you're working out or walking the dog, this is pretty exciting stuff.
Student ID Cards
Let me start by sharing Apple's explanation of this feature:
I realize it seems a little odd for me to be excited about a feature that doesn't benefit me in the least, but stick with me here. Although I'm not a student who can make use of an on-Apple-Watch pass card, it's the concept behind it that's awesome. If Apple's leveraging the Watch's NFC chip for features other than Apple Pay, it means we could see this technology used in other settings: office buildings, hotels, cars, etc. I'm excited about Apple doing more with the technology it already has, not necessarily this particular use of it
What are your picks?
I know I left all the fun, new exercise stuff off my list, but I'm trying to be true to the title of this piece. The exercise stuff doesn't excited me all that much because, other than the automatic workout detection, I won't be getting much use out of the new additions. I'm not even sure I know what Apple means when it says watchOS 5 tracks "cadence" in running workouts.
Anywho, all that aside I'm curious to hear what your watchOS 5 picks are! What's got you excited to install watchOS 5 in the fall? Leave a comment or hit me up over on Twitter!
Get the best of iMore in your inbox, every day!
Mikah Sargent is Senior Editor at Mobile Nations. When he's not bothering his chihuahuas, Mikah spends entirely too much time and money on HomeKit products. You can follow him on Twitter at @mikahsargent if you're so inclined.
Walkie-Talkie will be obnoxious as Nextel's Push-to-Talk is.

It was only obnoxious for those who didn't use it. I used it professionally and severely miss it. As with anything, it can be abused and used rudely, but that's on the individual and not the product or service.

How about the ability to mass-delete texts? And single swipe to delete them instead of having to tell it twice????

Ability to either mass delete texts or better yet, sync messages between apple watch and phone.

Isn't that part of Messages in iCloud? I don't think it has happened yet, but I'm almost positive it's coming