7 Solutions To iPhone 7 Lacking a Headphone Jack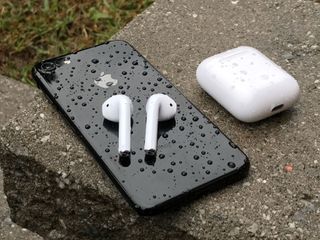 (Image credit: iMore)
When the world officially found out that Apple would omit the headphone jack on the iPhone 7, the internet exploded with both praise and rage. Whether you're happy about the decision or not, the truth is you have a lot of options to enjoy your audio. Here're some of the solutions you can keep in mind.
Apple Lightning to 3.5 mm Headphone Jack Adapter
The most obvious solution is Apple's Lightning to 3.5 mm Headphone Jack Adapter that ships with every iPhone 7 and iPhone 7 Plus. This simple adapter lets you plug your 3.5 mm headphone jack into the Lightning port, but comes with the downside of not being able to charge your iPhone will using it.
See at Apple (opens in new tab)
AirPods
These are Apple's Bluetooth headphones specifically designed to work with iOS 10. The AirPods look like the standard EarPods, but have no cords whatsoever. They have some neat features, like sensors that can detect when they are in your ears or not, and have the bonus of really quick pairing, making them ideal for serial on-the-go people.
They will run you $159, so they aren't the cheapest option out there.
See at Apple (opens in new tab)
Bluetooth headphones
Another obvious choice is a pair of Bluetooth headphones that will wirelessly connect to your iPhone. This allows you to enjoy your audio without taking up the Lightning port at all, meaning you can still charge your phone while listening to any audio. Bluetooth headphones can sometimes cost a pretty penny, but that isn't always the case. If you need a place to start your search, check out some of our favorite Bluetooth headphones for the iPhone.
Apple Lightning charging dock
If using the Apple Lightning to 3.5 mm Headphone Jack Adapter gets you through the day, but you want to come home and be able to charge your iPhone and listen to music, then Apple's Lightning charging dock will work great. You can pick it up for about $49, and while it may not be the most portable option, there's no reason you can't take it with you as long as you have a computer or an outlet where ever you are going.
See at Apple (opens in new tab)
Griffin Bluetooth headphone adapter
If you're searching for a way to use regular wired headphones without using the Lightning port and not fork over a lot of dough, Griffin's Bluetooth headphone adapter is a great option. By plugging your headphones into the adapter, you can easily control your audio with the playback buttons on the adapter itself. The back of the adapter has a clip allowing you to secure the adapter to your body for safe keeping and it even has the ability to activate Siri.
The price is what makes this product the most enticing: You can pick one up for around $20.
See at Amazon (opens in new tab)
Fuze headphone jack case
Third-party companies have created plenty of solutions for the loss of the headphone jack on iPhone 7, and the folks at Fuze started an Indiegogo campaign to bring back the jack! Their solution is a case that has a 3.5mm jack built into it, meaning you don't have to carry around a separate adapter. Plus, it's also a battery case, which is expected to give you twice the battery life on an iPhone 7. You can still back this project and receive the Fuze headphone jack case for $69; the only setback is it won't ship until sometime in December.
iLDOCK
Another crowdfunded product, the iLDOCK is pretty straightforward. It's a little adapter that converts the Lightning port into a 3.5mm jack and a Lightning port, meaning it should allow you to charge your battery and listen to your phone at the same time. The project blew up on Kickstarter raising $206,895 on its goal of only $5,000.
The best thing about the iLDOCK: You can get one for $10 if you back right now.
Lightning headphones
You could always consider going along with Apple for the Lightning port ride and use the pair of Lightning EarPods included with the iPhone 7 and iPhone 7 Plus; however, if you're an audiophile and need something with a little more oomph, take a look at some of our favorite Lightning headphones for the iPhone 7.
What do you use?
We want to know how you live in a headphone jack-less world. Let us know what solution you've come up with in the comments below.
Get the best of iMore in your inbox, every day!
Luke Filipowicz has been a writer at iMore, covering Apple for nearly a decade now. He writes a lot about Apple Watch and iPad but covers the iPhone and Mac as well. He often describes himself as an "Apple user on a budget" and firmly believes that great technology can be affordable if you know where to look. Luke also heads up the iMore Show — a weekly podcast focusing on Apple news, rumors, and products but likes to have some fun along the way.
Luke knows he spends more time on Twitter than he probably should, so feel free to follow him or give him a shout on social media @LukeFilipowicz.
Solution #1. Keep or buy a phone that has a headphone jack so I don't have to carry around a dongle or adapter. Sent from the iMore App

That's certainly a solution, but people are buying the iPhone 7 and iPhone 7 Plus, it's good for them to know they have options.

That's not a solution, it's a sarcastic comment. The solutions are in the article

+100 Posted via the iMore App for Android

"Posted via the iMore App for Android" Of course…

I don't understand…just keep the minuscule sized adapter on your headphone plug. is it that big? like do you need an extra backpack for the connector alone? Holy crap people are funny!

+1. People will complain about anything these days. First world problems…

It's called posting a comment, taking it as complaining if you want. If it's not an issue for some people, then why even write this article. Besides, not having a headphone jack on the new iPhone is the least of my concerns because it not like I'm forced to buy it. Sent from the iMore App

It's called posting a comment, taking it as complaining if you want. If it's not an issue for some people, then why even write this article. Besides, not having a headphone jack on the new iPhone is the least of my concerns because it not like I'm forced to buy it. Sent from the iMore App

I mean, it's not _really_ an issue. The first suggestion in this article is Apple's own adapter which comes with the phone, so in essence you don't even need this article unless you've lost the adapter. And yeah, you're not forced to buy the new iPhone, but if you want to stay on the iPhone for years to come, eventually old iPhones will stopped being supported and all future iPhones won't have a headphone jack. Other phones will stop having a headphone jack soon too

I agree with you that Apple's included adapter works just fine and for most people that will be enough; however, a lot of folks like options, so we might as well give them several.

My point was not meant to be sarcastic. I would like to possibly purchase the iPhone 7, but I have to evaluate if the product will help make my usage a little better/easier. I realize everything has trade offs, but as for my usage right now, I still need to have an easy and painless way to charge my phone while simultaneously using the headphone jack without needing to keep up with some small apparatus, more than I need the other improvements the 7 offers. Sent from the iMore App

The Fuze case looks interesting enough, though I presume they'll release another colour option than the White one in the photo, especially if you get the Jet Black iPhone 7... Sent from the iMore App

One can certainly hope they would come out with more than just the one color. I don't personally have the Jet Black iPhone, but I can't imagine it would be something you would want to hide under a white case.

I replaced the battery in my iPhone 6 and i'm pretty happy. It should last me quite a while longer and it fits my needs.

Not sure what this has to do with the article unless you're stating that you're keeping your iPhone 6 because you want to keep the headphone jack. You'll have to upgrade at some point, though, at least when the iPhone 6 no longer gets iOS updates

I just two weeks ago upgraded from ios 7 to ios 10 entirely because the new music player that launched in ios 8 is crap. I think i can survive plenty long without ios updates. I did without 8 and 9. And honestly, 10 isn't some great leap forward. I'd have been fine on ios 7. I also had to buy Cesium music player because the Apple one is a cluster you know what. And yes not having a headphone jack is one of many reasons i didn't get a 7. But the biggest one is it's not a significant upgrade and thus I'm find with a 6. Regardless, There hasn't been an ios upgrade that i've needed in a long time. I text, use the occasional app, and listen to music. Unless it stops doing that the phone should be fine for a while. And it will have a headphone jack and bluetooth capability. Best of both worlds.

Derek.... you are 4real. I agree with with your common sense logic, but cannot be understood by the crowd that has to have the "latest and greatest" Sent from the iMore App

Try aftershokz Bluetooth bone conducting headsets. Don't go in your ear they go around and produce sound thru your cheek bone keeping your ears free for conversations and situational awareness. Pretty cool.

I haven't used corded headphones in a long time. I had a life proof case on my iPhone 5S and never wanted to unscrew and use there adapter. Jaybird Bluetooth ear buds are awesome!!! Sent from the iMore App

I use this little BT receiver with my favourite headphones.
http://rover.ebay.com/rover/1/711-53200-19255-0/1?ff3=4&pub=5575095911&t...

Yes thanks G-luv, you too! Oh and I found the name...It's called "goStrap". I use it on both my e-reader and my phone, which are both phablet-sized and make them easy to operate single-handedly. It definitely has stopped the dropping problem but probably just as importantly, it has given me back the use of my hand!!! Their website's kind of dinky but you can also get them at Bed Bath and Beyond. Hope this helps and best of luck!