Best accessories for iPhone 7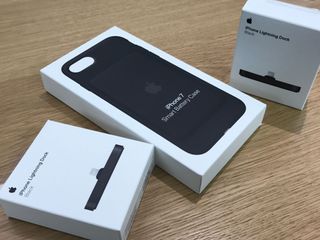 Updated May 2017: New and improved picks for iPhone 7.
As summer approaches, our iPhone 7 accessory picks only get hotter. From cases to headphones, docks to battery packs, cables to cleaners, here's everything you need to take your iPhone to the next level.
Apple Leather Case
It breaks my heart to put something as iconic as iPhone 7 — especially in the new blacks! — in a case, but here's the deal: If you want that finish to last, you need to take care of it. Apple, of course, has the advantage here. They've known for a while exactly what iPhone 7 looks like, and so they're once again first out the gate with high quality, high finish cases.
They feel different this year than last, fit the different-sized camera on the back of iPhone 7, and match the rest of Apple's fall color lineup. They're not ultra-protective, and they're not ultra-slim. They're affordable luxury, with microfiber lining and rich, soft-tanned European leather.
And you can get it in sea blue, storm gray, tan, saddle brown, midnight blue, black, and (Product) RED — especially good if you're suffering from (Product) RED envy.
If you like the idea of leather, but you're looking for something a bit different, then check out our other favorite leather cases for iPhone 7.
Vena Harmony
For an excellent fusion-style case, check out Vena's Harmony. This is easily my (Mike) favorite case for the iPhone 7, since it sturdily protects the phone with it's TPU bumper and hard polycarbonate back, while leaving half of the back transparent so that you can still admire the beauty that is the iPhone.
Though the case is a two-piece, it never feels like it, and it's even somewhat difficult to separate the two pieces, which I really like. The TPU portion of the back is ribbed to give the case some texture so that you don't drop it, and though the buttons are covered, the tactile response through the TPU is perfect.
These cases come in five great colors, which the jet black even having a gloss finish on the polycarbonate edging to match your jet black iPhone 7. If you're just looking for a regular case that gets the job done and is very affordable (like $12), then grab the Harmony.
If you're not sold on this one, check out the others on our list of the best cases for iPhone 7.
Bose QuietComfort 35 wireless headphones
iPhone 7 has no headphone jack — maybe you heard? I know I did, which is one of the reasons I picked up a pair of Bose Q35 back in July. That and about a dozen hard recs from colleagues here and friends everywhere. And like them, I was blown away by the sound quality.
Connect the Q35 over Bluetooth, strap them on, and Bose's incredible noise-cancelling technology takes over. Then the coffee shop din, the airplane engines, the shouting in the park, even the relatives visiting for the day — what? — all go away. Well, for up to 20 hours per charge, at least.
These are over the ear headphones and they're big. Full on cans, so to speak. But they're not overly heavy, and they're hella comfortable, as the name implies.
You can get them in black and silver to match your black or metallic iPhone.
AirPods
Airpods are Apple's oh-so-handy little Bluetooth earbuds that you carry around with you in a compact travel case that also keeps them charged. They're completely wireless yet have all the function of wired EarPods — you can answer and make calls, talk to Siri, control playback, the works.
Apple's W1 chip makes connecting an absolute breeze, without the usual rigamarole of pairing Bluetooth devices — they just work!
If you're looking for an awesome pair of Bluetooth in-ear headphones that works seamlessly with your iPhone 7 or 7 Plus, then definitely check out the AirPods.
And if you want Apple's W1 but you don't want — or can't get — AirPods, Apple has three sets of Beats for you to choose from.
Apple Lightning Dock
If you need a dock that can both charge your iPhone 7 and let you listen to 3.5mm headphones at the same time, Apple has you covered. You can keep it at your desk or beside your bed, and then charge and listen as much as you want. It might be a nice-to-have for watching video, but it's a must-have for people with low or no vision.
Available in silver, gold, rose gold, and — of course — all new black!
(If you need a charge-and-listen adapter for when you're on the go, check out Belkin's adapter.
Native Union Lightning cable
If you need a charging cable that withstand life on the road and whatever that life throws its way, then check out Native Union's reinforced Lightning cables, which come in four colors and lengths of up to 10 feet. No more awkwardly stretching to reach your phone when it's plugged in and no more having to sit beside the outlet.
The weighted knot in the cable keeps it anchored wherever you need it to be so that the weight of the cable itself isn't dragging your iPhone off the table. You can also get the 6.5-foot anchor cable, which features a grippy silicone weight to hold the cable in place.
Be sure to check all the variations and pick the one that works best for you.
Apple Watch Series 2
See, iPhone is the starship and Apple Watch is the shuttle craft. No, wait. iPhone is the right cross and Apple Watch is the jab. No, seriously, I can nail this! Sigh. Fine. Here's the deal:
As great as iPhone is, it's always a reach a way. Your wrist is right there. That means, with Apple Watch, you can go for a workout or use Apple Pay without lugging your phone with you, see notifications without reaching for your pocket or bag, control your accessories from across the room, and the list goes on.
Series 2 even has GPS, a slightly bigger battery, and swim-proofing so you can take your workouts into the water.
Available in gold aluminum, rose gold aluminum, silver aluminum, space gray aluminum, and ceramic while.
CLEAN Screen Cleaner Kit
While everyone is worrying about smudges on the jet black iPhone 7, every glossy black iPhone 7 screen is ripe for fingerprints. What's more, those fingers might just have been eating, working with tools, or touching other fingers that could have been almost anywhere.
I don't mean to gross you out — OK, I do! — but unless you're actively trying to build immunity against the oncoming super germs, you're going to want a way to keep your iPhone 7 screen clean. Hey, even if you are trying to build immunity, you still need a way to get any goop that actively obstructs the screen.
That's where the CLEAN Screen Cleaner kit comes in. It includes a small, super-soft cloth, and a natural, non-toxic, odorless spray. Once you start, you won't want to stop. iPhone, iPad, Mac... And you'll feel great doing it!
Maxboost screen protector
The Maxboost tempered glass screen protector is an anti-scratch, protective cover for your iPhone 7, and something anyone who's at all afraid about damaging their iPhone's display should seriously consider.
Yes, sure, the ion-exchange glass on modern iPhones is tough. But keys, buckles, and bits of barely discernible debris on tables can be tougher. That's where Maxboost comes in. It's not bulky, but it won't hesitate to step in front of you iPhone and take any scratches or gouges coming its way.
Like a bodyguard, but for your phone!
Don't like Maxboost? Check out the other best tempered glass screen protectors for iPhone 7.
iPhone 7 Smart Battery Case
I love the iPhone Smart Battery case. Hump or no hump, it's the most efficient way to keep your iPhone 7 powered well past the night and into the next day. The key is the "smarts". Apple not only designed it to avoid obstructing the iPhone antennas, they included antenna boosters in the case. That means the radios don't ramp up to get through the case, which can cost you power even while you're trying to stay charged.
Moreover, because of the deep integration with iOS, your iPhone won't mistake the battery case for an outlet. That means it won't start spinning up all the background and network activity it does when plugged in, which also waste power just when you need it most.
Add a microfiber interior and soft touch coating — in black, white, or Product (RED) to match your new iPhone — and you get the absolute best iPhone 7 battery case on the market. One that will keep you Snapchat-ing, Pokémon Go-ing, or simply working well past the wee hours.
Not sold on Apple's battery case? Then check out our roundup of the best battery cases for iPhone 7.
Anker PowerCore+
If the Smart Battery Case isn't enough for you, and you need even more power on the go, you need the Anker PowerCore+. It's small, but it really packs a power punch. Sure, stand alone battery packs aren't as convenient as battery cases, but they're much more flexible. You can plug any gadget that charges over USB and get it back up and running in jiffy.
It also holds enough of a charge to replenish an iPhone 7 up to four times. That'll get you through even the toughest "roaming while traveling with Snapchat in the background and spinning all the PokéStops" day.
Available in silver, gold, and black.
Need more power or something smaller? Check out our other favorite battery banks for iPhone.
What are your must-have accessories for the iPhone 7?
If you have any questions or any experiences with iPhone 7 accessories you want to share, let me know in the comments!
Master your iPhone in minutes
iMore offers spot-on advice and guidance from our team of experts, with decades of Apple device experience to lean on. Learn more with iMore!
Mick is a staff writer who's as frugal as they come, so he always does extensive research (much to the exhaustion of his wife) before making a purchase. If it's not worth the price, Mick ain't buying.