Good, but not quite great, the TCL RayNeo Air 2 smart glasses make a good case for a future where everyone has TV screens packed into their spectacles. A few issues prevent a hearty recommendation, but they remain a fun novelty, and perhaps even a preferred viewing experience in certain situations.
Pros
+

Surprisingly comfortable

+

High-quality 120Hz screen

+

Works well with prescription glasses
Cons
-

Edges of the screen can be obscured

-

Fabric case isn't much protection

-

Limited AR use for Apple fans
You can always trust iMore. Our team of Apple experts have years of experience testing all kinds of tech and gadgets, so you can be sure our recommendations and criticisms are accurate and helpful. Find out more about how we test.
Whether they're strapped to your head, or placed inside spectacle frames, the future of screens sees them placed in front of your eyes, and worn. Apple showed its hand with Vision Pro, Zuckerberg persists with the Meta Quest VR line-up, and a small offshoot of 'smart glasses' manufacturers are looking to merge traditional glasses with miniature displays.
One such company is TCL, with its RayNeo Air 2 smart glasses — a successor of sorts to the RayNeo X2, despite there being no RayNeo Air '1' to speak of. That said, despite some undeniable, unignorable issues, these do feel like a second-generation device in the nascent category— great screens in a recognizable glasses-like frame, let down by some visibility issues. There's lots here to like, even if a hearty recommendation is difficult to offer. But TCL is definitely on to something here…
TCL RayNeo Air 2: Price and availability
The TCL RayNeo Air 2 glasses are priced at $379, with an introductory price of $299 while stocks last. They're available now and can be picked up from Amazon.
The tech squeezed inside these small frames justifies that price, just about. But in use, there are a few drawbacks that would make me uncertain about recommending them wholeheartedly.
TCL RayNeo Air 2: What I Liked
The RayNeo Air 2 smart glasses put what feels like a massive screen right in front of your eyes, using some clever Sony MicroOLED tech packed inside tiny screens at the front of the spectacle frames.
Weighing just 76g, a quick glance makes them appear like a standard pair of black wayfarer-style sunglasses. But closer inspection reveals the tech inside — those traditional tinted glass frames are merely a backdrop for the tiny OLED displays that offer 1080p resolution across your eyes. The placement, so close to your eyes, gives the impression of a screen larger than 200 inches floating in front of you. Compared to traditional glasses, they sit just a little further off the bridge of your nose, which can't help but make you look a bit dorky.
But, somewhat surprisingly, the quality is very good! With 600 nits of max brightness, 46-degree field of view, and offering 60Hz or 120Hz refresh rates, for the most part, legibility is clear, and the virtual display is sharp and vibrantly colored. The transparent nature of the lenses and the way the screen is projected seemingly in front of them allows you to keep an eye on your surroundings, with your peripheral vision intact. In a brightly lit room, particularly when viewing content with dark scenes, this can lead to being able to see the real world through the virtual display — handy in some situations, annoying in others. But with bright content, even a well-lit room doesn't cause much trouble — and in a dark room it's almost like having your own personal IMAX in front of you (with some important caveats we'll discuss later).
Compatibility is broad too. Using the DisplayPort standard, it'll work with any USB-C device that supports the protocol — and thanks to the port redesign on recent Apple products, that includes the iPhone 15 range, as well as iPads and MacBooks. TCL offers a MiraScreen adapter, which brings additional battery power and a magnetic connection, for anyone using devices without USB-C. The day-long viewing experience is not yet as natural-feeling as sitting in front of your device's screen to get work done — reading text from my MacBook for instance requires a squint. But for watching videos or playing games, it was quite good, with the resolution, brightness, and high refresh-rate combination working in tandem for a great movie image.
There's not much in the way of controls for the glasses — they're pretty much plug-in-and-play. But on either arm of the frames is a two-button rocker. The left-hand one controls volume to the stereo speakers, which sit just over each ear. A long press of that button turns on a 'whisper' mode that emphasizes speech in videos, so as not to disturb those around you — though sound leakage, on the whole, is minimal, despite the open speaker design. The right side's rocker controls brightness, going from dim enough to see the room around you to bright enough to obscure all but your peripheral vision of the real world. Hold that one down and you'll jump between the 60Hz and 120Hz refresh rate options. If you push down both rockers at once, you'll get a side-by-side 3D video option, but I unfortunately couldn't find any 3D content that would support the mode.
As for fit, they're reasonably comfortable — but it's difficult to find the optimum viewing angle. Each arm can be re-angled in three different vertical positions, while the nose bridge clip can be brought forward or backward three steps.
Prescription glasses wearers are in luck too. The package includes clip-on frames which you can take to an optician to have your own prescription added into. But the unusually large size of the front part of the RayNeo Air 2 smart glasses gives a reasonable amount of room to slip your standard glasses into as well, without jeopardizing the fit of either pair. The package is rounded out with a short USB-C-to-USB-C cable for connecting the glasses to your device (hooking up to a port on the tip of the right frame arm), a soft fabric carry case, and a screen cloth.
TCL RayNeo Air 2: What I Didn't Like
This is the kicker. Despite the different fit options and arm adjustment positions, I just could never find a spot on my nose where the glasses offered an unobscured view of the display. It was difficult to angle them precisely in any way that wouldn't either cut off the lower extremities of what I was viewing or block the upper extremities thanks to the OLED housing. In addition, even when getting the bottom part of the display fully visible, the left and right sides would always feel a little out of focus. The crying shame is that, if a smaller virtual screen was projected, this issue could likely be mitigated, but there was no way to tweak that.
The potential is clear to see — I hooked the TCL RayNeo Air 2 glasses up to a retro gaming handheld, one whose games focus on 4:3 content that sat primarily in the center of the display. In this use case, they were so much fun, offering a perfectly readable screen and no notable latency. But anything where the content requires legible widescreen extremes (say reading the UI in an app or a modern game), and the experience becomes unpleasant. It won't be a problem all the time — most film content sees you focus in the center of the frame anyway. But you can't help but notice you're missing some of the details, and it will inevitably frustrate you.
Part of the issue is that there's no way to anchor the screen in place — despite the 'smart' nature of the glasses, the AR features are very rudimentary. The screen moves to follow the movement of your head, so there's no way of turning your head to get a glimpse of those obscured portions. The RayNeo XR app shows that this is possible with the glasses, offering a floating augmented reality interface that can be navigated by a phone — but it's only available to Android users, and doesn't have an iPhone counterpart. Even then, the Android experience isn't fully featured, offering a web browser and some 360 videos, turning your handset into a pointer, rather than unlocking an AR version of the full Android experience. Again, the potential is there, but not quite realized.
For the price, I'd also have liked a hard carrying case included in the package. It's quite a delicate device, and the fabric case provided won't do much to protect the TCL RayNeo Air 2.
TCL RayNeo Air 2: Competition
Competition in the smart glasses space is pretty light at the moment. You've got Meta's Ray-Ban smart glasses — but they don't have a screen and only offer recording or voice assistant support. You've got full-on VR headsets like the Meta Quest 3 — which is more for engrossing virtual reality experiences than lightweight viewing sessions. You've got the upcoming Apple Vision Pro — which will be more focussed on augmented reality than the TCL glasses and are far more feature-rich, but expected to cost almost 10x as much.
So the TCL RayNeo Air 2 sits in its own small, if growing niche. If you want a similar experience that also focuses on screen-mirroring content from external devices, check out the similarly named XReal Air 2. They're conceptually very similar but also offer an adapter for hooking up HDMI devices, which can also be used to fix a large virtual screen in place, rather than following your every head movement, which may feel more natural to some users. Regardless, they're very similar products.
Should you buy the TCL RayNeo Air 2 smart glasses?
Buy them if…
You want a big-screen experience on the go
Powered by your device alone, the RayNeo Air 2 does a good job of simulating a big-screen experience from within a compact pair of glasses that you can take with you anywhere.
You want to test-run the future
Smart glasses are coming, whether that's in the form of large head-mounted devices like the Vision Pro, or smaller specs like Meta's Ray-Ban smart glasses. There's an early taste of that potential here that's worth checking out.
You don't have room for a large-scale TV (or just like the novelty)
Haven't got room for a giant TV? Want to watch something else while your spouse takes control of the main TV? The RayNeo Air 2 isn't a bad option. Either way, the novelty factor alone makes them worthy of your attention, let alone the better-than-expected performance.
Don't buy them if…
You want a full view of the action
The nature of the in-glasses screen means the edges of some imagery can be obscured or blurred.
You want cinematic audio
The in-frame speakers are clear, and surprisingly discreet for those around you. But they don't offer cinematic audio, so bring your own headphones along for the ride.
You're expecting AR features
Android users get some rudimentary augmented reality support, but for everyone else — especially Apple users — it's primarily a screen-mirroring device.
Verdict
The TCL RayNeo Air 2 comes painfully close to being great. They're surprisingly comfortable to wear, don't look too absurd, have great compatibility with a range of devices, and have a really nice screen.
But an ill-framed image that blurs the corners of the viewable display, a lack of an 'anchored' display option, and a lack of compatibility with Apple handsets for its AR functionality hold it back. Having said that, this is pretty much as good as smart glasses currently get — it's a challenging form factor to work in and TCL has done an admirable job. If we ever get to a RayNeo Air 3, they might just end up being perfect. For now, they're a curious novelty — worth a try, but unlikely to replace your TV or monitor.
---
TCL RayNeo Air 2 smart glasses
Bottom line: Almost-great smart glasses are a step in the right direction for face-mounted display spectacles.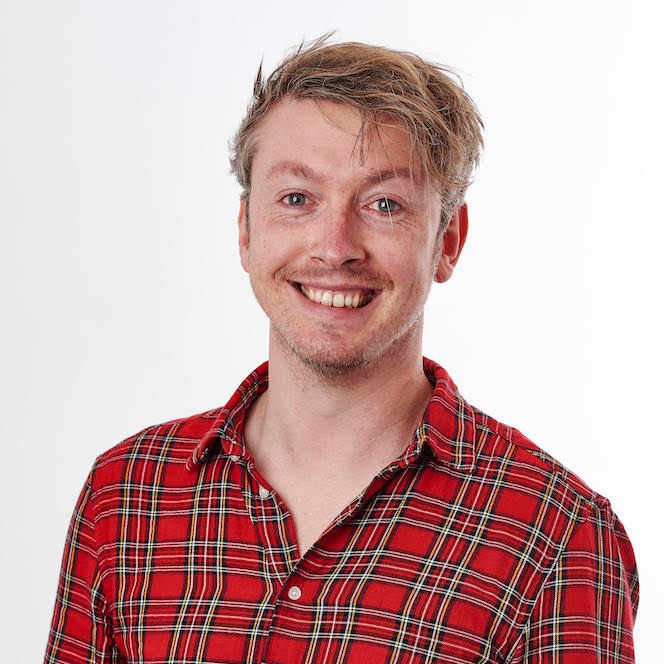 Gerald Lynch is the Editor-in-Chief of iMore, keeping careful watch over the site's editorial output and commercial campaigns, ensuring iMore delivers the in-depth, accurate and timely Apple content its readership deservedly expects. You'll never see him without his iPad Pro, and he loves gaming sessions with his buddies via Apple Arcade on his iPhone 14 Pro, but don't expect him to play with you at home unless your Apple TV is hooked up to a 4K HDR screen and a 7.1 surround system.
Living in London in the UK, Gerald was previously Editor of Gizmodo UK, and Executive Editor of TechRadar, and has covered international trade shows including Apple's WWDC, MWC, CES and IFA. If it has an acronym and an app, he's probably been there, on the front lines reporting on the latest tech innovations. Gerald is also a contributing tech pundit for BBC Radio and has written for various other publications, including T3 magazine, GamesRadar, Space.com, Real Homes, MacFormat, music bible DIY, Tech Digest, TopTenReviews, Mirror.co.uk, Brandish, Kotaku, Shiny Shiny and Lifehacker. Gerald is also the author of 'Get Technology: Upgrade Your Future', published by Aurum Press, and also holds a Guinness world record on Tetris. For real.