Amazon may now take a photo of your front door as proof of delivery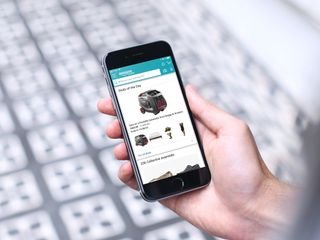 According to a support document (opens in new tab) recently added by Amazon, Amazon Logistics — the company's shipping service — may now take a photo of your front door, porch, or other location when a package is left unattended as proof of delivery. The photo will focus specifically on the placement of the package, so not only will you know that your stuff was delivered, you'll also be able to discern where exactly it has been placed. That way, you'll be able to find it more easily and you'll be able to tell if it's been moved, tampered with, or stolen.
Though this won't happen for every Amazon delivery, if a photo is captured by AMZL, it may show up when you track a package from Your Orders on the desktop site or app. To access it, you'll need to either sign in with or re-input your username and password like you usually would to get to your personal information. Outside of you, the account holder, the only parties able to access delivery photos are Customer Service representatives, who may look at delivery photos to troubleshoot if you report a package missing, and individuals responsible for quality assurance, who may audit the photos to make sure everything is running smoothly.
If an order is marked confidential — for instance, if it's a gift you're sending to someone from their Amazon Wishlist — the company won't post a delivery photo on the order in order to protect the privacy of the recipient.
Not down with AMZL taking a photo of your residence? You can choose to opt out of the Photo on Delivery feature pretty easily. When you view a photo on delivery in Your Orders, all you have to do is click on the "Don't take delivery photos" option to halt the service from that point forward.
iMore Deputy Site Manager Lory Gil recently had a positive experience with Photo on Delivery, in which she was able to track down a package after it was delivered to the incorrect address:
Thoughts?
Do you like the idea of receiving a photo of your package upon its delivery, or do you find the whole thing unnecessary (or maybe even unsettling)? Share your thoughts in the comments!
Get the best of iMore in in your inbox, every day!
Tory Foulk is a writer at Mobile Nations. She lives at the intersection of technology and sorcery and enjoys radio, bees, and houses in small towns. When she isn't working on articles, you'll likely find her listening to her favorite podcasts in a carefully curated blanket nest. You can follow her on Twitter at @tsfoulk.
I think this is a step in the right direction. But I haven't seen anything official quoted that explains what happens if you arrive home and the package isn't where it had been left and photographed. Can we still claim replacements for items that may have been stolen? Also, this doesn't excuse deliveries where the delivery person just puts the item on the doorstep without bothering to ring the doorbell. I've had two occasions where I've received notice that my package has been delivered -- while I was home and sitting in the house 10ft from the front door.

This has already been happening for months where I live...

Took a photo of my delivery on Sunday (Ontario, Canada)

Here's the thing. I had this a couple times. This is old news. They've been doing it for years. But the person who rolls up to your house is in casual attire, probably in their own private car. Think of it like a Uber/Lyft for delivery service. You see where I am going with this? It will depend on the person who is making the delivery at this point. You read all these things about Uber drivers and what not, now some random people are getting your address, know you order stuff from Amazon. Maybe they open it and repackage it to see what's inside, etc? Who knows? Oh, and the device they take the photo with is their own phone most likely. This allows it to be cheap for Amazon. I would have felt better if these are actual employees of a company or an Amazon company, but seeing it just be some random average joe, and my packages are being to delivered to a strangers address first makes it a little unnerving. This is based on observation of the last couple times it happened. The last one I was thinking who is this stranger parked in front of my house, until I saw the photo notification come across. It's a neat concept, until I saw that happen.

Delivery services used to make sure a package was delivered. This is nuts with them just dropping stuff, and then (it seems?) moving towards trying to drop their responsibility for it being stolen, etc. I've even had expensive 'sign for' stuff like laptops just left outside my house. I'm all for better efficiency, but I think we've taken a few (or a whole bunch?) of steps too far.

This has been going on for months but it's not consistent and doesn't change the fact that packages will still get stolen after the fact if you live in areas where that's a thing. I get why it was thought of, it's great for them and could be for the consumer as well. Too many people were scamming them saying they didn't receive packages that were left, which in the end raised our prices as consumers, but I don't know how much this actually stops that from happening. Maybe now if they have a picture they refer you to file a police report instead of automatically getting a replacement item sent out?

If you're upset that this is invading your privacy you may want to wander over to Google Maps and plug in your address. I can almost look through my front window there.

This just happened with my delivery yesterday

I had the same experience. I was waiting eagerly for an Amazon delivery, and I also had told them where they could put it if I wasn't in: I was in apartment A, so I asked them to leave it with Apartment B. I heard some noises on the balcony, so I went to the door, but when I got there, nobody was around. A few minutes later, Alexa beeped at me and did the notification beep and hustle. It said my package had been delivered! I went to Apt. B. No, the woman said, nobody had shown up. It's been stolen! I went to the app, and there, I saw, it was sitting on top of a welcome mat and "not-my" door. Suddenly, I recognized it! The house in front! And there it was. Definitely a case where getting notification was less helpful than you'd think. It was definitely only the beginning of a strange experience.
Thank you for signing up to iMore. You will receive a verification email shortly.
There was a problem. Please refresh the page and try again.