Angry Birds Go now available for iPhone and iPad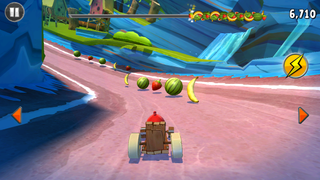 December 11 is upon us, and true to its word Rovio has made Angry Birds Go available worldwide for the iPhone and iPad. In a huge, simultaneous cross platform launch, mobile gamers everywhere can finally get their hands on the latest title in the Angry Birds franchise. Only, this time around, things are a little different.
This new game still has a distinctly traditional Angry Birds feel to it, but cross that with Mario Kart and you're not a million miles away from what we're looking at. In our so far short time with it, we've found it's a colorful, fun little mobile kart racer that looks great and feels great to play. The controls are responsive and extremely simple, and there's a bundle of different types of race to get stuck into.
Angry Birds Go is a free-to-play title, but subsidized with in-app purchases. To avoid paying for things you can collect coins while playing to save having to buy them with real money, but at the same time you're trying to compromise this and winning the race. Without coins you can't upgrade, and without upgrades you can't enter some races, so it'll be interesting to see how soon we might hit a paywall.
That said, it could be another winner from Rovio, since those guys seem to strike gold any time the Angry Birds are involved. We'll have a full review once we've had time to play it some more, but you can download it from the App Store at the link below. If you take it out for a spin, let me know what you think of it!
Get the best of iMore in in your inbox, every day!
Tried the game. Seems too easy and for kids at least in the beginning. I hope it doesn't turn into a money game in a couple of races. Sent from the iMore App

This is my one of favorite game. As i can use a tool get coins and gems, so this game is no hard for me. If you need it tool, try it out here.
http://ilovecrack.net/angry-birds-go-hack/

Games like this are crap with constant in-app popups and ads. Why does iMore keep promoting junk like this? If you read the review on The Verge, it's even worse than the usual crappy "free" game. Don't help these kind of devs out. This deserves one star.

Because it's a big title from a big developer. We haven't had an early access copy like some other outlets, so we haven't reviewed it yet. When we do, if it sucks, we'll say it sucks. Presume you never read my piece on Madden 25?!

It *does* suck. My iPad keeps crashing. In the middle of a race, my iPad freezes and then crashes. Every damn time!

I'll still try it for free....why not....and then offer up mybopinion

Is it constantly crashing for anybody else? (Using an iPad 2)

Yeah. It's crashed a bit on me and it suffers from lag... Probably while it's trying to download data [ads?] while in game. Sent from the iMore App

The game mechanics are ok... I like the short tracks for quick races. It's Angry Birds enough, but... Ads - Bleh. IAP for "Coin Doubler" priced at $7?! Hahahahahahaaa. The game is not THAT fun. (I'm a fan of games but I'm not a fan of IAPs. This game won't be on my iOS device for too long.)
Nice effort Rovio, but for me, this app just doesn't have the same charm. Sent from the iMore App

I've never been a fan of the Angry Birds series but I loved both Mario Kart and Crash Team Racing back in the days so I'll give this one a try. Also hoping this won't turn into an IAP-fest of a game. Sent from the iMore App

I have to download, thanks for the info. Sent from the iMore App

Welp after about 7 races I'm starting to lack enough speed. The best kart they offer is a $50 in app purchase. That is ridiculous.
Thank you for signing up to iMore. You will receive a verification email shortly.
There was a problem. Please refresh the page and try again.