App for That: How to edit the IPTC info on a photo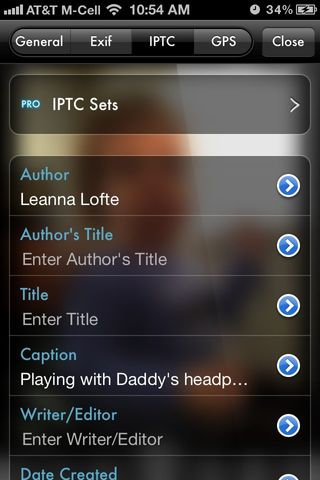 There are hundreds of thousands of iPhone, iPod touch, and iPad apps for just about everything -- so how come the one you need, the one you know just has to be there, is so hard to find? Enter TiPb's new weekly feature where staff and readers alike sort through the App Store and help you find just the right App for That. This week, tedwang asks:
What tedwang is specifically looking for, is a way to edit the IPTC info on a photo. To see what we found for him, follow along after the break!
One of the many features of Photogene² [$0.99 - App Store link (opens in new tab)] is to edit the IPTC data on photos.
IPTC stands for International Press Telecommunications Council and was originally developed for media to quickly exchange information about news items like photos. Some of the info that can be stored in the IPTC is author information, title, caption, and copyright.
Photogene² makes editing this info a breeze. With an upgrade to Pro, you can even create IPTC sets to streamline the process.
Anyone else have any App for That suggestions for tedwang? Let him -- and all of us -- know.
Having trouble finding what you need in the app store? Head on over to our App and Game Feature Forum and let us know what you're looking for. The TiPb community will do our best to find you just the right App for That!
Get the best of iMore in your inbox, every day!
Former app and photography editor at iMore, Leanna has since moved on to other endeavors. Mother, wife, mathamagician, even though she no longer writes for iMore you can still follow her on Twitter @llofte.
PhotoForge2 also allows you to do this :)

I would give the nod to PhotoForge2, I like it better and it's Universal.

That`s Nice http://www.1socialmediaagency.com/ we are loving it according to this we will know every time what we are looking and where is it.....!!!!

I have the same needs to keep track of images on my iPad4, and this may be a good app. But I also copy (historic) images from a PC to the iPad that I take to people to get comments on, and need to connect their comments directly to the specific image. When the caption is saved I need to copy the image back to my PC with caption intact. Will this app also add IPTC to scanned JPG files that has no IPTC properties data (yet), or only to camera made JPGs?