Apple acquires Embark, the push for transit in Maps continues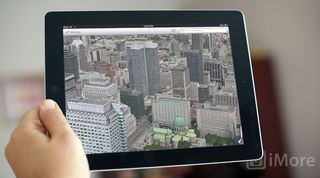 Continuing the recent shopping spree, Apple is now reported to have acquired another transit focused app, Embark. While the usual public statements apply, the transaction has reportedly been confirmed to former Wall Street Journal writer, Jessica Lessin:
Apple is deeply committed to building out Maps, and a year after launch we're seeing a much improved product already. But, transit information is one of the next big hurdles, and this acquisition along with the earlier one of HopStop is sure to have a big impact on the future of Maps. What that future is, we'll have to wait and see.
While we're thinking transit apps; what's your current go to?
Source: Jessica Lessin via The Verge
Editor at iMore, part time racing driver, full time British guy. Follow him on Twitter and Google+
Good. I've used Embark iBART for years, and it's great.
Should be a wonderful addition to Apple Maps.

between this and hopstop, I'm getting excited. I hope this stuff makes it into iOS7 and not have to wait till iOS8

My go-to for transit directions on iOS is The Transit App: http://thetransitapp.com/ Sent from the iMore App

here is more on how much Apple paid for Embark. $35 million. Source: http://www.amongtech.com/apple-acquires-popular-maps-app-embark/

Lunch money. Apple knows when to pick 'em.
(Hint to Microsoft: before they're multi-billion dollar companies.)

The iOS7 demo of the calendar feature was revealing for where maps is heading. You simply can't add a true transit time to get somewhere on your calendar in metropolitan areas without decent information on mass transit. I can also see this as a feature in Siri too.

my biggest issue with ios maps is the information. That is if i search for Walmart, I think it's pulling info from yelp addresses and they are wrong. Regardless of where they pull them from they are often wrong. I bring up walmart because i never go but needed to go the other week i searched for Walmart and it gave me Sam's Club, a Walmart owned company. Sam's club was 8 miles in the other direction. I only know it's sam's club because i've been there but had i simply relied on that for plotting my directions i'd have been way off. Also i've updated incorrect businesses and they are still wrong. There are businesses that changed names that don't appear in searches, likely because they are still incorrect on Yelp. i bring up Yelp because if you search by name it brings up the business name and a link to Yelp.

"Apple is deeply committed to building out Maps, and a year after launch we're seeing a much improved product already. " Eh, we are? Where? While Apple is "committed," competitors are "doing" -- an all too familiar story nowadays, no matter what Apple product is in question. Oh well.

Not going to please all of the people all of the time, but Maps is a different entity now to the somewhat shambolic launch product.
Get the best of iMore in in your inbox, every day!
Thank you for signing up to iMore. You will receive a verification email shortly.
There was a problem. Please refresh the page and try again.