Apple Maps for iOS: Everything you need to know!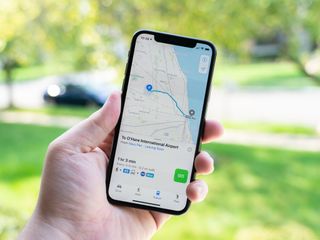 (Image credit: iMore)
Whether you just need directions or are hopelessly lost, Apple's Maps app is right there on your iPhone to help you out. The official Maps app can help you find the exact place you're looking for, such as a restaurant, a friend's house, or an airport. You can get directions to all of these places, including driving, walking, and mass transit directions. With more recent additions, you can even see indoor maps of facilities such as airports.
Here's everything you need to know about Apple Maps
What's new with Apple Maps?
Check back here for the latest updates in Maps news.
August 15, 2018: Apple Maps adds indoor maps for 18 malls across Canada
As first noted by MacRumors, Apple has rolled out its indoor maps for several malls across Canada, making it easier for iPhone owners to find the exact locations of the stores they're looking for. Most of the malls in question are owned by Cadillac Fairview.
Here are the malls that now have new indoor maps from Apple:
Galeries D'Anjou in Montréal
Carrefour Laval in Laval
Promenades St-Bruno in Saint-Bruno
Fairview Pointe Claire in Pointe-Claire
Rideau Centre in Ottawa
Markville in Markham
Shops at Don Mills in Toronto
Fairview Mall in Toronto
Sherway Gardens in Toronto
Square One in Mississauga
Lime Ridge in Hamilton
Fairview Park in Kitchener
Masonville Place in London
Polo Park in Winnipeg
Chinook Centre in Calgary
Market Mall in Calgary
Richmond Centre in Richmond
Champlain Place in Dieppe, New Brunswick
June 29, 2018: Apple is rebuilding maps from the ground up using first-party data
Many people ... er ... struggle with Apple Maps. Sure, it's been improved a lot over the years, but it's not a perfect solution, and users have experienced many issues since its genesis. Thankfully, Apple has heard our cries, and is completely redesigning its Maps app for the upcoming iOS 12, with limited first-party maps data coming in the next beta. According to an amazing, in-depth piece by Matthew Panzarino over at TechCrunch, here's what we can expect from the update:
Maps will be based solely on first-party data
Yup: Apple is finally going to be building all maps using the company's own data.
Okay, okay. I say finally, but really, Apple has been collecting first-party data for its maps for the past four or so years. Back in 2015, Apple began collecting map data from a combo of sources at its disposal: dedicated Apple Maps vans outfitted with GPS rigs, LiDAR arrays, cameras that shoot overlapping high-resolution images, Macs, iPads, and physical measuring tools; high-resolution imagery captured using satellites; "probe data" from iOS devices; and hundreds of human editors.
Eddie Cue, Apple's Senior Vice President, shared the company's reasoning for switching to first-party data instead of relying on third-party data in the aforementioned conversation with TechCrunch:
Maps will be more responsive to changes
Because Apple will no longer be relying on third-party data (and, thus, no longer jumping through all the hoops that were once necessary to update Maps), the app will be more accurate when it comes to corrections, roadwork, new routes, and construction changes. Cue again weighed in on this matter to Panzarino:
Graphics will be more visually detailed
In the revamped Maps, depending on the context of your trip, the app will now show more detailed graphics, including things like foliage, swimming pools, sporting areas, and sidewalks.
The redesigned UI will make maps easier to read
As Panzarino mentions, Apple has always had a knack for marrying the utilitarian with the artistic. Thanks to a team of cartographers (yes, cartographers), the new version of Maps will be even more beautiful and useful than ever before, helping your brain more intuitively make sense of what's going on geographically.
Sounds pretty cool if you ask me*.
*Someone who struggles desperately to make sense of any sort of map at all.
Apple will still focus strongly on user privacy
If the phrase "probe data" frightened you, worry not: Apple is still adamant as ever about protecting user privacy. Probe data is, according to Panzarino, "essentially little slices of vector data that represent direction and speed transmitted back to Apple completely anonymized with no way to tie it to a specific user or even any given trip. It's reaching in and sipping a tiny amount of data from millions of users instead, giving it a holistic, real-time picture without compromising user privacy." So Apple isn't tracking every step of your trips from beginning to end. Instead, the company is only collecting teeny tiny slivers of location data from tons of different trips completely anonymously in order to form a cohesive picture.
The new Maps will be rolling out to the US first, launching in San Francisco and the Bay Area of California with the next iOS 12 beta next week. It will cover Northern California by this fall, and will eventually be rolled out to every version of iOS over the course of about a year. For a more in-depth preview of upgraded Maps, check out Panzarino's full piece here.
March 29, 2018: Find gender-neutral restrooms using Maps!
If you're not already checking the "Useful to Know" section when you search a location in Maps, you absolutely should be. It's full of handy information that can help you plan your day out and about, especially if you're traveling or visiting somewhere new. It includes whether or not a place accepts Apple Pay, if you can make reservations there, if it's kid-friendly, and, most importantly to some, whether or not it has gender-neutral restrooms.
To view the "Useful to Know" section, all you need to do is do a quick search for whatever establishment you're curious about, then tap on it in the suggestions that appear below your map. You may need to scroll down a bit to see it — it's underneath the location's phone number.
Though there are already dedicated apps out there for finding gender-neutral restrooms for transgender and gender-nonconforming individuals — the incredible Refuge Restrooms comes to mind — it's really heartening to see this information being displayed in the native Maps app. And yes, I hear what you're saying: Shouldn't every public place have a gender-neutral restroom option to provide a safe and welcoming space for everyone, regardless of how they identify? Absolutely yes. However, until that day comes, it's nice to know what to expect when you're going out for drinks with your friends or taking your family for ice cream.
March 12, 2018: Apple Maps will now show you bike-sharing stations nearby
Looking for an alternative form of public transit that doubles as a workout? If you don't have a ride of your own, you'll now be able to view nearby places in your city where you can rent bikes within the Maps app so you can get where you need to go.
According to a report by TechCrunch, Apple has signed a partnership with public transit data company Ito World, integrating bike-sharing service data into Apple Maps in more than 175 cities across 36 countries.
The feature is currently live and incredibly easy to use. All you need to do is search "Bike Sharing" in the search bar that appears when you launch the Maps app. Or, if you already use bike-sharing regularly, you can type in the name of your favorite service instead, and Maps will tell you if there are any stations nearby. It will also provide contact information for the service.
Though Apple had already added some bike-sharing services to maps in a handful of cities prior to now, integrating Ito World's existing bike-sharing data allowed Apple to make the feature available more quickly than doing all the collection in-house. And, as TechCrunch notes, "Ito World has worked with dozens of companies to license and normalize bike-sharing data. This way, Apple only has to integrate one data model to support hundreds of bike-sharing services."
Unfortunately, as TechCrunch also mentions, Maps doesn't currently show how many bikes there actually are at a station or if there are any available bike docks. Hopefully, that feature will be added soon, as more specifically-dedicated bike-sharing apps already have it.
For a full list of supported services, you can check out TechCrunch's article here.
December 14, 2017: Apple Maps brings indoor maps to 30 additional airports
Apple announced indoor maps for places like airports and shopping malls as part of iOS 11 and the company has just now expanded the feature to include 30 more airports in the U.S. and around the world.
With indoor maps, you can see things like security checkpoints, food courts, and most importantly to me — coffee shops! The detail level is great, as is the seamless way you can zoom out from regular maps and into the detail view inside.
The 30 new airports coming online today include:
Amsterdam Airport Schiphol AMS
Baltimore/Washington International Thurgood Marshall Airport BWI
Berlin Tegel Airport TXL
Berlin Schönefeld Airport SXF
Chicago O'Hare International Airport ORD
Chicago Midway International Airport MDW
Denver International Airport DEN
Detroit Metropolitan Wayne County Airport DTW
Edmonton International Airport YEG
Geneva Airport GVA
Hong Kong International Airport HKG
Houston George Bush Intercontinental Airport IAH
Houston William P. Hobby Airport HOU
Indianapolis International Airport IND
Jacksonville International Airport JAX
Las Vegas McCarran International Airport LAS
London Heathrow Airport LHR
London Gatwick Airport LGW
Los Angeles International Airport LAX
Orange County John Wayne Airport SNA
Miami International Airport MIA
Minneapolis–Saint Paul International Airport MSP
Nashville International Airport BNA
New York John F. Kennedy International Airport JFK
New York LaGuardia Airport LGA
Newark Liberty International Airport EWR
Oakland International Airport OAK
Philadelphia International Airport PHL
Pittsburgh International Airport PIT
Portland International Airport PDX
San Diego International Airport SAN
San Jose Norman Y. Mineta International Airport SJC
Seattle–Tacoma International Airport SEA
Toronto Pearson International Airport YYZ
Vancouver International Airport YVR
Sadly, my local Trudeau airport in Montreal (YUL) hasn't been added yet, but I just happen to be at LGA right now and, in my quick tests, it's working a treat. You can tap to switch between departure and arrival levels, for example, and use nearby to find shops, snacks, and more.
Airports, especially when you're rushing for flights or facing weather delays, can be beyond stressful. Indoor maps take the edge off that stress and help you not only find where you need to go, but places you want to check out while you're waiting to go.
Apple put in a lot of extra effort as well, traversing every airport, making sure dead zones were covered and walls and doors were accurately placed.
When you put it together with indoor location, which makes sure you know exactly where you are at all times, and it's beyond impressive. (Especially when you consider all these international airports are so different.)
If you live in a city where Apple's indoor maps for airports just went live, check 'em out and let us know what you think.
September 13, 2016: Say hello to Maps for iOS 10
Apple Maps has lagged behind its competitors for a few years — in part because Apple was late to the game. But over the last year, it's become a more stable, usable service. iOS 10 continues that trend, bringing huge (and much-needed) software and server-side improvements to Apple's mapping application.
No, it's still not perfect: In driving mode, it continues to struggle with traffic estimations and offering up the best alternate routes. But for local driving, it's gotten leaps and bounds better.
The new look
Apple Maps has embraced the San Francisco bold look head-on, with clear, readable maps labels, bright colors, and crisp text. The top and bottom navigational bars have disappeared entirely, replaced by contextual cards and a small overlay for further information, GPS location, and the weather. Though you get more visual overhead as you use more complicated Maps options, the general focus seems to have been on keeping it light, clean, and understandable.
On launch, the bottom card will display a search bar along with predictive locations (based on your routine or Calendar appointments) and favorite or recent locations. As will soon become custom, you can scroll up on this card to get an expanded list, as well as full access to your Favorites list.
Tap on an address or pin, and that contextual card changes, offering you an address, estimated mileage and driving time, and — if it's a public business — Yelp-sourced information on the business's hours, photos, website, menu, and the like. (You can tap any of these to go directly to Yelp for more information.) You can even tap on yourself to either mark your current location with a pin, or share it with your friends.
Search improvements
Where Apple Maps has really branched out is in its search: Though it still pulls primarily from Yelp's database, it's become a lot easier to find and narrow down options for food, entertainment, travel, gas, and more. When you tap on the search bar, eight brightly-colored bubbles appear to whisk you off to the business of your choosing: Food, Drinks, Shopping, Travel, Services, Fun, Health, or Transport.
Tap on one bubble, and you go further down the rabbit hole into a sub-genre of options: Food, for example, offers up a Popular section, along with Restaurants, Groceries, Fast Food, Coffee Shops, Bakeries, and Desserts.
Once you pick a category, you can browse through a listing of suggested eateries or drill down further — a sliding menu along the bottom of the screen lets you select specific brands or options. (For example, tapping Bakeries in the Northeast will give you sub-options that include all nearby Dunkin Donuts, Panera Bread, Au Bon Pain, and the like.)
Adventures in directions
Let's get this out of the way: Maps's server-side directions still need some work. Over the past few months, I've been running it on all my short- and long-haul trips simultaneously with Google Maps, and while it generally keeps up quite well, there are still some holes in its computations. (Notably when traffic is involved, or trying to branch off the well-worn path through slightly more obscure street routes.) It's miles better than Maps's initial server woes, and largely only when driving routes are involved: I actually quite prefer Apple's transit data to Google Maps. But the caveat needs to be stated, and so it has been.
That aside, Maps now has one of the best interfaces for directions out there. The new bold, bright look is great for quick-glance information when in the car, and both Siri and large buttons help keep your attention on the road as much as possible rather than yelling at your directions-providing device. Outside the interface, Maps fixes a niggle I've had since version 1.0: It now lets you zoom to any point on the map with a multitouch pinch gesture, as well as view a full overview of the route.
When turn-by-turn is enabled, you can also search along your route for local food, gas, or coffee options by tapping a few big buttons; you can also just ask Siri "Is there a coffee place nearby?" and Maps will present options and automatically add a stop to your route if you so desire. It works just as well (if not better) than Google's implementation — having Yelp data and rankings to draw on is a welcome addition to the sometimes-stressful job of picking road trip stops.
When you're planning your routes, Maps offers multiple options, like most major mapping services; Apple has also now incorporated switches that let you avoid tolls or highways — a big deal for metropolitan folk — and transit options that let you exclude certain methods of transportation in favor of others (turning off bus routes, for example, if all you want to see are train schedules).
Hello, car
Hands down, my favorite Maps feature in iOS 10 is Apple's new "Parked Car" marker. If your vehicle has either CarPlay or Bluetooth connectivity, your iPhone will recognize where it last chatted with your car, and mark it in the Maps app. Not only that: It'll tell you when you last parked (so that you can accurately monitor meters), and offers a notes field where you can add a photo (of your parking garage number) or different notes. I have used this feature pretty much daily since installing iOS 10, and my forgetful parking lot self can't really imagine life without it.
Beyond the Maps app
Maps is one of Apple's test-case apps that supports third-party embedded extensions: Though not as expansive as, say, Messages, Maps will let you book reservations and rideshares directly through the app — even from the directions screen. It's clearly a very limited concept at launch (there aren't that many rideshare services, period), but as with Apple's other embedded app experiments, this could snowball very quickly if it proves successful. I'd love to be able to embed Carrot Weather in place of the fixed weather widget, for example.
How to use Apple Maps
If you're wondering exactly how to do a particular thing in the Maps app, you'll want to check out our ultimate guide. It covers the gamut of actions you can take with the app, from viewing and sharing your location to filing a troubleshooting report.
Transit directions
Maps offers transit directions to an ever-expanding list of cities across the world. These directions allow you to find trains, buses, ferries, and other means of mass transit near you, and which routes will most efficiently get you to your destination.
Apple Maps and transit directions: Which cities have them?
Airport navigation
Airports can be massive, sprawling messes of different gates, food courts, and baggage claim areas. Apple offers a solution to this navigation nightmare with one of its more recent additions: indoor maps for airports
Complete list of Apple Maps 'Look Inside' for Airports
Troubleshooting
Problems crop up with every piece of software, but for Maps, that could mean everything from a bad turn-by-turn instruction to being given a completely nonsensical route. With Maps' built-in tools, you can report a variety of problems to Apple directly in the app.
How to report a problem in Maps on iPhone and iPad
Questions?
If you have any questions about the Apple Maps app, let us know in the comments.
○ What's new in the Maps app
○ How to find locations and get directions with Maps
○ How to share location and directions with Maps
○ How to delete your search history and prior destinations in Maps
○ How to use Siri with Maps
○ How to enable and use Maps extensions
○ Best Maps app extensions
○ How to change settings for Maps
○ How to report a problem in Maps
○ How to use Maps with CarPlay

Master your iPhone in minutes
iMore offers spot-on advice and guidance from our team of experts, with decades of Apple device experience to lean on. Learn more with iMore!
Joseph Keller is the former Editor in Chief of iMore. An Apple user for almost 20 years, he spends his time learning the ins and outs of iOS and macOS, always finding ways of getting the most out of his iPhone, iPad, Apple Watch, and Mac.