Apple adds headphones to Lightning cable certification standard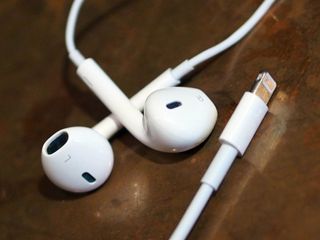 (Image credit: iMore)
Apple has apparently introduced a new specification to their MFi program to allow manufacturers to build headphones that run audio through an iOS device's Lightning, rather than the 3.5mm headphone jack. Headphones utilizing the spec will be able to receive stereo 48 kHz digital audio and send mono 48 kHz audio. They will come in two configurations, according to 9to5Mac:
Manufacturers will still be able to use the standard playback controls found on most headphones. They will also be able to add controls to launch specific apps. Headphones will also be able to work with a specific iOS companion app, and they will apparently be able to launch certain apps when connected to an iOS device. Headphones connecting through the Lightning port will be able to charge iOS devices, as well as charge from them, if needed.
Would you buy headphones that used your Lightning port instead of the headphone jack? Sound off in the comments below.
Source: 9to5Mac
Get the best of iMore in in your inbox, every day!
Joseph Keller is the former Editor in Chief of iMore. An Apple user for almost 20 years, he spends his time learning the ins and outs of iOS and macOS, always finding ways of getting the most out of his iPhone, iPad, Apple Watch, and Mac.
Hell yeah!! If I can get better sound it's a no brainer. May cost more money but I think it's worth it. And think of all the space apple will be able to save from not having to have a standard 3.5mm headphone jack. All of the sudden the beats deal is starting to make a lot of sense now.

I would. They may not end up being Earpods, but they would be definitely purchased and used.

I would buy, but I'd have a regular pair around for when I switch to another phone.

No, Than i can`t charge mobile and use headphones same time,

Yes, you can. If you read the 9to5Mac article, you'll see that there could be.

There could be -- with a some future future passthrough charging adapter -- which, of course means that you can only use battery cases, chargers, sync cables, and the like which have (or are compatible with) such a passthrough adapter.

And more money for Apple. Man these guys are smart at being a monopoly Posted via the Android iMore App!

It sounds to me like they might be removing the headphone jack from iPhones in the future Sent from the iMore App

I had enough problems with the wire connections inside the actual connector of a lightning to usb lead breaking with the iPhone 5 (which pretty soon ends up a costly cumulative purchase) that I cut my losses and looked elsewhere when I switched carrier. I can't imagine the frustration of a similar issue happening with headphones. Wouldn't it restrict a person's choice to those headsets that are made specifically for Apple Devices. Now maybe this could be to improve the functionality of adapters to the old 30 pin especially for some car sound systems where charging also took place and allowed full functionality of the on-screen display of the sound system. I was so disappointed when, after purchasing the iPhone 5 and spending a further $49 on the Lightning to 30 pin adapter with the flexible connector that I could no longer charge the phone and use it with the truck sound system. A choice of one or the other and to do both I had to mess around with running the sound through the Aux jack socket and a charger and losing the on-screen functionality of the sound system.

Always someone have something negative to say! If you have the 5S like I do, then it will be all the same like changing the 30 pin for the 4S to the lighting for the 5S. I did spent money to have what I need before for the 4S and the for the 5S without complaining because I knew what I was buying. Sent from the iMore App

This was exactly my thought. Think of the space it could save to remove the headphone jack. And really if you can pass higher quality audio through the lightning port then why not? Apples loves to make things as small as possible so it would make sense to me if they did this. I'm sure there would be adapters for lightning to to 3.5mm so you can still use your existing headphones. Plus iPhones come with headphones anyway. I personally like this idea.

Yes Sent from the iMore App

Bluetooth earbuds here!!! Sent from the iMore App

I honestly don't have any interest in this. I want less wires, not more. I love bluetooth headphones. Jaybird Bluebud X's are amazing. If I am going to listen to something in my house through my iPhone, well, isn't that what Airplay is for? I understand people wanting this higher fidelity music to listen to but most people don't understand that to benefit form that, they need to spend $100's if not over $1000 on headphones that will take advantage of it. I also don't understand why a company would make headphones with an Apple only port on them. We all know there aren't going to be Windows Phones or Android devices with Lightning connectors ever.

You can see why *Apple* would do it though, as it could further lock people down to Apple platforms, but it is harder to see why a 3rd party headphone manufacturer would, unless of course the margins were significantly high to justify missing out on other platforms *and* to pay lightning royalties per unit. iOS is a huge market all by itself, but it still is a smaller market than "everything" and with more RnD and licensing costs, as well. Perhaps that was another impetus to the Beats purchase -- to have a popular brand embrace a lightning-based set of headphones that ties the user more firmly to Apple.

Yes but some of us DO want wires. It's about choice. Plus, I get better music quality, no need to keep checking the battery levels on everything, and I don't have to worry about pairing issues, loss of signal, or those occasional blackouts.

But; it is a start to digital headphone connection across the board.

If the external connection is digital that means the digital-analog conversion and amplification must be built into the headphones. This is stupid in my opinion. Just make the DAC & amp in the phone better, that way everyone benefits. They don't need this for CarPlay since the DATA of the file is read by the deck, instead of just the audio. If they get rid of the standard headphone jack, we must revolt. If they move audio to the lightning connector and require an adapter for 1/8" headphone plug, we must revolt. If the phone gets so thinner than a 1/8" jack, then we can talk Bluetooth. But that's one more thing to change and the audio quality is not technically as good as analog can be. If they want higher quality audio, they don't need to move it to the charger, just make a better DAC inside the phone. If you have a decent set of cans or buds, they will benefit from higher quality analog.

Yet another standard ready to be destroyed and replaced by a proprietary connector in the name of quality and/or space. All this purported higher audio quality has been discussed here on iMore before:
http://www.imore.com/why-high-bit-rate-and-hd-audio-are-all-about-buzz-n...

I suspect this might be more about audio docks than just headphones. Not sure how I feel about the headphone part, I had an HTC Touch for a bit and that didn't have a regular audio jack. The phone came with two splitter adapters for the mini USB port. One that had two USB ports so you could charge and listen to music through the included headphones that used mini USB instead of a 3.5mm jack. But there was also a splitter with a USB plug and a regular headphone jack. Seemed complicated at the time and it was a relief when I got my Evo and I could just use regular ear buds again. Hopefully Apple's solution will be more elegant but I may be very glad that I bought an LG Tone+ set.

Is it bad that I'd do it just cause the lightning port is in the middle and in my mind balance is awesome. Sent from the iMore App

Could this mean wireless charging is on the way?? ;-) Sent from the iMore App

People would probably complain that there alarm docks don't work anymore just because there was an OS update. I didn't and purchased the iHome iDL 48(that I was going to get anyway) to replace the Sony Dream Machine because of the pop-up that started appearing because of 7.1.1.

This is great news. I honestly can't believe we're still using the same 3.5mm jack that has been unchanged in more than 30 years. (Even if that does show it was an excellent design at the time).
Wireless charging could be a related development as said by CounterCulture above and there's plenty more potential.
My only concern is Apple's inconsistent and changing connection standards over the years. They keep changing connectors every year or so and it's really annoying when older or 3rd party kit and cables no longer work. Sent from the iMore App

Something being unchanged for 30 years isn't a good reason to change it. At least not if its the only reason.

This gives a suggestion of how thin the new iPhones will be! Sent from the iMore App

Sure. I'm sure there will be larger headphone in making, go figure. Hope we are moving toward HD sound on Apple devices, an unrealized dream by Steve Jobs.

No matter how you count your chickens, you're not getting better sound if you're listening to MP3's and the god-awful "Mastered for iTunes" tracks... Just saying... And--why would anyone want to wear headphones that drain power from your device, because ultimately, if they're doing this to introduce "powered" headphones, that will be what happens.

I don't think I would buy such. I am used to dre beats will buy those. But it would be cool if iPhone and other devices come with beats by dre earphones since they own the company. Sent from the iMore App

I love apple but should my 3.5 and I love the changes they make over time to the iPhone. But if 3.5 should really go, lots of people will be upset including me. They are trying to make the phone super slim again, do that but keep 3.5 too. Sent from the iMore App
Thank you for signing up to iMore. You will receive a verification email shortly.
There was a problem. Please refresh the page and try again.