Apple celebrates ten years of the iTunes Store with special iTunes section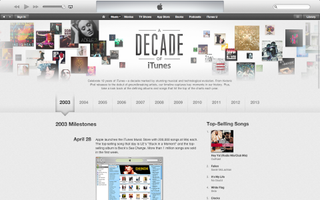 The iTunes Store turns 10 this Sunday, April 28, and Apple is celebrating with a new area in the store chronicling a decade of selling music, movies, TV, and apps. "A Decade of iTunes (opens in new tab)" commemorates the store's milestones in a separate section for each year.
The iTunes Music Store debuted at a time when music piracy was rampant, and it gave people a safe, reliable, and legal way of purchasing music for a reasonable price. Overtime, Apples has added movies and TV shows, along with the App Store. While subscription services like Spotify and Rdio have proven popular with many, iTunes still remains the top music retailer in the world, and its importance to the current age of digital music can't be overstated.
Source: iTunes (opens in new tab)
Joseph Keller is the former Editor in Chief of iMore. An Apple user for almost 20 years, he spends his time learning the ins and outs of iOS and macOS, always finding ways of getting the most out of his iPhone, iPad, Apple Watch, and Mac.
they should celebrate ten years with releasing older version of iTunes that I can downgrade to considering the latest version is horrible. the search is horrendous omg...seriously. did anyone with a library of 20k+ songs test this version at Apple?

Also, If you have missing tracks that cannot be found (which many of us who have run out of space and transfer to externals have)...SHUFFLE WILL NOT WORK. IT WILL STOP WHEN IT GETS TO A SONG WITH A !. It's absurd. Please fix this. Then I will be able to celebrate.

I first posted this info in 2009, but it should still work. If for any reason you find yourself with random missing tracks, (or are trying to recover from a dying hard drive like me), there is an easy way to isolate those missing tracks. 1. Create a standard playlist called "Not Missing".
2. Drag your entire library into that playlist. Missing tracks cannot be copied to a playlist.
3. Create a smart playlist called "Missing" where Playlist - is not - Not Missing. Voila! All your missing tracks with the dreaded exclamation mark are now in a playlist. You have three options:
1. Delete them
2. Reconnect them by manually finding the proper files.
3. Reimport your CDs, which will retain the ratings and playcounts, etc.
Thank you for signing up to iMore. You will receive a verification email shortly.
There was a problem. Please refresh the page and try again.