Apple could return rainbow logo for custom products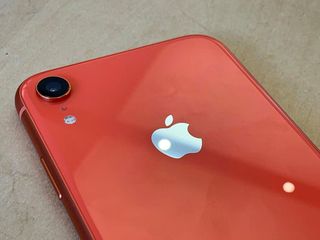 What you need to know
A new report suggests Apple could bring back the retro colorful Apple logo.
The report cites a source within Apple.
The new logo could be added to the Mac or iPhones later this year.
Apple could be prepping to add a new wrinkle to its products. A new report from MacRumors suggests the iPhone could add the classic rainbow Apple logo to a few special edition products to make them stand out.
According to the report, someone within Apple revealed the news:
It's about that time when rumors are starting to pop up about the next round of iPhone. We have little idea of what Apple could do, but it seems going back to its past may be a good way to adds some luster fo the Mac or iPhone.
Adding fuel to the fire has been Apple itself, putting a renewed focus on the classic six-color array. It recently decked out a stage, stairs and walkway in the pattern, lending credence to the new report.
We won't believe this until we see it, but if Apple did implement to retro logo into one of its devices, it certainly would look stunning.
I might just upgrade my iPhone XS for that.

What about dealing first with their fraying cables or / and giving us a better battery life?

Fat chance of that. At least you can buy cables from others, I buy Anker ones, very sturdy.

I think it would take much more than that for me to jump from Samsung no matter how much my office co-workers try to tell me that Apple is so much better. The only part of Apple I miss is the watch and if they made it work with both platforms Apple would be raking in the money from us Samsung owners that miss the watch

They couldn't do that because they couldn't secure it with Android hardware and software. Remember that Samsung has lousy security for its own products with its eye and face recognition, and had fingerprints and photos stored as plain text with no encryption. Qualcomm has since added a part of their SoC that's a simple version of Apple's Secure Enclave. But Apple can't control, or secure it for their uses. Qualcomm controls it, not even google. I can't imagine what Apple would have to do to get the watch secure with an Android device. Maybe they can figure out something, but I would bet that it would be less secure than on their own platform.

The fact that I get 5 years of OS updates where you are lucky if you get 2 years from any android vendor besides google themselves. But from what I understand, android updates are very "heavy" and new versions bog down older hardware quickly.

The way I look at it, is that Android is quantity over quality. It's a fantastic OS if you want complete flexibility and the latest and greatest features, but that leaves less time for optimisation and in some cases stability, although Android's stability has improved significantly over the years. Also, the iPhone is set to keep getting more and more years of updates, if you take a look at this picture: https://infographic.statista.com/normal/chartoftheday_5824_ios_iphone_co... I think Android would have a better shot at getting updates to older phones if the updates didn't have to go through manufacturers/carriers first, custom ROMS can help a lot if your phone is popular enough

I have never had any android phone work as fluidly as my iPhone. My 1020 did, but lack of apps drove me to apple and ios. Now my watch and phone, I love. My iPad is just OK. I think I would like the surface go more. But we will see after ipad os

Wow. Makes we want to trade up from a perfectly working 6s. Not. Apple is really ramping up the investment in innovation.

totally hey Rob? That being said, now that mr lightest and thinnest apple products ever jony is gone, maybe we will see some fresh new thinking injected into apple instead of the same product over and over and over.
Thank you for signing up to iMore. You will receive a verification email shortly.
There was a problem. Please refresh the page and try again.