Apple employees will celebrate Earth Day by donning green shirts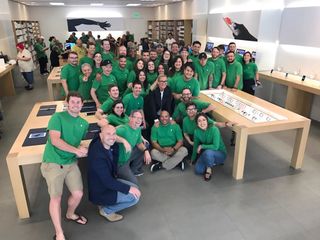 According to MacRumors, Apple is planning to celebrate Earth Day in all its favorite ways, including switching out its employees' usual navy blue shirts for green ones.
MacRumors' reliable anonymous source, who apparently requested they be identified as "The Apple Post informant," sent the publication a photo of the new uniform items in question, while another source stated employees will begin wearing the uniforms as early as April 13 in the United States, Canada, the U.K., and other countries.
Apple is no stranger to keeping things green — not only during Earth Day, but year-round. The company usually uses the holiday as a way to discuss its focus on environmental endeavors, which include recycling and renewable energy as well as a multitude of other initiatives. In fact, on Monday, Apple announced that it's now globally powered by 100% renewable energy (opens in new tab), emphasizing its team's commitment to taking care of the earth and leaving it "better than [they] found it." The company will also likely release its 2018 Environmental Responsibility Report in the time surrounding the holiday.
In addition to the uniforms, Apple will probably also celebrate in all the usual ways we've come to expect, such as changing the leaf on the Apple logos at retail stores from white to green, adding an Earth Day Apple Watch activity challenge and achievement, and releasing a series of videos and playlists relating in some way to Earth Day.
Thoughts?
How are you taking care of our world this Earth Day? What do you think of Apple's current environmental initiatives? What's your favorite leaf shape? Share your greenest thoughts in the comments below!
Get the best of iMore in your inbox, every day!
Tory Foulk is a writer at Mobile Nations. She lives at the intersection of technology and sorcery and enjoys radio, bees, and houses in small towns. When she isn't working on articles, you'll likely find her listening to her favorite podcasts in a carefully curated blanket nest. You can follow her on Twitter at @tsfoulk.
The sheer stupidity of waste created by making thousands of green shirts for employees used on a single day sums up what Earth Day really means. It's not about being sensible, but just promoting a message that's ultimately self-defeating. Doing nothing would be more "green" than making all of those silly shirts.

Is it a waste? They're wearing them, and I assume they don't just throw them away when they're done

It's still extra clothing that few of those that will wear them are unlikely to have needed. However the counter argument would be the benefit of raising awareness of such events.

I think the benefit outweighs any possible "wastage". Some green shirts aren't going to destroy the planet any time soon

That's called incremental thinking. Oh, just this one time X a million. You don't need to make something like this to make a statement.

They don't need to, but it has a much bigger impact if they do that. Apple doesn't need to raise awareness of things, but I'm glad they do. And no, green shirts aren't going to destroy the planet, not even a million of them. So, are you going to stop buying clothes, then?

I don't think you're considering things fully. Think of all the resources needed to make the shirts. From the material, electricity, packaging and shipping to the fuel used by the trucks for delivery. All that for a one time usage. The act is counter to the theme and spirit of the day.

It's not one time usage, Earth Day happens annually. As I said, most likely they reuse the shirts.

Well, I'm sure they have employee turnover that warrants new shirts every year... and "once a year" vs. "one time usage" ... you really trying to make that a glaring difference?

Of course some new shirts will need to be made, but the wastage here really is minimal. And yes, one time usage is not what this is, but maybe your argument is more with people producing clothes for one-time usage, i.e. wedding dresses.

What's the benefit? A single sign at the door proclaiming it's Earth Day for anyone not aware would suffice and be less impactful.

The benefit is literally written in returnmyjedi's comment. And no, a single sign would not suffice.

Agreed! Seems very counter-intuitive.

Did you read any of the comments above? Firstly, the shirts are most likely reused, secondly Apple knows how to advertise, and this will give the day a great amount of publicity, better than anything else would. The benefit greatly outweighs the very trivial negative of it.

In your opinion, you mean ... To others, it's not trivial.

Given that Apple's idea seems to work, it would be the majority opinion.

Let's agree to disagree and leave it at that.

Everyone has their own way of publicising something, and it's one thing Apple are great at. It might not seem like the best way of doing it, but it's probably the one which will make the biggest impact, which is the key goal here even if it means they're being somewhat hypocritical.