Apple hires Cyber Paint developer for continued VR goodness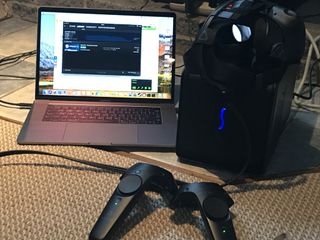 The high-end VR market has some amazing VR painting and drawing applications such as Google's Tilt Brush and Oculus' Medium (opens in new tab). You can create 3D modules, animations, lush environments all whilst you are inside the medium itself rather than just looking at a flat computer monitor. For the more entry-level VR segment, Cyber Paint is the go-to, immerse-yourself-in-your-creation VR painting application on headsets like the Oculus Go and the HTC Vive Focus.
Apple really wants VR/AR on its platforms
Apple has long been known as a premier platform for content creators. It seems that Apple does not want to be left behind in that regard in the VR/AR space, and as such it has hired Sterling Crispin, the developer behind Cyber Paint.According to Variety:
Final thoughts
As some of you may know I'm a big proponent of the VR/AR scene and I'm giddy with anticipation for whatever Apple can come up with in that space in terms of hardware. Apple keeps on adding more and more resources to that segment so I'm hoping for some amazing things.
Why rumors of an Apple VR headset are so damn exciting
What about you? What are your thoughts about Apple and VR/AR? Let us know in the comments!
One good thing about the climate crisis and human extinction is that we won't ever have to read the phrases "in that space" or "to that segment" again...🙄

OMG I had to share this with my wife. We laughed and laughed! Thank you.
Get the best of iMore in in your inbox, every day!
Thank you for signing up to iMore. You will receive a verification email shortly.
There was a problem. Please refresh the page and try again.