How Business Chat works for businesses and consumers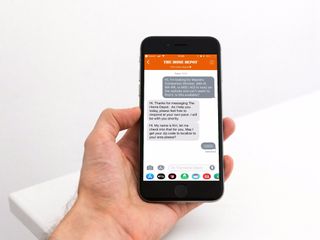 You may have missed it if you didn't look at the fine print when you updated to iOS 11.3, but there was an interesting feature added to iOS. Yup, it was five lines down in the update notes:
Business Chat was released as a part of iOS 11.3 as a way to make it easier for businesses to create contact with customers, clients, and potential customers and clients. The service, which is built into the Messages app, also offers APIs for integration in custom apps as well as working with off-the-shelf CRM apps such as Nuance, LivePerson, Gensys, zendesk, In The Chat, and Salesforce Service Cloud.
Business Chat is consumer-focused, business-friendly
Business Chat is designed for customer-initiated contact, which is to say that your customers will contact you when they need assistance. Apple makes it easy for you to be discovered by clients after you go through a Business Chat registration and approval process. Once registered, your business will appear with a chat button in Siri web searches and Apple Maps links. Customers interested in initiating a chat simply tap the chat bubble and you'll get the message directly in Messages or the customer relationship management (CRM) service you're using. You have the ability to determine the end-user experience and can use any combination you choose of live contact and chat-bot support. you can even create chat links that are accessible from your website or Yelp page.
The beauty of Business Chat is that it integrates with Apple Pay, allows you to send product information directly to customers, and makes it easy to schedule appointments that your customers can check for conflicts in their iOS calendars. Business Chat also allows you to provide your customers with a branded end-user experience. Your chat messages display a header with your logo and contact information that is easily accessible from within the chat session. To that end, Business Chat may be able to make your business seem bigger and more responsive than it actually is. A one-person shop can feel like a huge company without having to pay for a big CRM application or hiring more employees.
Customers won't feel pressure from businesses when they chat
From an end-user perspective, this is a pretty sweet deal. Contact is user-initiated, provides no personal information to the business, unless you choose to do so, and allows you to break contact once your conversation is complete: simply delete the message and the conversation is gone. Keep the message and the company you're working with has the ability to view the entire context of your conversation. Additionally, because you're communication is essentially a text message, you don't have to wait on hold to "speak to a representative" or provide an immediate response to questions the company asks you. Reply at your leisure and the conversation picks up right where it left off.
It's still in beta, but it totally works
Set up for businesses is simple, although you won't get the immediate satisfaction of signing up for Business Chat and putting it to work in a matter of minutes. I went through the setup process for my business and 24 hours later, while my application has been received, I'm still waiting for my business to be approved. That's good because, presumably, Apple is vetting me to make sure my business is legit, but I didn't have the immediate satisfaction of setting up Business Chat and putting it to use immediately.
I did get to test Business Chat with some existing vendors, though, and found the experience to be excellent. I searched for Home Depot on my iPhone, found and tapped the chat bubble in my search results and made immediate contact. A branded Home Depot chat opened in Messages and I entered my question. The initial response I received was from a chatbot, but within less than a minute I was speaking with a live representative who responded promptly to each of my questions. The process was painless and simple, although the end result didn't differ at all from my initial web search on the Home Depot website: Neither the live customer support person or I could locate the item I was looking for.
The future of Business Chat is in our hands
At present, I use Messages as a standard form of communication with all my customers. It's the way existing customers get my attention and schedule appointments, so Business Chat seems like an obvious fit for the way I do business. But, my spidey senses tell me there's a possible downside, at least for smaller businesses such as my own. Because Business Chat is one-sided communication, and because a search for your business can result in contact from customers via a simple web search, I'm concerned about the potential for trolling. I know, I know, call me paranoid, but I'll be curious to see how many "I need your help" messages I get from people who need no help at all. Hopefully none, but to that end, just as I finished this article, I changed my registration request so that my business address, which is also my home address, doesn't show up on Apple Maps.
What do you think about Business Chat?
Are you a business owner? Will you register for Business Chat with Messages? As a consumer, do you think you'll take advantage of the ability to chat live with a business representative through the Messages app?
Business Chat seems like a tool with excellent business potential. I look forward to having the opportunity to put it to work.
Master your iPhone in minutes
iMore offers spot-on advice and guidance from our team of experts, with decades of Apple device experience to lean on. Learn more with iMore!
Jeff is a writer, actor, Apple Certified Trainer, and IT consultant, born and raised in A-town and now living in NY. You can often catch him behind the scenes and on stage at County Players, Falls Theatre. Up next? He's stage managing *Cat on a Hot Tin Roof* at the aforementioned County Players.