Apple introduces the new super-thin 12-inch Retina MacBook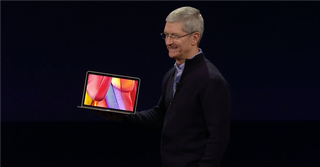 (opens in new tab)
After months of speculation, Apple took the wraps off their all-new, all-redesigned Retina MacBook. In a device that harkens back to Steve Jobs' unveiling of the original MacBook Air, it blends bleeding edge technology with forward reaching engineering to make a laptop that's both high-density and highly power efficient.
Said Apple CEO Tim Cook:
The new MacBook has a 12-inch Retina display with a resolution of 2304x1440. The pixels of this display also have a wider aperture for a brighter display (and a less-powerful backlight needed).
But also this is the thinnest MacBook ever, measuring just 13.1mm thick. And the lightest at just 2 pounds. It's an all-metal unibody design, even the antenna enclosures are metal now. The logic board that goes inside has been shrunk by 67% over the 11-inch MacBook Air's logic board. It's powered by an Intel Core M processor running at up to 1.3GHz (with turbo boosting up to 2.9GHz) that consumers just 5 watts under use. All of this means it runs cooler than ever and doesn't need a fan. The rest of the inside is stuffed with battery cells — up to 10 hours of battery life.
○ MacBook review
○ MacBook buyers guide
○ MacBook news
○ MacBook forums
○ Buy at Apple (opens in new tab)

The keyboard is all new with larger keys and a new butterfly mechanism and individual LED backlights for each key. The trackpad offers a new "Force Touch" system for sensing pressure and opening new dialogs (such as searching Wikipedia from the browser) or actually translating that pressure into things like signatures or faster fastforwards in QuickTime. They've also done away with the single-hinged trackpad clicking mechanism with one that clicks all over and uses the taptic feedback engine to respond.
The new MacBook also does away with all of the connectors we've come to know from current MacBooks, going with a single USB-C connector. This one port carries USB, VGA, DisplayPort, HDMI, and power, all with one cable. Apple will be offering adapters, naturally, for those of us that need more than a single port.
The new MacBook will come in gold, silver, and space gray and two configurations. For $1299 you'll get a MacBook with a 1.1GHz dual-core Core M processor, 8GB of RAM, and a 256GB SSD. Jump up to $1599 and you'll get a 1.2GHz processor and 512MB of RAM. Both models are shipping on April 10.
Apple Unveils All-New MacBook
The Notebook Reinvented
SAN FRANCISCO―March 9, 2015―Apple® today unveiled the all-new MacBook®, a new line of notebooks reinvented in every way to deliver the thinnest and lightest Macs ever. Every component of the new MacBook has been meticulously redesigned to create a Mac® that weighs just two pounds and is 13.1 mm thin. The new MacBook features a stunning 12-inch Retina® display that is the thinnest ever on a Mac, an Apple-designed full-size keyboard which is dramatically thinner and highly responsive, the all-new Force Touch trackpad that brings a new dimension of interactivity to the Mac, an incredibly compact USB-C port for data transfer, video out and charging in a single connector, and a new battery design that maximizes every millimeter of space to deliver all-day battery life. And, for the first time, MacBook is available in three gorgeous aluminum finishes—gold, silver and space gray.
"Apple has reinvented the notebook with the new MacBook, and at just two pounds and 13.1 mm, it's the thinnest and lightest Mac ever," said Philip Schiller, Apple's senior vice president of Worldwide Marketing. "Every component of the MacBook reveals a new innovation. From its fanless design, ultra-thin Retina display and full-size keyboard that's 34 percent thinner, to its all-new Force Touch trackpad, versatile USB-C port and breakthrough terraced battery design, the new MacBook is the future of the notebook."
Measuring just 13.1 mm at its thickest point, the new MacBook design is an amazing 24 percent thinner than the 11-inch MacBook Air®. With a new precision-milled unibody enclosure featuring integrated Wi-Fi antennas and a top case with polished stainless steel Apple logo, MacBook is available in three elegant finishes—gold, silver and space gray—and is the first MacBook with an all-metal enclosure.
A comfortable keyboard is essential to the Mac experience and the new MacBook is designed around an all-new full-size keyboard. To fit the full-size keyboard into the amazingly thin MacBook meant completely re-engineering how a notebook keyboard works. The new keyboard is 34 percent thinner and uses an Apple-designed butterfly mechanism that is an amazing 40 percent thinner than a traditional keyboard scissor mechanism yet four times more stable, providing greater precision no matter where your finger strikes the key. New stainless steel dome switches located beneath each key deliver a crisp and responsive feel when typing, and every key on the new keyboard is individually backlit with its own single LED to deliver precisely calibrated, uniform brightness behind each keycap.
The perfect match to a full-size keyboard is a 12-inch display, and the new MacBook features a stunning 12-inch Retina display with a 16:10 aspect ratio. Measuring just 0.88 mm thin, the Retina display on the new MacBook is the thinnest display ever on a Mac. With a larger aperture for each pixel, the new Retina display is also extremely efficient and uses 30 percent less energy than existing Mac notebook Retina displays, while delivering the same level of brightness. And with a resolution of 2304 x 1440, text, photos and movies come to life with astounding clarity.
MacBook also features the all-new Force Touch trackpad that brings a new dimension of interactivity to the Mac. The new trackpad features built-in force sensors that allow you to click anywhere and haptic feedback that provides a responsive and uniform feel. You can even customize the feel of the trackpad by changing the amount of pressure needed to register each click. The Force Touch trackpad also enables a new gesture called Force Click, a click followed by a deeper press, for tasks like pulling up the definition of a word, quickly seeing a map or glancing at a preview of a file.
Applying miniaturization techniques used in iPhone® and iPad®, MacBook features the most compact logic board ever in a Mac, measuring an amazing 67 percent smaller than the logic board of the 11-inch MacBook Air. With no moving parts or vents, the new MacBook was designed from the ground up to be the first fanless Mac notebook for silent, efficient performance. MacBook features the new fifth-generation Intel Core M processor that runs at just 5 watts and Intel HD Graphics 5300. The highly efficient processors work in conjunction with optimizations throughout OS X® to make the new MacBook the world's most energy efficient notebook.*
The new MacBook features a breakthrough terraced battery design that is layered in individual sheets that are precisely contoured to fit the MacBook's sleek, curved enclosure. As a result, the new MacBook has 35 percent more battery capacity than would be possible with traditional battery cells and delivers all-day battery life with up to 9 hours of wireless web browsing and up to 10 hours of iTunes® movie playback.**
Designed for the wireless world, MacBook is perfect for tasks like streaming content from your MacBook to your HDTV using AirPlay®, exchanging files quickly using AirDrop®, or using wireless headphones. MacBook is equipped with the latest wireless technologies, including built-in 802.11ac Wi-Fi and Bluetooth 4.0 for fast wireless connectivity.
The new MacBook also features a next-generation USB-C port that is incredibly small, yet extremely versatile and even more user friendly. A new industry standard, USB-C supports higher wattage charging, USB 3.1 Gen 1 (5Gbps) data transfer and DisplayPort 1.2 all in a single connector that's one-third the size of a traditional USB port.
Every new Mac comes with OS X Yosemite, a powerful new version of OS X, redesigned and refined with a fresh, modern look, powerful new apps and amazing Continuity features that make working across your Mac and iOS devices more fluid than ever.
iMovie®, GarageBand®, iPhoto®, and Pages®, Numbers® and Keynote® come free with every new Mac. iMovie lets you easily create beautiful movies, you can use GarageBand to make new music or learn to play piano or guitar and you can edit and share your best shots with iPhoto. Pages, Numbers and Keynote, make it easy to create, edit and share stunning documents, spreadsheets and presentations. Pages, Numbers and Keynote for iCloud® let you create a document on iPhone or iPad, edit it on your Mac and collaborate with friends, even if they are on a PC. The new Photos for OS X app keeps your growing photo and video collection automatically organized and easy to navigate and will be included in an OS X Yosemite update this spring.
Pricing & Availability The all-new MacBook will begin shipping Friday, April 10 through the Apple Online Store (www.apple.com), Apple's retail stores and select Apple Authorized Resellers. MacBook comes with a 1.1 GHz dual-core Intel Core M processor with Turbo Boost speeds up to 2.4 GHz, 8GB of memory, 256GB of flash storage and Intel HD Graphics 5300 starting at $1,299 (US); and with a 1.2 GHz dual-core Intel Core M processor with Turbo Boost speeds up to 2.6GHz, 8GB of memory, 512GB of flash storage and Intel HD Graphics 5300 starting at $1,599 (US). Additional technical specifications, configure-to-order options and accessories are available online at www.apple.com/macbook.
*Claim based on energy efficiency categories and products listed in the EPA ENERGY STAR database for Notebook Computers as of March 5, 2015. **The Wireless Web protocol testing was conducted by Apple in March 2015 using preproduction MacBook configurations. Battery life and charge cycles vary by use and settings. For more information visit www.apple.com/macbook.
Apple designs Macs, the best personal computers in the world, along with OS X, iLife, iWork and professional software. Apple leads the digital music revolution with its iPods and iTunes online store. Apple has reinvented the mobile phone with its revolutionary iPhone and App Store, and is defining the future of mobile media and computing devices with iPad.
Derek Kessler is Special Projects Manager for Mobile Nations. He's been writing about tech since 2009, has far more phones than is considered humane, still carries a torch for Palm, and got a Tesla because it was the biggest gadget he could find. You can follow him on Twitter at @derekakessler.
Is it a macbook air, or is it just called macbook? Posted via the iMore App for Android

I believe it's just MacBook

It is not being called the Air replacement. It is as of now it's own line. Maybe eventually replacing Pros not Airs. Posted via the iMore App for Android

After this do we really need an iPad Pro?

No, I think this will do for a lot of people quite nicely. I'll keep my iPad 3 and get this.

WE GOTS TO FILL IN DEM GAPS Posted via the iMore App for Android

Not really! I believe it will replace eventually. Posted via the iMore App for Android

Yes, because there are custom apps that are made exclusively for the iPad, like for doctors, salespeople, etc.

How is this different than the Intel 5000 Haswell chipset MBA from summer 2013? Sent from the iMore App

M processor so... Slower?

That's the very short version, yes. It's slower, but has very low power consumption and generates very little heat. So, it's not without benefits. I'm just saying that, for the money, I'd expect more horsepower, no matter how thin it is. :-)

Intel core M? 512mb of RAM Over 1K? That price is insane. Edit: pretty sure that's the Hard drive space, but I'd rather get a macbook pro for better specs, or a SP3 for that price.

It is. It's a 512 GB SSD as opposed to its cheaper cousin's 256.

Just go and buy the cheapest plastic imitation, thicker, environmentally destructive model made by Lenovo, Dell, or HP then.

Or a Surface Pro 3, which has very similar specs in a more versatile form factor.

I have a MacBook Pro and a Surface Peo 3 and both have been very nice devices. Each one serves a different purpose but they are living proof that competition makes products better. The new MacBook seems nice but it doesn't seem to really reinvent anything. It likely will still be nice but innovative, no. I wish Apple would create a way to have all connections in a sleek chassis that still connects to everything without carrying a bad of adapters. Sent from the iMore App

Tell that to the Dell XPS 13. Posted via my HTC One (M7)

Environmentally destructive? How 'bout soldering parts together to prevent repairs and upgrade so that, when the system is damaged, it has to be fully replaced? You shouldn't be buying Macs for "environmental friendliness," because they're designed to be thrown away, essentially, when they don't work anymore. At least most of those "imitation" machines can be repaired (for the most part), and, in some cases, even be upgraded.

Yeah, that should read "8GB of memory, 512GB of flash storage and Intel HD Graphics 5300"

It is not the a slower earlier version of the Broadwell M-70in the Lenovo's Yoga 3 Pro. With plastic casing starts at $1500 to $1700 dollars. The real difference is the Apple uses better casing, battery life, newer Intel M processor. Where the Yoga 3 is better is touch screen, higer resolution, and is bigger at 13.3" to 12". But with this said Windows Central and other incorrige people to buy the Surface Pro 3. At the end of the month Lenovo is launching Yoga 4, this will be the best comparison. Posted via the iMore App for Android

Nice design. I'm not quite ready for one poet yet. Sent from the iMore App

Edit: one port Sent from the iMore App

I don't understand.. Is the thinner than the Air models? The new Air model doesn't get Retina, no? If I want the thinnest and lightest, with Retina, is this new MacBook to purchase?? Sent from the iMore App

Much thinner than current Air Sent from the iMore App

Shouldnt the word "air" implies that it should be the thinnest? thinner than the macbook?

M I N E !!!!!!!!!!!!!!!! In gold. Mine mine mine. Getting one. *checks fun fund*

Or... I could just get a BT keyboard for by iPad and save $1100. I have the MBA 13 and Retina 13 and use several ports - SD card slot and at least one USB port. Plus I plug in after a long day. Having just one USB-C port is a big sacrifice for thinness - something I already have in my iPad Air.

And have a computer that doesn't run OS X, or Windows, has a technically lesser screen, likely worse speakers. And your BT keyboard probably isn't as good as a Macbook keyboard. But, yes, they're just alike in almost every way. /sarcasm

Oh, I dunno, they make some pretty good BT keyboards :-)

I have never used a keyboard as good as the MacBook keyboard.

Then you've never used a good mechanical keyboard (which, to be fair, doesn't typically come in BT). Personally, I find the travel and feel of a Mac keyboard to be less than ideal. The only laptop keyboard I've actually really liked was on an ASUS. I hate the one on my work Dell, and I don't like the wireless Mac keyboard sitting behind me either. *shrug* I'm picky, but I also type A LOT.

I haven't used many keyboards, though I have tried to be happy with a BT for my tablet. Never worked.

No glowing Apple logo? *disgusted* Nah, this looks outstanding. I'll be waiting for the next-gen Pro, though. Sent from the iMore App

If they got rid of the glowing apple logo I'm out.. Lol Posted via the iMore App for Android

It's the same back as on the iPad Air 2... Sent from the iMore App

$1300, hard to justify that cost for a 12 inch display.

So this is more portable than the current macbook airs? Im confused!!!

It's very thin...like a tablet and so I suppose it has to have an Intel M CPU, but I think "the notebook reinvented" should really just be "the notebook - shrunk a bit more than we did last year". What are the innovations that justify the term "reinvented"? It's very pretty to look at, and if the keyboard was detachable it would be a rival for the Surface Pro 3...but it isn't and it's not. The hipsters will, as they always do, queue up to get their hands on one but I'm tired of Apple telling us that miniaturisation is "reinvention". I'd like some innovation instead. It's just another MacBook and only a fool would think otherwise.

I'm assuming the invention thing refers to the keyboard changes and the "force touch".

Force touch sounds an awful lot like what was on a BlackBerry Storm II

Maybe it is, but we'll have to see how it works to know.

Oh yeah the Surface Pro... Such a good laptop!
[end sarcasm]

The SP3 is a tablet with a detachable keyboard that can work as a notebook comfortably...and if you'd ever used one for more than five minutes you'd know it's pretty slick. Also, if Apple had made it people would've been salivating over their "genius". My point is that this "reinvention" is nothing but a slim, moderate performance notebook...not so different from a netbook at a fraction of the price but for the screen resolution and certainly nothing close to the hyperbole Mr Cook introduced it with. Again, what are the innovations that justify the term "reinvented"? I'd like Apple to actually make something new; they haven't for five years during which time everyone else has! This is nothing more than a product line refresh and until we start spending our money elsewhere they'll keep on doing the same thing. Apple are stagnating, just like Dell, HP and Microsoft did ten years ago and this particular product, while a great piece of engineering, has nothing compelling under the hood to differentiate itself from (or improve on) other cheaper alternatives or similarly priced but more powerful alternatives. You try doing anything remotely demanding with a core M...lag central. Is that innovation? This is a laptop for wealthy grannies.

Actually, it's faster, costs less, and has more ports. Also, the keyboard comes off. I don't understand how it's not better. Just like I don't understand why you'd spend $1300 on this thing. Buy a MacBook Pro or something for that money, and get your speed and versatility. Or, if you need something small (and it has to be Apple), but an iPad. Without ports, or a beefier processor, this new MacBook isn't getting you a lot more than you could get out of a tablet for a lot less money.

I think you guys will be shocked at how slow a Core M is.

You're right on the money there...

Core M for $1300? One port that is occupied whenever you have to charge it? No thanks. Gimmie a slightly larger laptop with more horsepower and a lower price, please. For this price, I'd rather buy a tablet and save myself some money. A lot of the utility of a computer is lost on this thing, and it's bloody expensive.

They said adapters available though.

The Core M is terrible though "I'm da Blur boys!" - Me with 1200 ping. Fiber in Nashville? Save me based Google.

Yay, let's carry adapters that can't be used if I'm charging my machine . . . great plan. :-) Unless you're talking about multi-port adapters, so I not only get to carry around adapters, but chunky ones that I have to plug multiple things into. If you have to buy a Mac, stick with the Air. They're faster, cheaper, and have a couple of extra ports.

That's what the Macbook Air is for! $799

I can't really see thinner justifying only one port.

How about video ram? And as usual nothing is upgradable?

Really nice... Bit pricey though. Wish they had made a version with 4GB RAM and 128GB SSD. Sadly they didn't upgrade the screens in the Macbook Air so they are still lower resolution than they ought to be.

Don't understand this one. 11" and 13" AIr but no Retina. 13" and 15" Pro with Retina. Now 12" Macbook with Retina but one port and nothing else? No SD slot or anything? 1299? Interesting.

Welcome to the new Apple Macbook. guys..... Wait. *Chromebook . "I'm da Blur boys!" - Me with 1200 ping. Fiber in Nashville? Save me based Google.

I glad this rumored device is here finally, but everyone believe it was goning to be the Macbook Air replacement. So in the future what does mean for Mac Air & Pro in the future. It looks more like the Ipad Air 2 and they dropped their best addvertising feature the glowing Apple. Look at the last Microsoft event there was all kinds of glowing Apples everywhere, I will reiterate "MICROSOFT EVENT". Posted via the iMore App for Android

Not enthusiastic for this. First - 1 single USB 3.1 port. Will this be enough for wired ethernet, external display, bus powered external HD and power? Second - Core M isn't known as a speedy processor.

Disappointed in the single USB 3 connector. This fetishizing of thinness above all needs to be stopped. When I'm at my desk, I use more than one port, and, while there may exist adapters, that's one more thing I have to remember to pack. Out and about - or even in the family room - the MagSafe port has saved our laptops from tumbling to the floor at least a half dozen times. And perhaps the C connector will be better, but on at least one of my MB, a USB port has died. Having only one makes me nervous. And yeah, people will scoff at me "get the MacBook Pro" - but we all know apple changes percolate throughout all lineups within a year or two. Sent from the iMore App

I came here from wpcentral.com to see what people saying about the new Macbook and boy aren't you guys excited :D
Lets start with informing you guys that I don't use apple products as they are too costly and i have not invested in Apple Eco system, Also, most of the programs i need for work run better on windows (I'm a civil engineer by profession). Having said that I'm not one of those apple haters or windows fan boys but i get annoyed when Apple says we reinvented notebooks. Lets be clear they haven't done anything revolutionary with this new Macbook. Its just an iPad running OSX on Intels Core M.
Anyway, This new macbook sure looks elegant and beautiful which i love but i still wont advice this to anyone because of following reasons.
1) When it comes to its looks but Dells XPS 13 has better looks and it has no bazel when compared to this macbook and is more powerful.
2) I dont like to spend more money for adopters/ ports when i spend $1300 on a laptop. This one port logic is silly to say the least. Many people i know use 2nd display screens and have mouse/HDD attached to the laptop while they work and i do the same at home as well as at work for different purposes. With one port this new laptop becomes useless(unless i spend more money and buy adopters).

So it is thinner and lighter than the Air line of MacBooks now? That's kind of weird... Makes you wonder what's in store for the Air next...

Can't wait for the iMore article "No, You Don't Really Want More Than One Port on the MacBook Air", trying to convince us that "thinness is a byproduct of lightness", lightness means we can keep it on our lap for longer, thus we'd be sacrificing hours of productivity for one additional port.
:-)

This is garbage. Apple should be ashamed. Back to dell I go if this is what they have in mind for the whole line. Sent from the iMore App

This reminds me Macbook aluminum unibody release year. The unibody became Macbook Pro lines design with better ports. I am guesing 2015 Macbook design is great prototype for future Macbook Air Lines with better ports. Sent from the iMore App

The new Apple Netbook is nice looking. Still wants Air!

So can I run Photoshop on this?
Get the best of iMore in in your inbox, every day!
Thank you for signing up to iMore. You will receive a verification email shortly.
There was a problem. Please refresh the page and try again.